Philly Cheese Steak Wraps are the ultimate comfort food. Looking for a new weeknight dinner to add to your rotation? Well, this wrap is on the table in just 30 minutes!
Philly Cheese Steak Wraps are a fun spin on the classic, Philly Cheesesteak version. Instead of using steak strips and a french roll, you will use ground beef and a large flour tortilla!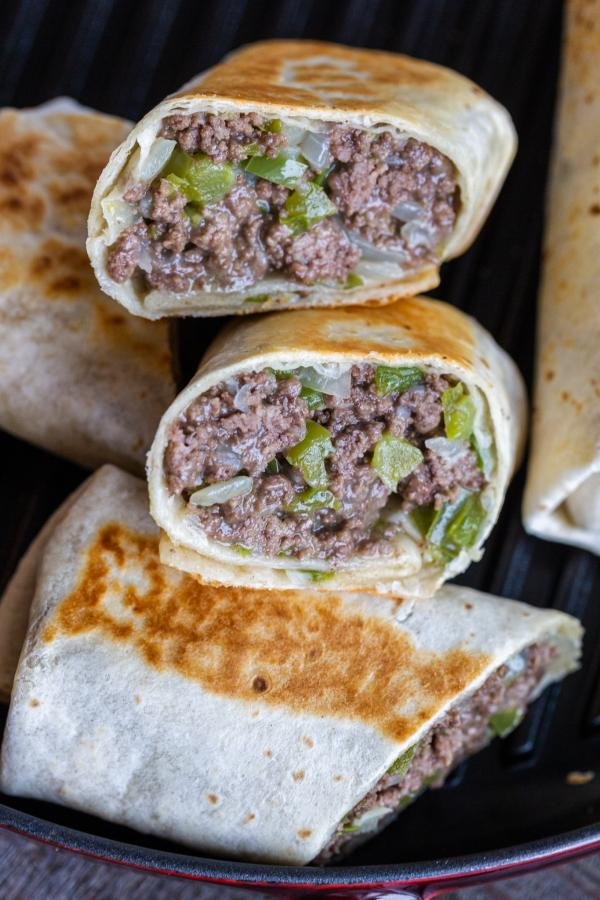 Philly Cheese Steak Wraps are the perfect meal prepping food. Double or triple the quantities of the recipe and have the filling on hand all week for more wraps, a salad topping or a yummy stuffed bell pepper!
Ground beef galore? This classic sloppy joe recipe is another great way to use up ground beef!
Ingredients for Philly Steak Wrap
At Momsdish, we LOVE a one-pan meal! In a skillet over medium-heat, you will bring all your ingredients together for a savory, melty filling. Sayonara dishes, hello more time for relaxing!
If you are already a Philly Cheesesteak connoisseur (go, you!), you probably can recite the legendary ingredients off the top of your head. See below for the slight tweaks we have made for this wrap-style rendition: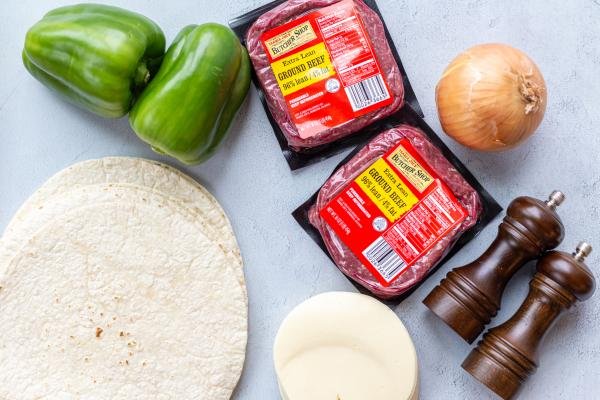 Beef: Use a very lean ground beef. You don't want the filling to be too greasy, as it will seep through your tortilla and create a big, sloppy mess. Lean ground beef makes for the smoothest filling!

Note: If you prefer, dice up a lean cut of beef into very small pieces and use instead.

Veggies: A large yellow onion and a bell pepper are a must. If you like, add some mushrooms to the mix.
Wrap: Snag the largest flour tortillas you can find! Typically, you can find a burrito-size wrap at the supermarket. This is your best bet! The larger the tortilla, the easier it is to roll!

Note: Feel free to swap your tortilla for a pita pocket!

Cheese: Provolone cheese is the most authentic choice! However, you can use any sliced cheese that suits your fancy.
Salt & Pepper: Season your filling to taste with some good old-fashioned salt and pepper! A dash of garlic powder wouldn't hurt either…
How do You Wrap a Wrap?
Rolling a wrap is identical to rolling a burrito. Follow these steps to make sure that you keep all that yummy filling nestled inside your tortilla:
Place your filling in the center of the tortilla.
Fold the sides over to close to the center of the filling.
Fold the end over into the inside and keep rolling until it forms the perfect wrap.
Keep the edge underneath the wrap to prevent it from unfolding.
Storing Philly Steak Wraps
You have two options here: refrigerating your filling or freezing it for later use. Here's how to do both:
Refrigerate: Store your filling in an airtight container in the refrigerator for up to a week. You could also pre-assemble a couple wraps, but make sure you only roll what you know you will eat in the next couple of days. You don't want the tortillas to get soggy!

Hot tip: Wrap individual burritos in plastic wrap to prevent the tortilla from getting hard in the fridge.

Freeze: Wrap each wrap individually in parchment or wax paper. Place all your wraps in a Ziploc bag and freeze. They will stay fresh for up to three months.
Reheating Philly Cheesesteak
If wraps are frozen, thaw them in the fridge overnight before reheating in the microwave or oven. If your on a time crunch, wrap the wrap in a paper towel and microwave for one minute and then flip and microwave for one minute more.
In my opinion, they are the best when reheated in a panini press. This makes the outside crunchy and the inside so melty! Yummmmmm. If you don't have a panini press, brown both sides on an oiled skillet after heating the insides through.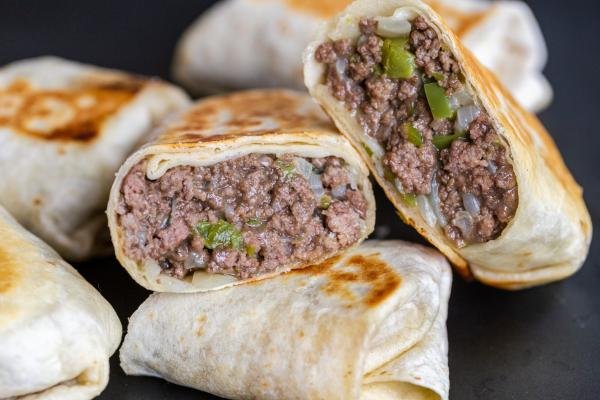 More Philly Cheese Steak Recipes?
Recipe
Philly Cheese Steak Wraps are the ultimate comfort food. Looking for a new weeknight dinner to add to your rotation? Well, this wrap is on the table in just 30 minutes!
Nutrition Facts
Philly Cheese Steak Wrap
Amount Per Serving
Calories 493
Calories from Fat 288
% Daily Value*
Fat 32g49%
Cholesterol 100mg33%
Sodium 1404mg59%
Potassium 474mg14%
Carbohydrates 19g6%
Protein 30g60%
Vitamin A 1181IU24%
Vitamin C 39mg47%
Calcium 272mg27%
Iron 4mg22%
* Percent Daily Values are based on a 2000 calorie diet.