These Philly cheesesteak sliders feature gooey cheese, tender bell peppers, & savory beef. Perfect as a party appetizer or kid-friendly entree with fries!
Looking for a low carb recipe? Try our FAMOUS Philly Cheesesteak Stuffed Peppers!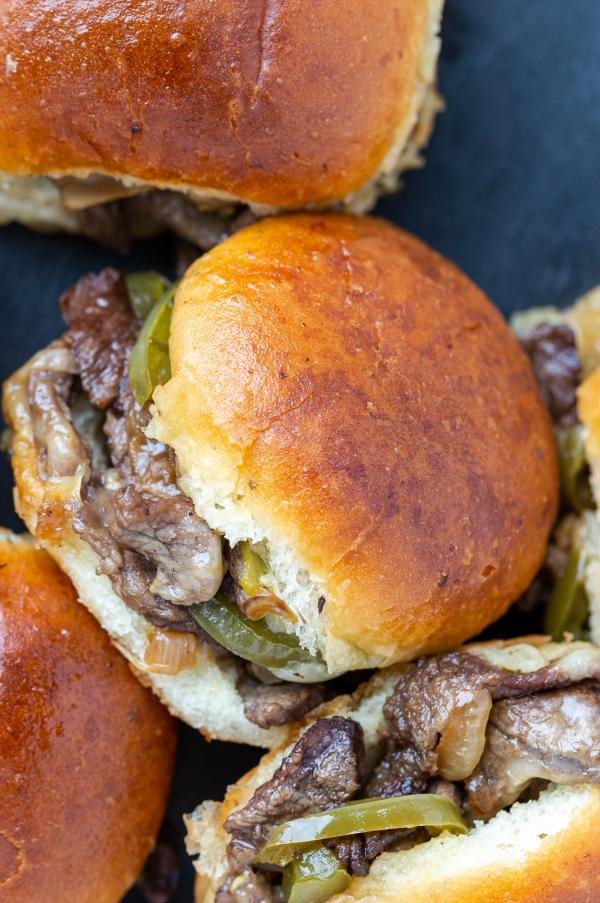 Much like our recipe for easy Philly cheesesteak, these sliders contain thinly sliced beef, provolone (or Sliced White American) and your choice of sautéed veggies. The main difference is that your end result will be handheld mini sandwiches! When your guests grab a sandwich, they will "ooooo" and "ahhhhhh" at the sight of stretchy cheese and tender beef.
Components of a Traditional Philly Cheesesteak
In Philadelphia, there is much debate as to what constitutes an "authentic" Philly Cheesesteak. Simply put, this sandwich always contains thin-sliced beef and cheese and a ton of flavor. Ribeye is the go-to choice due to its tender texture. Slices of provolone, American cheese or Cheez Whiz are typically melted on top. It is also common to include sautéed bell peppers, mushrooms or onions.
How to Prepare Philly Cheesesteak Sliders
With just a handful of simple ingredients, this recipe for Philly cheesesteak sliders comes together in under an hour of prep time and cook time.
Sauté the Veggies: In a large skillet over medium heat, sauté the onions, mushrooms, and green bell peppers. Remove them from the skillet and set them aside.
Brown the Beef: Next, add in the sliced beef and brown it until it's fully-cooked. Season to taste with salt and black pepper.
Assemble the Sliders: Place the slider buns into a baking sheet or baking dish. Top them with beef and layer on the veggies and cheese and stack the other bun on top.
Brush the Buns: Next, melt some butter and press fresh garlic into it. Brush the garlic butter mixture onto the tops of the buns.
Bake the Sliders: Lastly, bake the Philly cheesesteak sliders at 350°F for 15 minutes. Enjoy!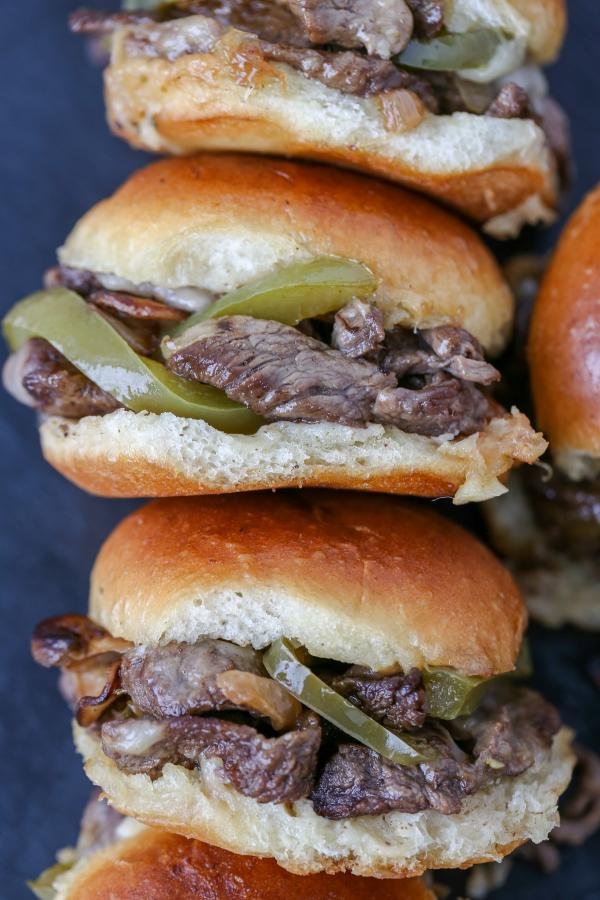 3 Tips for Making Philly Cheesesteak Sliders
Making Philly cheesesteak sliders is super simple, but a few easy tips will help you nail it.
Slice the beef thinly. We can't stress this enough — slice your beef thinly! This will ensure that your sandwich is easy to bite.
Cut the veggies into similar sizes.Slice the veggies into similar sizes to make sure that they cook evenly. You don't want to chomp down on any raw or overcooked veggies!
Prep the sliders ahead of time. If you are planning to serve this dish at a party, feel free to prep the beef early. You can saute different colors of bell peppers ahead of time too. Assemble your baking sheet of sandwiches, refrigerate them, and then pop them in the oven to bake when the timing is just right!
Meat to use for Philly Cheesesteak Sliders
Philly Cheesesteak Sliders are best made with ribeye steak. However, you can use the following beef cuts if needed:
Top Sirloin: Since this is a cheaper and tougher cut, it's imperative that you slice the beef as thinly as possible. Try marinating the meat overnight to tenderize it.
Skirt Steak: Skirt steak is a long and flat, which makes it easy to slice thin with a sharp knife. This tasty cut is also known for its tenderness, which is perfect for you sliders!
Ground Beef: While this is a bit unconventional, it is still a yummy substitute. Chances are you probably have some in your freezer, which saves you a trip to the grocery store! Season the ground beef with salt, pepper and a bit of garlic before browning it. Then, follow the recipe as directed.
How to Serve Philly Cheesesteak Sliders
These sliders are completed with a crunchy sidekick. I think that a coleslaw-y type salad or potato salad are the most appropriate, but feel free to pick any salad that suits your cravings. Try pairing them with my recipes for purple cabbage salad, olivier potato salad, or Frito chili cheese salad.
Storing & Freezing Best Practices
Here you'll find all you need to know about storing and freezing your sliders.
Refrigerating: If you have a couple of leftover Philly cheesesteak sliders, store them in an airtight container in the fridge. They will keep for up to3 days when stored properly. To reheat them, place a sandwich in the microwave or oven until warmed through.
Freezing: Take making it easy a step further by freezing your sliders for later. Wrap the sandwiches tightly in foil or parchment paper and pop them in the freezer. When you aren't in the mood to cook, bake them in the oven for a quick dinner. The frozen sandwiches should last up to two months.
FAQ
Do Philly cheesesteak sandwiches need sauce?
Philly cheesesteak sliders don't require a sauce and are flavorful enough without one. However, if you want to add one mayonnaise or chipotle aioli works best.
What's the best kind of beef for Philly cheesesteak sliders?
Ribeye is the best cut of beef for Philly cheesesteak sliders. It's tender, juicy and well-marbled, making it perfect for slicing and stuffing into a sandwich.
Can you shave the beef for Philly cheesesteak sliders?
To shave the beef for Philly cheesesteak sliders, pop the beef in the freezer for 15 minutes to firm it up. This will make it so much easier to slice it thinly with a knife. It will also prevent any dangerous slipping.
What else can you add to Philly cheesesteak sliders?
Aside from cheese and sautéed veggies, there are several other topping you can put on Philly cheesesteak sliders. These include pickles, pepperoncinis, and giardiniera salad. You can also add sauerkraut for an extra crunch.
More Tasty Appetizers to Try
Recipe
These tasty Philly cheesesteak sliders are packed with tender beef, gooey cheese, and sautéed veggies. They're kid-friendly and perfect for fun party snacking!
Ingredients
3

tbsp

Unsalted Butter

divided

1/2

large yellow onion

sliced

1/2

lb

mushrooms

sliced

1

green bell pepper

sliced

1

lb

beef

thinly sliced

1/2

tbsp

salt

1

tsp

black pepper

12

buns

1

lb

provolone cheese

2

garlic cloves
Nutrition Facts
Easy Philly Cheesesteak Sliders
Amount Per Serving
Calories 437
Calories from Fat 207
% Daily Value*
Fat 23g35%
Cholesterol 61mg20%
Sodium 967mg40%
Potassium 238mg7%
Carbohydrates 35g12%
Protein 22g44%
Vitamin A 458IU9%
Vitamin C 9mg11%
Calcium 303mg30%
Iron 12mg67%
* Percent Daily Values are based on a 2000 calorie diet.