If you love classic beef Philly cheesesteaks, you'll love this chicken spin on it! Using simple and classic Philly ingredients, it's a hearty meal that's perfect anytime, anywhere.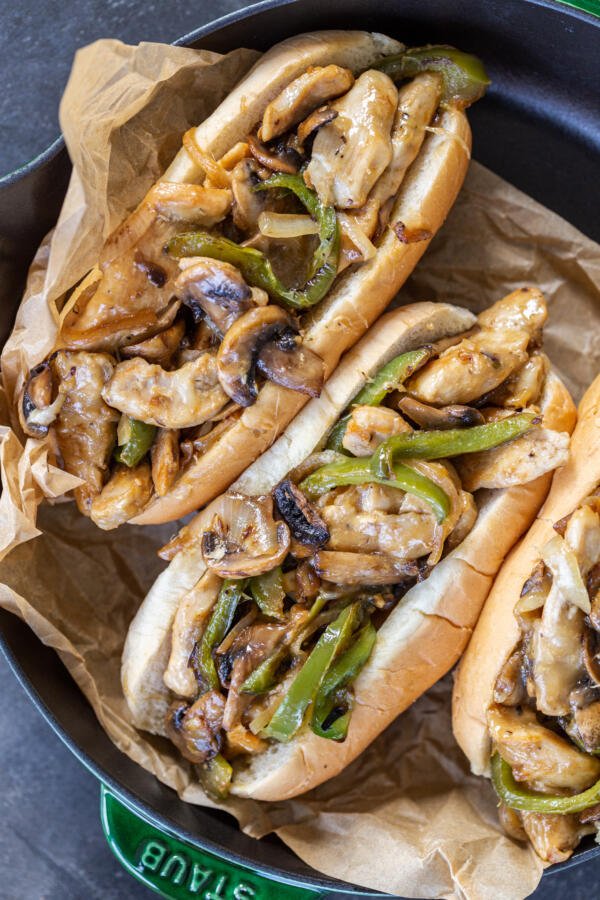 Are you looking for a filling sandwich with incredible flavor? A sandwich that looks fancy, but uses simple ingredients? A sandwich to make ahead for your family, a crowd, or even to-go? This chicken Philly cheesesteak sandwich is the way to go! It's just as tasty as a class Philly cheesesteak, but designed specifically for you chicken lovers. If you're a big fan of warm sandwiches, don't skip on our pastrami sandwich either!
Chicken vs Classic Philly Cheesesteak: What's the Difference
The difference is simple. A chicken Philly cheesesteak sandwich is a spin on the traditional Philly cheesesteak with the simple substitution of chicken instead of beef steak. The first Philly cheesesteak was created by Pat Olivieri, a hot dog stand owner in Philadelphia. This first cheesesteak had only beef and onions, but other veggies were quickly added for extra flavor.
Our chicken Philly cheesesteak sandwich has all the same ingredients of today's traditional Philly cheesesteak — tender bell peppers, caramelized onions, soft mushrooms, juicy meat, and melty Provolone cheese, all arranged together in a hoagie bun.
If you love a classic Philly cheesesteak, you're absolutely going to love this chicken Philly cheesesteak sandwich.
Ingredients for Chicken Philly Cheesesteak
The chicken Philly cheesesteak is just like the classic beef Philly cheesesteak. Build your sandwich with any or all of the toppings you enjoy most.
Chicken breast: Instead of using beef, chicken philly cheesesteak uses boneless skinless chicken breast as the protein base of the sandwich. Substitute with boneless skinless chicken thighs for an even juicier, softer meat.
Green bell pepper: Bell peppers are a necessary veggie for both Philly versions. Swap out green peppers with the slightly sweeter yellow or red bell peppers.
Onion: The flavor of caramelized onions is to die for! Use yellow, sweet, or white onions.
Mushroom: Softened, cooked mushrooms provide a mild sweetness combined with an umami taste to your philly sandwich.
Cheese: The traditional Philly cheesesteak cheese of choice is provolone for its neutral flavor and easy melting. Sliced white American cheese and Swiss cheese are great alternatives. Many Philadelphia food trucks swear by using Cheez Whiz, too!
Hoagie: A classic Philly is made with a hoagie roll (long flat roll). However, any white roll or sandwich bread will work. Use what you've got!
Seasoning: Add a dash of salt and pepper to add more flavor to the chicken as it's cooking or to the sandwich at the end.
Level Up Your Chicken Philly Cheesesteak With These Ingredients
There are no hard rules when it comes to building your own chicken philly. Level up your sandwich with our favorite list of customizations.
Veggies: If you like a bit of heat or tang, jalapeños or banana peppers will do the trick. Lettuce is a great option if you're craving a bit of crunch.
Sauces: Add mayo to your hoagie before broiling it, or hot sauce if you need the heat. Ranch can be used directly on the sandwich or as a dipping sauce, as well.
Seasoning: Italian seasoning, paprika or garlic powder are all solid options if you're needing something more than salt + pepper.
Protein: Add pieces of cooked crisp bacon to really send your chicken cheesesteak sandwich over the top.
Chicken Philly Cheesesteak Sandwich Video
How To Make a Chicken Philly Cheesesteak Sandwich
Chicken Philly cheesesteak requires only a few simple ingredients, thirty minutes, and one pan. Here's an overview of the simple steps to get you started.
Prepare the ingredients: Slice the chicken into thin strips. Cut up peppers, onions, and mushrooms.
Sauté the vegetables: In a large skillet, sauté the onion, bell peppers, and mushrooms one veggie at a time. Remove to a separate bowl.
Cook the chicken: Cook the chicken in the same skillet until golden brown. Place veggies back in and season.
Top with cheese: Add sliced cheese on top, then cook on very low heat until cheese fully melts.
Serve: Add filling into hoagie buns and serve!
Hot tip: Chicken Philly cheesesteak sandwiches are a great way to use up leftover chicken, whether it be grilled chicken or rotisserie chicken!
3 Tips to Make Your Chicken Philly Even Better
Make your chicken philly cheesesteak sandwich even better with these three easy tips.
Slice ingredients thinly and evenly: For even cooking, use a Mandolin Slicer to quickly and easily slice the ingredients. Place chicken breasts in the freezer for a bit so they slice really easily with this slicer.
Toast the hoagie: Spread some softened butter and garlic salt on the hoagie and broil for 15 seconds for a crispy, garlic-butter bun. Alternatively, use mayo.
Use a lid for the skillet: After adding cheese slices to the skillet to melt, place a lid on top to trap the heat and help the cheese melt quicker.
How to Serve a Chicken Philly Cheesesteak Sandwich
Chicken Philly cheesesteak is great for a weeknight family meal, a get-together, or as a sandwich to take to work the next day. Serve it with sweet and spicy canned pickles, air fryer potato chips, or air fryer french fries. For a light and fresh side dish, this tomato, mozzarella, and lettuce salad is perfect.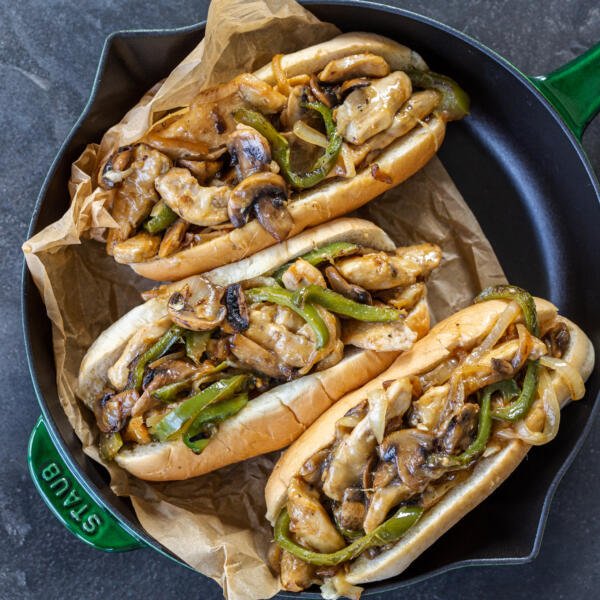 Storing and Enjoying the Chicken Philly Sandwich Later
The chicken Philly sandwich is simple to store and reheat and it does it so well! With this sandwich, you've found your go-to work lunch.
Refrigerate: Store the cheesesteak filling for 3-4 days in the fridge in an airtight container. Store the hoagies sealed on the counter for up to 3-4 days. Avoid refrigerating assembled sandwiches as the hoagie bread extracts liquid from the filling and gets soggy as time goes by.
Freeze: To freeze for up to 3 months, freeze the filling separately from hoagie buns in airtight containers. Alternatively, assemble the sandwich and allow it to cool fully. Then wrap the sandwich in non-stick heavy duty foil and freeze.
Reheat: For quick reheating, reheat the refrigerated filling in the microwave until warmed through. Place filling into a ready hoagie bun and enjoy. To reheat from frozen, preheat the oven to 350°F and place foil-wrapped sandwiches directly onto the rack. Bake for 17-20 minutes or until fully cooked through.
Hot Tip: Assemble the sandwich the day-of if taking it to work or a picnic. This will help the hoagie stay crispy and dry for longer.
FAQ
What kind of meat goes on a Philly cheesesteak?
For a classic Philly cheesesteak, thinly sliced ribeye is the popular choice. For chicken Philly cheesesteak, use chicken breast or chicken thighs.
Does chicken Philly cheesesteak use tomato sauce?
Typically, steak or chicken Philly cheesesteaks do not use tomato sauce. Fresh tomatoes can be added to the sandwich, but tomato sauce is not a common addition.
What foods pair well with Philly cheesesteak?
The classic food pairings to go with classic or chicken Philly cheesesteak include your favorite fries, chips, pickles, or a fresh salad.
Where did Philly cheesesteak originate?
The classic Philly was made by Pat Olivieri, a hot dog stand owner in Philadelphia. He was sick of hot dogs for lunch and created a new sandwich, which quickly gained popularity. Since then, different versions of the Philly cheesesteak have emerged, including a chicken Philly cheesesteak sandwich.
More Philly Cheesesteak Recipes
Recipe
If you love classic beef Philly cheesesteak, you'll love this chicken spin on it! Using simple and classic Philly ingredients, it's a hearty meal that's perfect anytime, anywhere.
Ingredients
2

lbs

chicken breast

boneless & skinless

2

green bell peppers

1

large yellow onion

1

lb

mushrooms

2

tbsp

oil

1

tbsp

salt

1

tsp

ground black pepper

8

oz

provolone cheese

sliced

6

Hoagie buns
Nutrition Facts
Chicken Philly Cheesesteak Sandwich
Amount Per Serving
Calories 577
Calories from Fat 198
% Daily Value*
Fat 22g34%
Cholesterol 123mg41%
Sodium 1969mg82%
Potassium 1039mg30%
Carbohydrates 43g14%
Protein 52g104%
Vitamin A 528IU11%
Vitamin C 38mg46%
Calcium 408mg41%
Iron 4mg22%
* Percent Daily Values are based on a 2000 calorie diet.