This recipe for Philly cheesesteak sloppy joes combines two of the best sandwiches on earth. Get ready to become obsessed with your new favorite comfort food.
You all gave me some rave reviews on my easy Philly cheesesteak and low-carb Philly cheesesteak stuffed peppers, and so we're excited to share this spin on sloppy joes with you!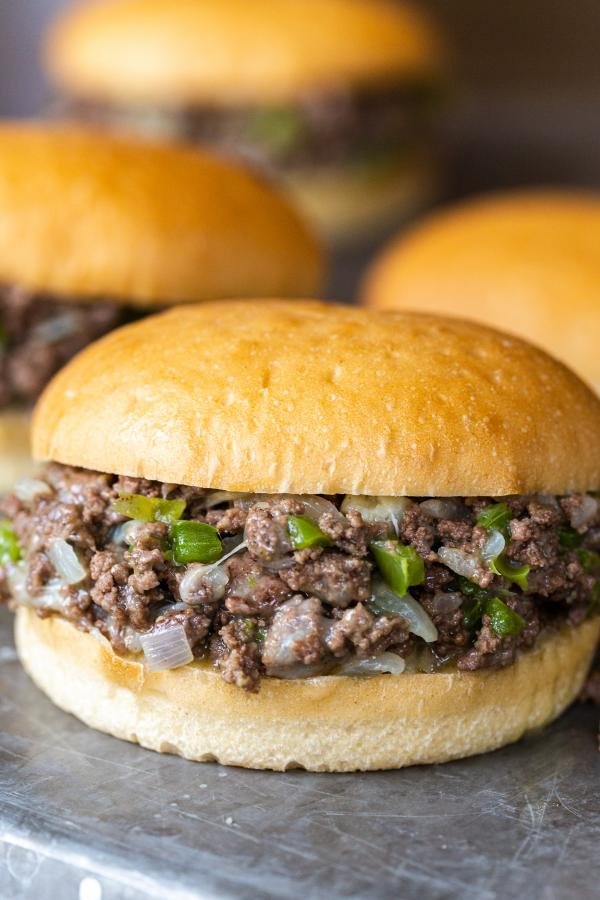 There is nothing like coming out of the pool in the summertime and sinking your teeth into an ooey-gooey Philly Cheesesteak sloppy joe — this goes for young ones and adults alike. When we have a bunch of kids over to the house that are looking to eat, this Philly cheesesteak sloppy joes recipe always comes to mind because it's made in one pan and virtually hassle.
We are also in love with Philly cheesesteaks, so we figured all the ingredients that go into the classic would be awesome sloppy joes style. This twist on a classic American meal is sure to bring you back to childhood.
Hot Tip: For this recipe, you'll need hamburger buns. If you are in the mood to bake, whip up our homemade brioche buns.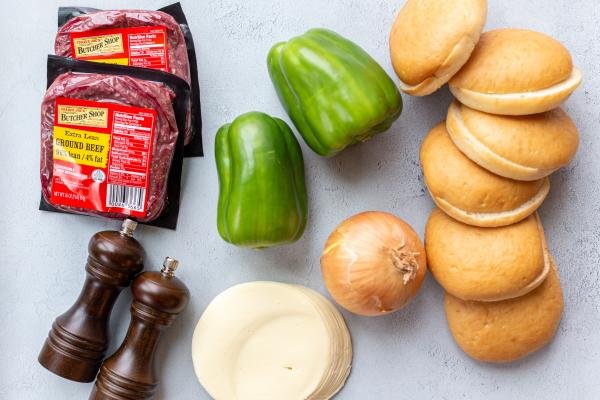 The Best Meat for Philly Cheesesteak Style Sloppy Joes
The best meat you can use for Philly cheesesteak sloppy joes is very lean ground meat. The perfect combination is 95% lean to 5% fat. Why? This keeps your sandwich from getting too greasy. You don't want a bunch of beef fat soaking through your bread and making a big mess. Sloppy joes are already sloppy enough as is and too much grease will water down the overall flavor.
The Best Cheese for Philly Cheesesteak Sloppy Joes
The best cheese to use is provolone. It's the standard cheese for Philly cheesesteaks and it melts wonderfully. You could also use mozzarella cheese if you prefer. Either way, you are going to want to top your meat mixture with a generous amount of the gooey stuff.
How to Make One-Pan Philly Cheesesteak Sloppy Joes
One-pan meals are a mom's best friend and this recipe for Philly cheesesteak sloppy joes makes for some serious comfort food. We like to whip this dish up in a cast-iron skillet, but any large skillet will do.
Season the Ground Beef: Start with sautéing your ground beef, breaking down the larger pieces with a wooden spoon. Season it to taste with salt and black pepper.
Add the Veggies: Stir in the diced green bell peppers and yellow onion and sauté until the veggies are softened.
Top with Cheese: Add the slices of provolone cheese (you can also use mozzarella cheese) right on top and cook a few more minutes until it turns into melty goodness. What is it about melted cheese that screams "work of art"?
Assemble the Sloppy Joes: Grab some hamburger buns and sandwich the beef mixture right in between.
Like it Zesty? Add a tablespoon of our homemade taco seasoning to the beef filling. Who doesn't like a little fusion?
5 Tips for the Tastiest Philly Cheesesteak Sloppy Joes
These simple pointers will help you nail this Philly cheesesteak sloppy joe recipe and make it your very own.
Slice the veggies into even-sized pieces. To promote even cooking, make sure to dice the peppers into evenly-sized cubes. You want to make sure that they soften and blend in well to the filling and that there aren't chunks of raw bits.
Cook the filling over medium-high heat. To prevent overcooking and drying out the beef, keep the skillet over a steady medium-high heat.
Drain any excess grease from the pan. Even lean beef can release a good amount of oily grease. Before you assemble your sandwiches, drain the excess grease from the pan to prevent your sandwiches from turning out soggy.
Add in some extra vegetables. Feel free to add in some extra veggies if it suits you. Mushrooms and jalapenos are some of our favorite add-ins.
Swap out the ground beef. If you want a lighter sandwich, swap out the ground beef for ground turkey or ground chicken.
Serving Suggestions
Make this quick and easy meal more well-rounded by pairing your sloppy joes with some air fryer french fries, creamy mashed potatoes, or tater tots with ketchup. If you want to go a bit lighter, pair the sandos with a caesar salad or a fresh avocado salad.
Hot Tip: Wrap one side of each sloppy joe in some parchment paper to prevent the loose meat sandwich from falling apart when you bite down into it.
Storing, Make-Ahead, & Reheating Best Practices
Storing Leftovers: The best way to store Philly cheesesteak sloppy joes is in an airtight container in the refrigerator. Always store the beef mixture separately from the buns so the sandwiches don't get soggy.
Make-Ahead: If you are planning on serving your Philly cheesesteak sloppy joes right away, feel free to top the mixture with cheese and let it melt naturally. But, if you are planning to serve them later, store the filling in an airtight container and then top with cheese in a cast-iron skillet and broil it on low for a few minutes to melt the cheese right before serving. Melted cheese truly takes this dish to the next level.
Reheating Tip: The best way to reheat Philly cheesesteak sloppy joes is by nuking the beef filling in the microwave until warmed through.
FAQ
What sauce goes well with Philly cheesesteak sloppy joes?
Philly cheesesteak sloppy joes don't need any sauce and can be eaten as-is. If you'd like, you can smear some mayo on the buns, but it's not necessary.
What is on an authentic Philly cheesesteak?
An authentic Philly cheesesteak typically comes with tender slices of ribeye steak, sautéed bell peppers and onions, and provolone cheese. If you're in Philadelphia, you might even see Philly's that are topped with Cheez-Whiz sauce.
What is the secret to a good Philly cheesesteak sloppy joe?
The secret to a good Philly cheesesteak sloppy joe is using the right kind of ground beef. If you use too fatty of a variety, your sandos will come out soggy and the buns won't be able to hold up to the filling.
More Beefy Recipes to Try
Sometimes you just need beef! Here are some of our favorite recipes centered around this epic ingredient:
Recipe
This easy one-pan recipe for Philly cheesesteak sloppy joes features ground beef, bell peppers, and provolone cheese stuffed into a soft bun. Crazy good!
Ingredients
1

lb

lean ground beef

2

large bell pepper

green, yellow or red peppers

1

large yellow onion

6

oz

Provolone cheese

1

tbsp

salt

adjust to taste

1

tsp

black pepper

adjust to taste

6

buns
Nutrition Facts
Philly Cheese Steak Sloppy Joes (30 Minute Dinner)
Amount Per Serving
Calories 479
Calories from Fat 225
% Daily Value*
Fat 25g38%
Cholesterol 73mg24%
Sodium 1756mg73%
Potassium 312mg9%
Carbohydrates 36g12%
Protein 26g52%
Vitamin A 870IU17%
Vitamin C 27mg33%
Calcium 239mg24%
Iron 12mg67%
* Percent Daily Values are based on a 2000 calorie diet.