This sloppy joe recipe is great for quick dinners during the hectic school week. You'll love how the savory Ground Beef mixture tucks into the toasty bun!
I partnered with Beef. It's What's for Dinner. on behalf of the Beef Checkoff to bring this sloppy joe recipe to you.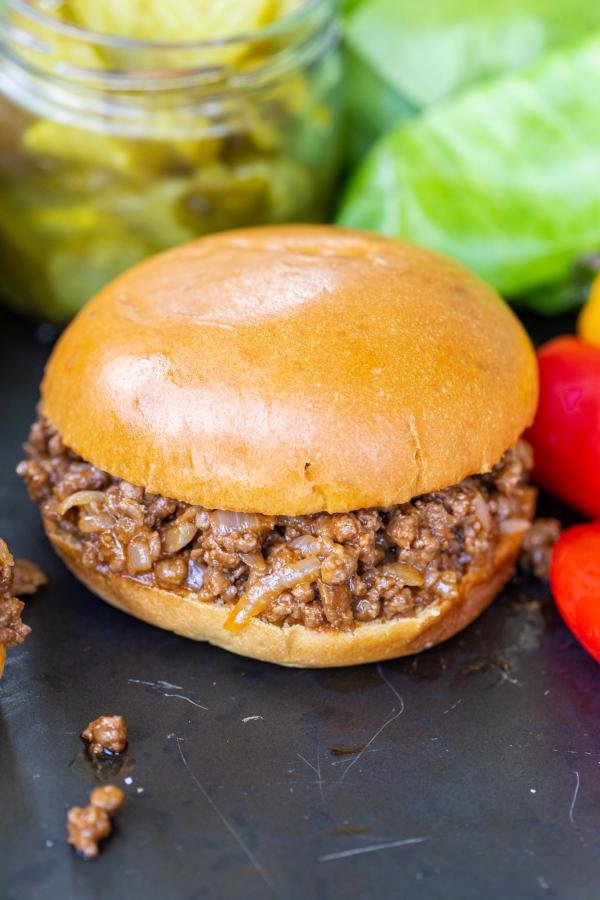 The school year is right around the corner, friends. You know what that means – it's time for crazy easy, no-fuss dinners to help you navigate those hectic weeknights. If you're anything like us, you don't want the chaos of back-to-school to get in the way of gathering around the table with your family. The key to having it all? Dinners that you can batch cook and meal prep. Look no further than this classic sloppy joe recipe. It's Beefy, kid-friendly, and so filling.
The 101 on Making the Perfect Sloppy Joe Sauce
The key to making a delicious sloppy joe sauce to simmer your Ground Beef in, is balancing the right kind of flavors. Lucky for you, all it takes is 4 sauce ingredients to achieve that signature sweet and savory taste you're looking for.
Ketchup – Ketchup adds the perfect balance of tomato and sweetness. For best results, use a high-quality variety. They tend to be more flavorful! If you like your sloppy joes with extra tomatoey flavor, add in a tablespoon of tomato paste.
Worcestershire Sauce – Worcestershire sauce adds the umami that gives the sauce such a depth of flavor. If you don't have it, substitute it for soy sauce in a pinch.
Brown Sugar – Dark brown sugar adds another layer of earthy sweetness to the sauce.
Yellow Mustard – Classic, no-frills yellow mustard brings the sauce together with a bit of acid and tang. Avoid using other types of mustards, as they simply aren't the same in this classic dish.
Like some spice? Add in a couple of teaspoons of chili powder to the sauce to taste or a couple of dashes of your favorite hot sauce.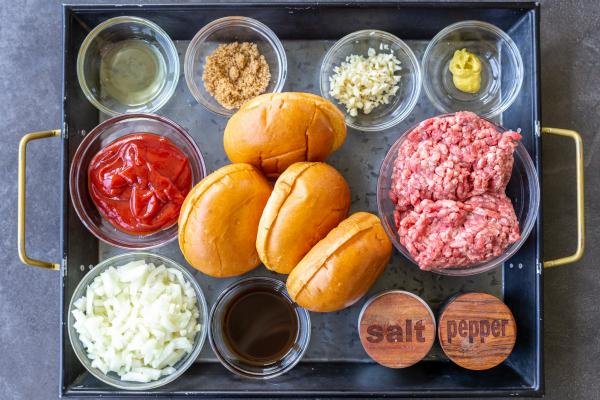 How to Prepare this Beefy Sloppy Joe Recipe
Preparing this easy homemade sloppy joes recipe only requires one large skillet and a small bowl to whisk the sauce in.
Make the Sauce: In a small bowl, whisk the sauce ingredients together. Set the bowl aside.
Brown the Beef: In a large saucepan over medium-low on the stovetop, brown the Ground Beef with olive oil or avocado oil.
Add in the Onions & Garlic: Once the Ground Beef is no longer pink, stir in the onion, salt, and black pepper. Sauté until the onion turns translucent. Add in the minced garlic and cook it for a minute or so.
Add the Sauce: Pour the sauce into the skillet and turn the heat down low. Simmer the mixture for 10 minutes.
Toast the Buns: On a hot griddle, toast the buns until they get a nice sear.
Assemble the Sloppy Joes: Fill each bun with the Ground Beef mixture. Enjoy!
3 Tips for Nailing this Sloppy Joe Recipe
Consider us your sloppy joes support team. Follow these 3 tips and you'll get a loose meat sandwich for the ages.
Use a heavy bottom pot or a Dutch oven. For more even heat distribution, opt for using a heavy bottom pot or a Dutch oven.
Opt for leaner Ground Beef. To prevent your sloppy joe meat from turning out too greasy and making your buns soggy, pick-up lean Ground Beef. As a general rule of thumb, 85% and leaner is the way to go. If a good amount of oil pools at the bottom of the pan, drain out the excess grease before adding the other ingredients.
Always toast the hamburger buns for that perfect char flavor. While you can enjoy these sloppy joes on an untoasted bun, nothing compares to the extra smokey flavor a charred or toasted bun adds to the sandwich.
Hot Tip: For an extra serving of veggies, add diced carrots, celery, and green bell pepper to the meat mixture. This is perfect for picky kids!
Serving Suggestions
For a kid-friendly meal, pair your sloppy joes with some air fryer potato wedges or air fryer French fries. If you want to be a bit more balanced, serve them alongside pickles, air fryer asparagus or an ultimate garden salad.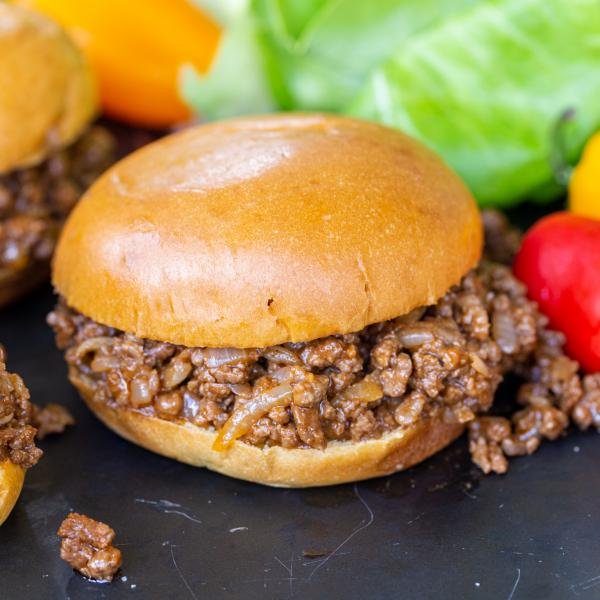 Storage & Meal Prep Best Practices
Meal preppers rejoice! Sloppy joes are perfect for batch cooking and freezing. Here's all you need to know to store them properly.
Refrigerator: To keep the sloppy joes on hand for up to a week, store the filling in an airtight container in the fridge. The kicker? The filling will continue to develop its flavor as it marinates in itself. Note: Never store assembled sandwiches in the fridge – they will just get soggy!
Freezer: If you want to keep the filling on hand for up to 3 months, allow the filling to cool down completely. Then, place it in a freezer bags or airtight container and pop it in the freezer. To thaw it, place it in the fridge overnight.
Reheating Tip: The best way to reheat sloppy joe filling is in the microwave or back in a skillet.
FAQ
Do you have to put onions in sloppy joes?
It's a great idea to put onions in sloppy joes. This lends a key flavor to the filling. Opt for yellow or white onions if you want a milder flavor. If you like a stronger onion flavor, use red onions instead.
Can you use tomato sauce instead of ketchup in sloppy joes?
It's best to use ketchup for sloppy joes versus tomato sauce. This is because ketchup tends to have a sweeter flavor, while tomato sauce is a bit more neutral.
What can you do with leftover sloppy joe mix?
If you have leftover sloppy joe mix and aren't craving another sandwich, there are plenty of different ways to use it. You can serve it over steamed white rice, creamy mashed potatoes, or over french fries. You can also toss it with cooked macaroni.
Can you cook sloppy joes in a slow cooker?
Yes, you can cook sloppy joes in a slow cooker. You'll want to brown the Ground Beef and veggies in a skillet before tossing all the ingredients into the slow cooker for 4 hours on high heat or 8 hours on low heat.
More Beefy Recipes to Try Out
Recipe
Looking for an easy meal to add to your weeknight dinner rotation? This 100% kid-friendly, comforting, and Beefy sloppy joe recipe has your name all over it.
Nutrition Facts
Very Best Sloppy Joe Recipe
Amount Per Serving
Calories 502
Calories from Fat 252
% Daily Value*
Fat 28g43%
Cholesterol 81mg27%
Sodium 978mg41%
Potassium 570mg16%
Carbohydrates 38g13%
Protein 24g48%
Vitamin A 165IU3%
Vitamin C 5mg6%
Calcium 111mg11%
Iron 4mg22%
* Percent Daily Values are based on a 2000 calorie diet.