These Philly cheesesteak egg rolls are the perfect fusion of two beloved foods. Delicious & packed to the gills with cheese, peppers, onions, & juicy Beef!
This post is a collaboration with Beef. It's What's for Dinner. on behalf of the Beef Checkoff. I received compensation, but all opinions are my own.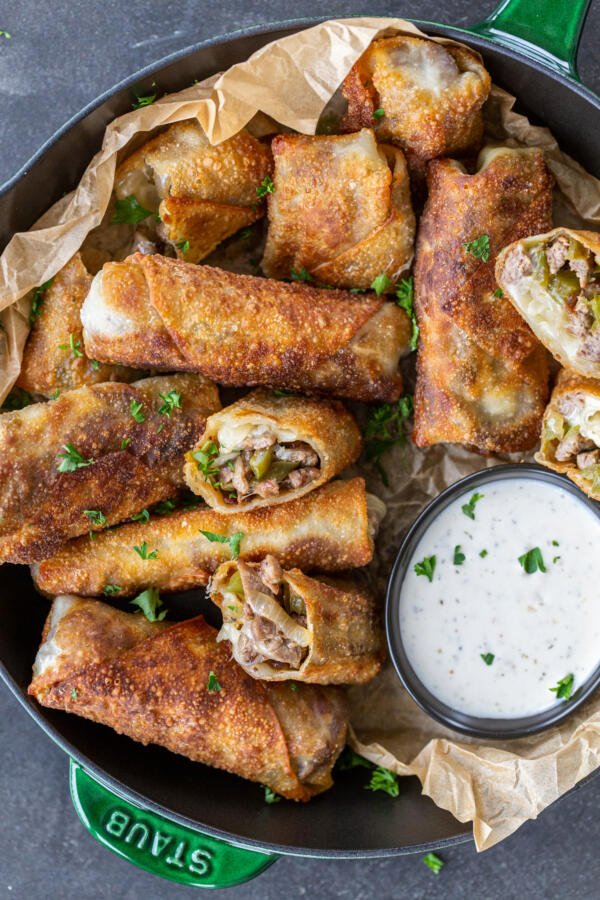 These crispy Philly cheesesteak egg rolls are the perfect addition to your next casual party appetizer tray. They blend all the wonderful things about Beefy, satisfying Philly cheesesteak with the wonders of a crispy fried egg roll. This is for all you lovers of fusion food out there!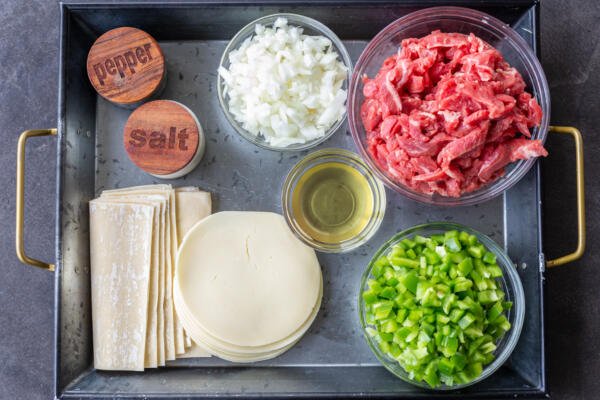 Philly Cheesesteak Egg Rolls Video
How to Make the Best Philly Cheesesteak Egg Rolls
Making these easy Philly cheesesteak egg rolls is not that different from making traditional egg rolls. The only difference is that tasty cheesesteak filling!
Prepare the Beef: First off, slice the Beef into very thin strips. Set it aside.
Chop the Veggies: Next, dice the onion and green bell pepper and sauté them in a little olive oil just until they soften. Remove and set aside.
Cook the Beef: Pour the rest of the oil into the pan and cook the Beef on medium-high heat until golden brown.
Build the Filling: Then, add the vegetables back into the pan with the Beef, season with salt and pepper. Remove the skillet from heat.
Assemble the Egg Rolls: Assemble the wrappers in a single layer on a clean work surface. Top each with slices of provolone, followed by a bit of the filling mixture. Wrap the egg rolls according to the package instructions.
Fry the Egg Rolls: Next, preheat a deep pot with oil to 350°F and fry a few egg rolls at a time until golden brown.
Drain the Egg Rolls: Lastly, remove the egg rolls from the oil and rest them on a stack of paper towels to drain the excess grease for a few minutes. Serve them up with your favorite dipping sauces and dig in!
Bake or Air Fry Philly Cheesesteak Egg Rolls Instead
Don't want to deal with deep-frying? No problem. You can easily bake or air fry your egg rolls instead to cut down on grease and splattering oil.
Baking Philly Cheesesteak Egg Rolls
First, lay the egg rolls out flat in a single layer on a baking sheet. They will need to bake at 425°F for 15 minutes to get nice and crispy. If they are still too soft after 15 minutes, give them a couple or more.
Air Frying Philly Cheesesteak Egg Rolls
To air fry these egg rolls, lay them out in a single layer in the air fryer basket, giving each roll sufficient space to prevent any sticking. Lastly, air fry them at 375°F for 10 minutes or until golden brown.
5 Tips for the Crispiest Philly Cheesesteak Egg Rolls
Just a handful of tips will help you make the most mouthwatering batch of crispy cheesesteak egg rolls.
Don't overcrowd the Beef during the cooking process. Avoid overcrowding the Beef in the skillet, as it will take so much longer to get a nice golden brown sear. If you have to, panfry the meat in batches.
Avoid overcooking the veggies – a little bit is good! We recommend that you only cook the veggies until they begin to soften for good reason. A little bite to the red peppers and onions gives these egg rolls so much texture!
Don't overstuff the egg rolls. Avoid overstuffing the egg rolls, as they will easily come apart and explode in the fryer oil.
Seal the egg roll wrappers with a little water. If you're having a hard time sealing the seam of your egg roll, use a little dab of water to "glue" it down.
Keep your frying oil at 350°F. For optimal crispiness, try to keep your frying oil at or around 350°F. If you have to, test the temperature of the oil with a candy thermometer.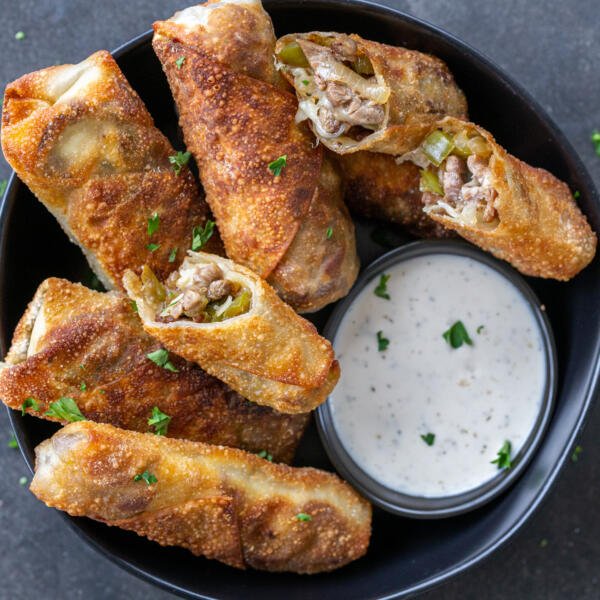 Storing, Freezing, & Reheating
While nothing compares to eating egg rolls straight out of the frying oil, there are some great storage methods to prevent them from turning soggy. Here's all you need to know…
Storing: To keep the egg rolls fresh for 2-3 days, store the leftovers in an airtight container in the refrigerator to prevent them from turning soggy and limp.
Freezing: It's best to freeze egg rolls raw and fry them from frozen. To do so, lay them out on a baking sheet and pop them into the freezer. Once frozen, store them in a bag for up to a month.
Reheating Tip: The best way to reheat egg rolls is in the air fryer or the oven. Avoid microwaving them all-together, as they will just turn soggy!
What cut of meat is best for Philly cheesesteak?
The best cut of meat for a Philly cheesesteak is hands down ribeye. This marbled, fatty meat yields so much flavor and makes for a perfect bite into the hefty sandwich.
How do you roll Philly cheesesteak egg rolls?
Rolling a Philly cheesesteak egg roll is just like rolling a typical egg roll. To do so, place the egg roll wrappers on top of a clean work surface in a diamond shape. Pop the filling and cheese into the center of the wrap. Pull the bottom corner over the filling and fold the two side pieces into the center. Roll the filling inside toward the top corner and seal the seam with a little water.
What kinds of dip go with Philly cheesesteak egg rolls?
The best dip for Philly cheesesteak egg rolls is ranch dressing. That said, you can't go wrong! Serve them alongside garlic aioli or even your favorite spicy or sweet chili sauce.
What is the best cheese for Philly cheesesteak?
While there's much debate as to what the best cheese for Philly cheesesteak is, most would say provolone cheese is the top choice. This is followed by American cheese and Cheez-Wiz.
More of Philly Cheesesteak Recipes
Recipe
These Philly cheesesteak egg rolls are going to become one of your favorite new appetizers. Packed with melty cheese, sautéed peppers, and juicy Beef!
Ingredients
1

lb

Beef

Flank or Ribeye

2

tbsp

oil

avocado or olive

1

large onion

chopped

1

large green bell pepper

chopped

1

tbsp

salt

adjust to taste

1

tsp

ground black pepper

adjust to taste

8

slices

provolone

16

egg roll wrappers

oil

for frying
Nutrition Facts
Philly Cheesesteak Egg Rolls
Amount Per Serving
Calories 218
Calories from Fat 126
% Daily Value*
Fat 14g22%
Cholesterol 37mg12%
Sodium 799mg33%
Potassium 167mg5%
Carbohydrates 12g4%
Protein 12g24%
Vitamin A 152IU3%
Vitamin C 9mg11%
Calcium 115mg12%
Iron 1mg6%
* Percent Daily Values are based on a 2000 calorie diet.