Toasted hoagie rolls are piled high with succulent shaved steak, caramelized onions, and melty provolone cheese. We bet you've never had a sandwich so juicy!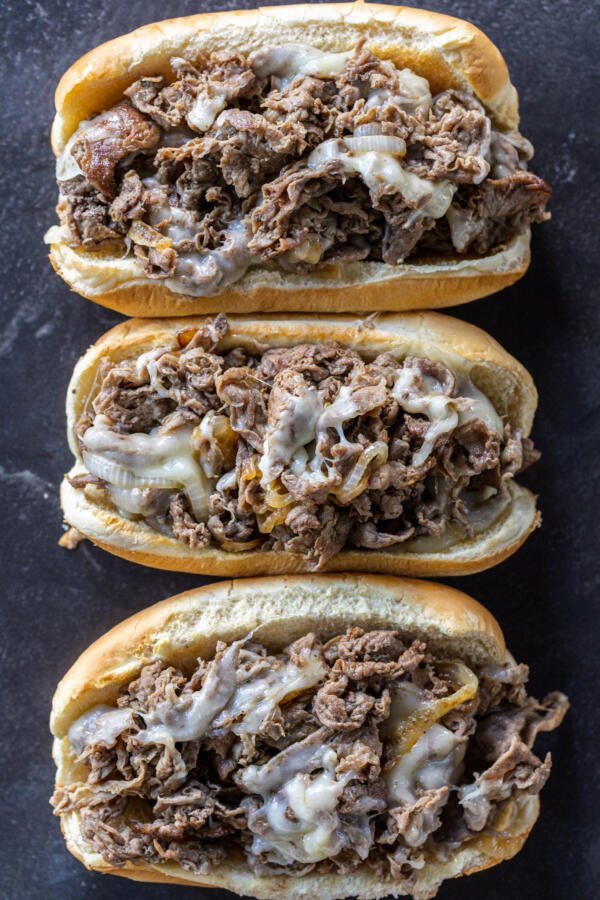 Do you love steak sandwiches? This sandwich was born out of love for our Philly cheesesteak and steak sandwich. Nothing compares to tender, juicy beef on a soft roll… is your mouth watering yet?
What Is a Shaved Steak Sandwich?
A shaved steak sandwich is a mixture of shaved steak, onions, and cheese stuffed into a hoagie roll. It is characteristically bursting with juice and immensely flavorful. The rich fattiness of the steak intermingles with the melted cheese to create an indulgent eating experience.
The inspiration for this shaved steak sandwich was derived from the classic Philly cheesesteak: a sandwich composed of thinly sliced beef and melted cheese in a hoagie roll. The Philly cheesesteak is one of the most popular fast food sandwiches today, hailing from the city of Philadelphia. Philly cheesesteaks commonly feature sautéed mushrooms and peppers, but we kept it simple with onions in this shaved steak sandwich.
How To Make a Shaved Steak Sandwich
Sauté, stir together, and stuff — these simple steps are all it takes to make a shaved steak sandwich. Let's get cooking!
Sauté the onion: Preheat a large skillet over medium-high heat with oil. Slice the onion into half rings, then cook until golden brown. Remove and set aside.
Cook the steak: In the same skillet, increase the heat to high and add the shaved steak. Season with salt and pepper and sauté until the beef is cooked through.
Assemble the filling: Add the onions back to the pan and mix to combine. Top with the cheese slices and allow them to melt.
Stuff the rolls: Toast the hoagie rolls on a pan or in the oven. Fill the toasted rolls with the steak mixture, then enjoy immediately!
Choosing the Right Beef
Beef is the star ingredient in this sandwich, so it's crucial to choose the right cut. This sandwich is made with shaved steak — choose any of the following cuts and ask your local butcher to shave it, or do it yourself! Let's look at the pros and cons of a few different varieties.
Ribeye: Ribeye is the #1 choice for steak sandwiches for several reasons. It's supremely tender, well-marbled, and flavorful. However, it tends to be on the pricier side.
Sirloin: Sirloin is a leaner cut than ribeye, but it is still tender and flavorful when cooked properly.
Flank: Flank steak has a reputation for being tough, but it has an amazing flavor when marinated and grilled.
Skirt: Skirt steak is a great value option when buying in bulk. It also has a tendency to be tough, so marinate it well and take care not to overcook it.
New York Strip: NY strip is leaner than a ribeye, but it has comparable juiciness and a robust beefy flavor.
How To Shave Steak Yourself
Can't find shaved steak in the store? No problem! Follow these instructions to make the best homemade shaved steak.
Freeze the steak: Place your steak in the freezer for 15-30 minutes to "shock" the meat and make it easier to slice.
Slice the steak: Transfer the cold steak to a cutting board. Using a very sharp knife and a gentle sawing motion, thinly slice the steak. To ensure tenderness, cut against the grain (in the opposite direction of the fibers).
Hot tip: For a quicker and easier method, shave the cold steak in a food processor with the slicing blade attachment.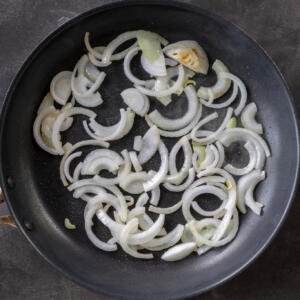 Ingredient Variations
These steak sandwiches are sublime just as they are, but more fillings = more fun! Add your favorite ingredients to create the perfect sandwich for you.
Veggies: Sauté mushrooms and green bell peppers along with the onion for more veggie goodness. Sprinkle in minced garlic for a garlicky kick.
Sauce: Add a dash of worcestershire sauce to the steak for umami flavor. If you love condiments on your sandwich, spread marinara, mayo, ketchup, or hot sauce on the bread.
Cheese: For a more pronounced Philly cheesesteak sandwich taste, melt on American cheese or add a squirt of Cheez Whiz.
Hot tip: Use leftover beef roast instead of using shaved steak. A beef roast yields supremely tender meat, even when it's made from a cheaper cut. Slice the roast thinly and mix with the sautéed veggies and melted cheese to create a truly juicy filling.
Tips for the Juiciest Shaved Steak Sandwich
If you're craving a sandwich with a (literal) burst of flavor, you've come to the right place. Level up your steak sandwich game with these chef's tips.
Use fresh bread. Hoagie rolls are our usual go-to for a steak sandwich, but a fresh homemade baguette is another delicious option. Toast the bread until it's golden brown for a satisfying crunch.
Avoid overcooking the beef. Perfectly cooked steak is the key to making this sandwich juicy. Cook the shaved steak to medium (small strip of pink in the center) for the most succulent filling. Shaved steak needs a short cooking time over high heat to turn out tender.
Enjoy the sandwiches immediately. Capture the full experience of these shaved steak sandwiches by eating them fresh, while the cheese is melty and the filling is hot. The sandwiches become mushy over time, as the juices from the filling soak into the bread.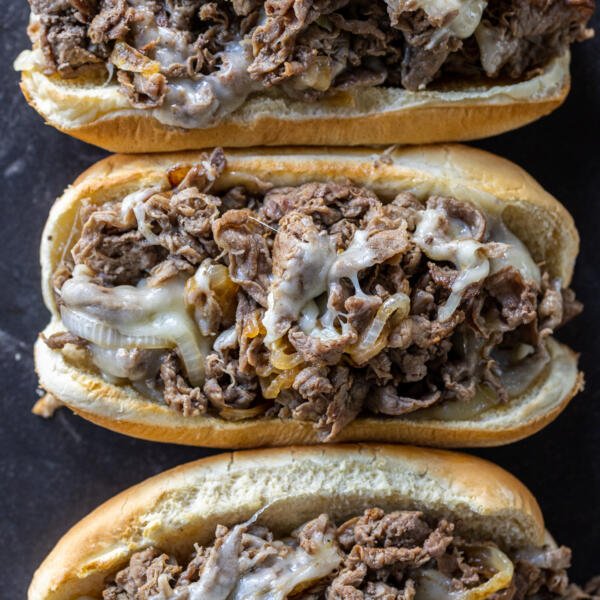 Ways To Serve
Enjoy shaved steak sandwiches for lunch or dinner with your favorite sides. We love air fryer french fries, potato chips, or Philly cheesesteak egg rolls for a complementing flavor. Are you ready to cleanse your palette with some veggies? Rich steak sandwiches pair perfectly with tangy homemade sauerkraut, homemade pickles, Mexican street corn salad, or herby cabbage cucumber salad. However and whenever you decide to serve these sandwiches, remember to enjoy them fresh and hot!
Storing & Reheating
You have leftover shaved steak sandwiches — now what? We've taken out the guesswork with these tips to help you enjoy your sandwiches again later.
Storing: For the best flavor and texture, store your filling and bread separately.Place the leftover filling in an airtight container or bag and refrigerate for up to three days. Keep the bread at room temperature in a sealed bag.
Reheating: When you are ready to eat your leftovers, heat the refrigerated steak mixture on the stovetop or microwave until the cheese is melted again. Toast the rolls, stuff, and enjoy!
FAQ
What kind of meat is shaved steak?
Shaved steak is made from any cut of beef. For most steak sandwiches, ribeye shaved steak is the best option.
What kind of sauce do you put on a steak sandwich?
Steak sandwiches are tasty with a variety of sauces, such as ketchup, hot sauce, and mayo. For a more unique condiment, add in horseradish aioli or Worcestershire mayo.
What is the difference between a steak sandwich and a Philly cheesesteak?
The only difference between these steak sandwiches and a Philly cheesesteak is the choice of toppings. Philly cheesesteaks are commonly served with mushrooms or peppers, while these steak sandwiches are only made with onions.
More Steak Recipes
Recipe
Toasted hoagie rolls are piled high with succulent shaved steak, caramelized onions, and melty provolone cheese. We bet you've never had a sandwich so juicy!
Ingredients
1

tbsp

oil

avocado or olive

1

large yellow onion

2

lbs

shaved steak

1

tbsp

salt

adjust to taste

1

tsp

ground black pepper

adjust to taste

1

lb

provolone cheese slices

6

Hoagie rolls
Nutrition Facts
Shaved Steak Sandwich (Extra Juicy)
Amount Per Serving
Calories 782
Calories from Fat 414
% Daily Value*
Fat 46g71%
Cholesterol 144mg48%
Sodium 2084mg87%
Potassium 541mg15%
Carbohydrates 36g12%
Protein 55g110%
Vitamin A 690IU14%
Vitamin C 1mg1%
Calcium 595mg60%
Iron 14mg78%
* Percent Daily Values are based on a 2000 calorie diet.