This easy 3-ingredient roasted shredded beef is savory and fork-tender. It's the perfect addition to your salads, sandwiches, tacos, and more!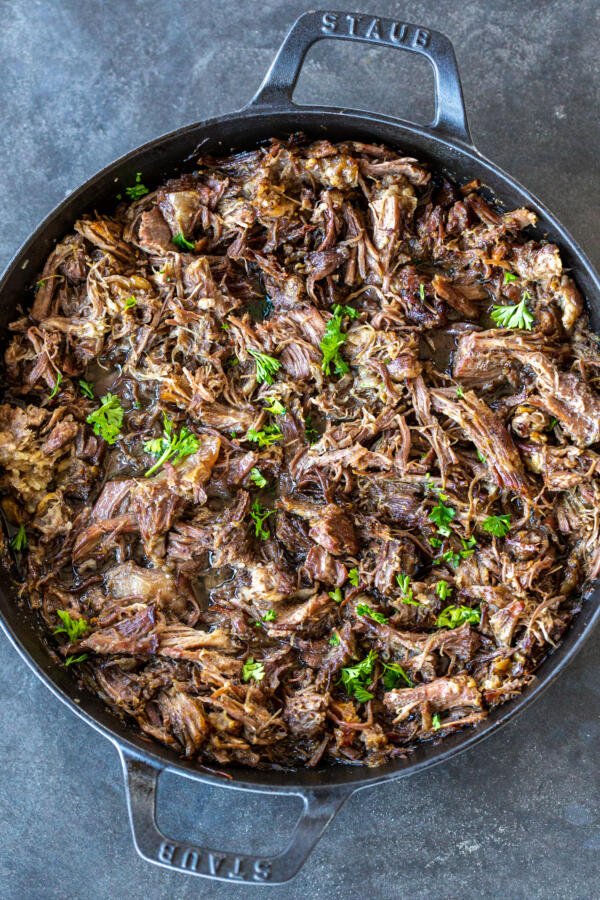 What is Roasted Shredded Beef?
Roasted shredded beef is chuck roast, baked in the oven for at least three hours until it becomes fork-tender and easy to shred. The resulting shredded beef is soft, juicy, and incredibly versatile — perfect to use in a variety of entrees.
Selecting the Right Cut for Shredded Beef
The best cut for shredded beef is chuck roast, also known as chuck eye or chuck shoulder. This cut is affordable and produces the most tender results.
Choose the chuck roast with the most fatty parts. The cut with the most fat will have the most juices. Avoid using other cuts of beef as they produce a dry and tough shredded beef.
How to Make Shredded Beef
Few things in life are as simple as making this roasted shredded beef. With only three ingredients, there's barely any prep involved!
Hot tip: Depending on the size of your chuck, baking time will vary. Every pound of roast takes about one hour to cook.
Shredded Beef Flavor Additions
This three-ingredient recipe is guaranteed to give you plenty of flavor with simple salt and pepper seasoning. However, make it your own masterpiece with these flavor variations. Just add the additional herbs or desired additions after shredding the beef, before placing it back in the oven to crispen.
Tips from the Kitchen
Every recipe has a few tips to make the process or the taste even better. Here are two quick tips for fantastic shredded beef.
Ways to Use Shredded Beef
This roasted shredded beef is amazing because it can be used in a multitude of ways. Make a large batch and use it in multiple meals this week!
Storage Tips + Reheating
With such a versatile entree, you won't have leftovers for long! To best store and reheat the beef, follow these tips.
FAQ
Does chuck roast need to be seared prior to roasting?
It is optional to sear chuck roast prior to roasting; however, it is not necessary.
Why is my beef not shredding?
If the chuck roast is not easy to shred, it is not fully cooked yet. Once the meat reaches about 205°F, it should shred easily.
Is barbacoa essentially shredded beef?
Barbacoa is a Mexican-flavored version of shredded beef. The cooking process for barbacoa is very similar, but the flavor of the shredded beef is traditionally used in Mexican cuisine.
More Mouthwatering Beef Recipes
Recipe
This easy 3-ingredient roasted shredded beef is savory and fork-tender. It's the perfect addition to your salads, sandwiches, tacos, and more!
Nutrition Facts
Roasted Shredded Beef (Only 3 Ingredients)
Amount Per Serving
Calories 327
Calories from Fat 189
% Daily Value*
Fat 21g32%
Cholesterol 125mg42%
Sodium 845mg35%
Potassium 605mg17%
Carbohydrates 0.1g0%
Protein 35g70%
Vitamin A 25IU1%
Calcium 32mg3%
Iron 4mg22%
* Percent Daily Values are based on a 2000 calorie diet.