​This eggplant appetizer features roasted eggplant rings topped with garlicky mayo, tomato slices, and fresh herbs. Naturally low-carb and perfectly zesty!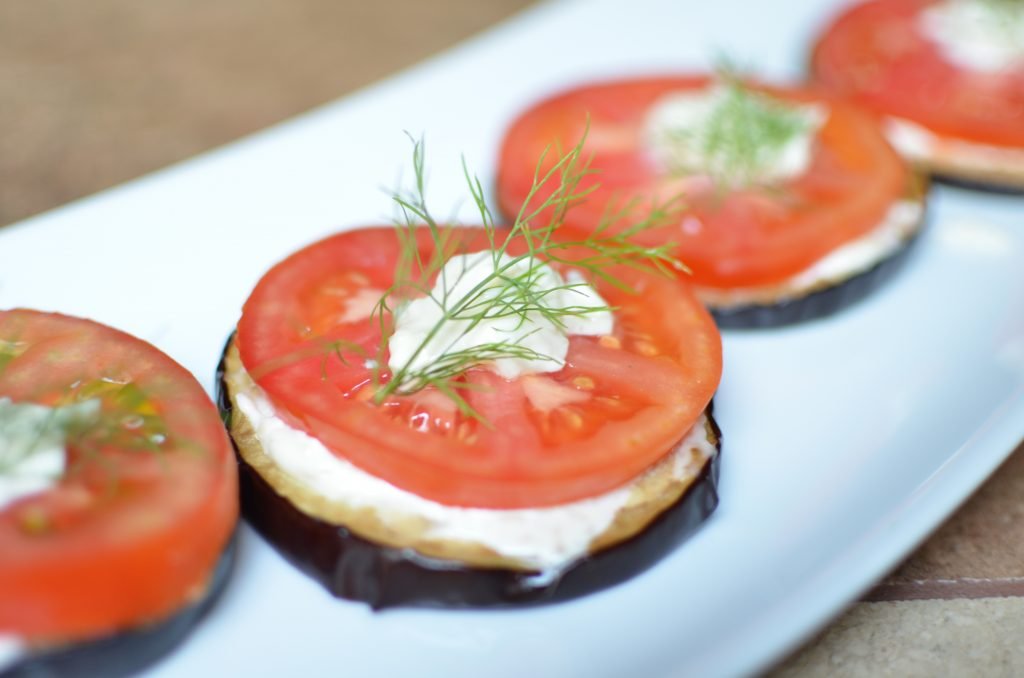 This eggplant appetizer looks so elegant, but it couldn't be any easier to pull together. Each bite is perfectly balanced with savory roasted eggplant, tangy garlic mayo, plump tomatoes, and fresh herbs. Prepare them for your next party and watch them disappear quicker than it took you to make them!
Assembling this Simple Eggplant Appetizer
These little eggplant bites require under 10 ingredients to make and under 30 minutes of prep time.
Season the Eggplant Rings: Slice the eggplant into thin rings and assemble them in a single layer on a baking sheet. Drizzle them with olive oil and a sprinkle of salt and pepper.
Broil the Eggplant: Next, bake the eggplant on a high broil in the oven until golden brown on both sides. Allow the eggplant rings to cool at room temperature.
Make the Garlicky Mayo: In a small bowl, mix the mayo and garlic.
Assemble the Eggplant Bites: Place the eggplant rings on a serving platter. Spread each with a thin layer of mayo, followed by a tomato slice, a dollop of mayo, and fresh dill. Enjoy!
A Couple Handy Tips & Variations
Below, find a couple of ways to get the most out of these tasty eggplant appetizer bites.
Slice the eggplant into evenly sized rings. To promote even baking, slice the whole eggplant even-sized rings.
Use fresh garlic over garlic powder. Fresh garlic cloves add such a nice pop of flavor to the mayonnaise.
Swap in different ingredients. Add some freshly grated parmesan cheese, toasted pine nuts, pickled red onions, or capers to the bites if you'd like. If you like it extra tangy, add a squeeze of lemon juice into the garlicky mayo.
Making the Perfect Appetizer Spread
These eggplant appetizers are the perfect centerpiece for your next appetizer spread. Serve them on a large platter alongside toasted crusty bread like baguette and a couple of your favorite cheeses. You can also add a bowl of marinated mushrooms, green olives, or marinated red bell peppers with garlic.
Storage Best Practices
This eggplant appetizer is best eaten right after it's prepared. If you want to get a head start, you can make the garlicky mayo 2-3 days in advance and store it in an airtight container in the fridge. Fully assembled eggplant appetizers will start to get soggy within 2-3 hours, so only make as many as you can eat straight away.
FAQ
Do you need to peel eggplant before baking it?
No, you do not need to peel the eggplant before broiling it. In fact, the skin helps the eggplant to keep it's shape.
What kind of eggplant should you use?
Opt for American-style eggplant over other varieties.
Are these appetizers gluten-free?
Yes, they are naturally gluten-free.
Should you broil the eggplant on low or on high?
Broil the eggplant on high for 5 minutes on the first side and 2-3 minutes on the other.
What's another herb to use besides dill?
Basil, parsley, and oregano will all work great.
More Tasty Appetizers to Try
Recipe
These uniquely delicious eggplant appetizers feature zesty garlic mayo, tomato, and fresh herbs. Naturally low-carb and impossible not to binge eat!
Instructions
Slice the eggplant into thin rings and assemble them in a single layer on a baking sheet. Drizzle olive oil over them, followed by a sprinkle of salt and pepper.

Broil the eggplant until they are soft and slightly browned. Flip them over and brown the other side.

Remove eggplant from oven and let them cool to room temperature.

In a small bowl, mix the mayonnaise and crushed garlic.
Nutrition Facts
Eggplant Appetizer with Tomato
Amount Per Serving
Calories 153
Calories from Fat 108
% Daily Value*
Fat 12g18%
Cholesterol 6mg2%
Sodium 678mg28%
Potassium 496mg14%
Carbohydrates 11g4%
Protein 2g4%
Vitamin A 807IU16%
Vitamin C 16mg19%
Calcium 26mg3%
Iron 1mg6%
* Percent Daily Values are based on a 2000 calorie diet.