These easy pickled red onions only take about 5 minutes to put together. Make a big batch and use them for a million different things!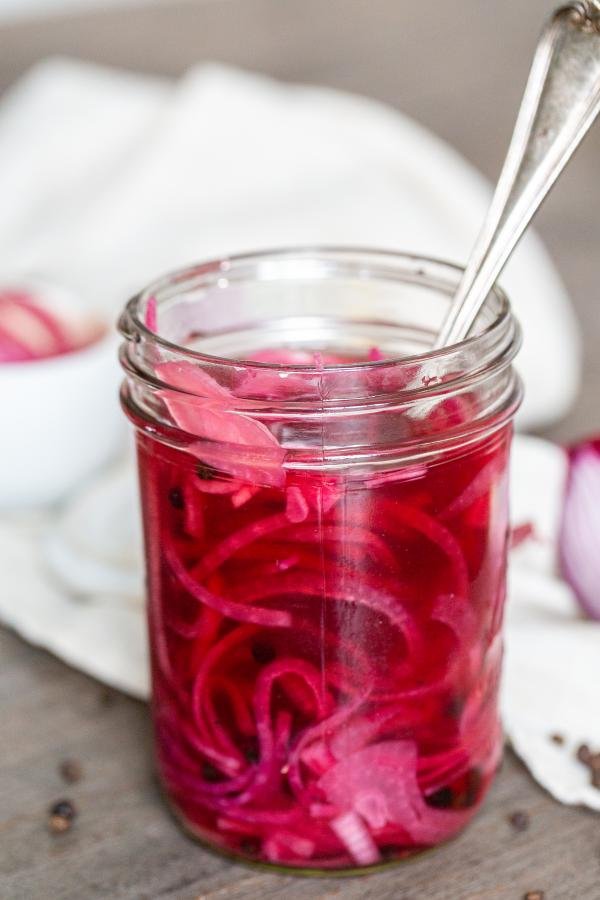 Pickled red onions add a vibrant color and flavor to salads, soups, sandwiches and more. They are sure to make your dish stand out. Typically I like to give it a day or two for the onions to absorb the flavors of pickling juice. The end result is a crunchy, tangy delicious garnish!
Marinade for Pickled Onions
To make the marinade for the pickled onions, all you need to do is combine water, apple cider vinegar, salt, sugar and peppercorns. It's so easy! Sometimes I even use a bit of the marinade and a drizzle of olive oil as a lazy salad dressing.
How to Prepare this Quick Pickled Onion Recipe
Making these quick pickled red onions doesn't require heating up a brine in a small saucepan. It's made with absolutely no need for heat!
Quick Pickled Onions Tips
Hot Tip: Use the same exact pickling liquid to pickle radishes, carrots, beets, jalapenos and cucumbers! I'm hoping to make a pickling addict out of you…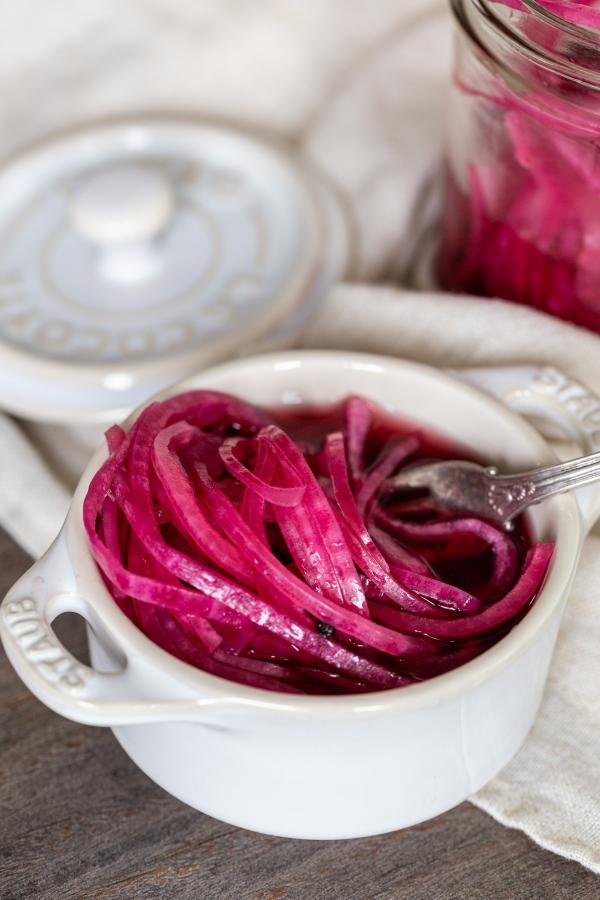 What to Eat Pickled Red Onions With
The possibilities are seriously endless here. Here are a couple of my favorites dishes to add pickled red onions to.
Storing Pickled Onions
When we say make a big batch, I mean it. These onions will keep for up to two weeks stored in an airtight container in the fridge. Bonus: They get better with time. The longer they soak in the pickling liquid, the more flavor you get. If you can, store your pickled red onions in a mason jar.
FAQ
How long do pickled onions last?
Quick pickled onions will keep for up to two weeks when stored properly. Make sure they are in an airtight container or canning jar in the fridge.
Why do you soak onions in salt water before pickling them?
Some people like to soak their whole onions in salt water before peeling and slicing them for pickling. This draws moisture out of the onions and softens them, but we actually prefer to pickle them straight from raw for the extra crunch.
Why do your pickled onions go soft?
A top reason pickled onions go soft is that the hot brine boils and cooks them a bit. This is why using a cold brine keeps them more crunchy and full of texture.
Can you pickle onions for too long?
You can pickle onions anywhere from 2-4 days. Since they only keep for about two weeks, a short pickle is more than sufficient.
More Pickled Veggies to Try
Recipe
These quick pickled onions are tangy, puckery and super versatile. Without the need for hot brine, they come together so quickly and are irresistible!
Nutrition Facts
Easy Pickled Onions Recipe
Amount Per Serving
Calories 11
Calories from Fat 9
% Daily Value*
Fat 1g2%
Sodium 389mg16%
Potassium 26mg1%
Carbohydrates 2g1%
Protein 1g2%
Vitamin C 0.7mg1%
Calcium 4mg0%
Iron 0.1mg1%
* Percent Daily Values are based on a 2000 calorie diet.