Easy Pickled Red Onions only take about 5 minutes to put together. Make a big batch and use them for a million different things!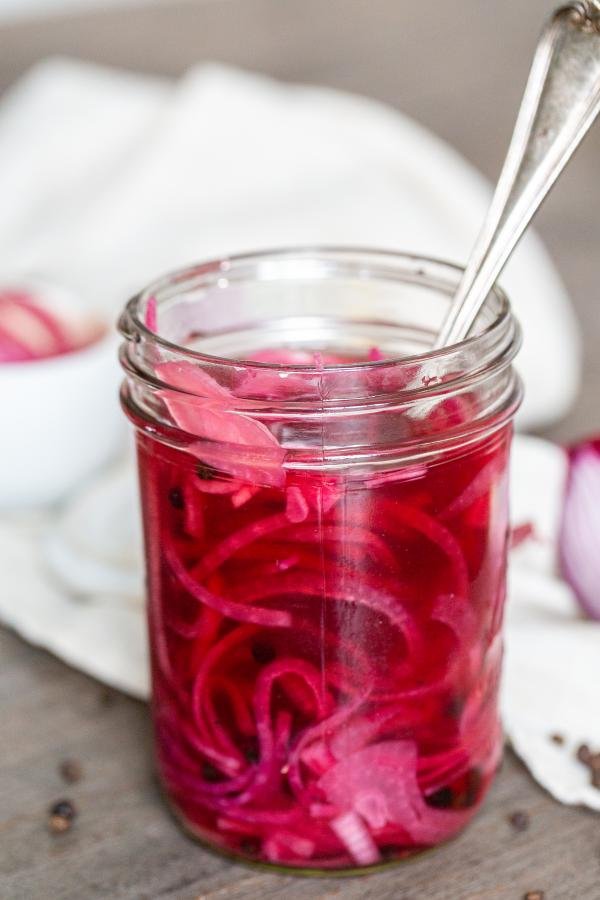 Pickled red onions add a vibrant color and flavor to salads, soups, sandwiches and more. They are sure to make your dish stand out.
Typically I like to give it a day or two for the onions to absorb the flavors of pickling juice. The end result is a crunchy, tangy delicious garnish!
Quick Pickled Onions Tips
Choosing the Right Onion – Grab one large red onion or two small ones. I like using red onions the most because they have higher acidity and a stronger flavor than yellow or white onions.
Slice Onions Thinly – For the best results, slice your onions as thinly as possible. You want each onion slice to soak up as much flavor as possible. If you have one, use your mandolin slicer.
Best Vinegar for Pickled Red Onions – Apple Cider Vinegar is my top choice due to its subtle sweetness. However, you can use white vinegar as well. Just stay away from the
Substitute White Sugar for a Natural Sweetener – Traditionally, pickled red onions are made with white sugar. But, if you want to be ultra-healthy, try using maple syrup, agave or honey instead.
Flavor your Pickling Liquid – Want to add an extra flavor punch to your onions? Make it spicy by adding some habaneros or jalapenos to the mix. You can also add a couple of cloves of garlic, ground cumin, bay leaf or dried oregano. Get creative!
Quick Pickled Something Else! Use the same exact pickling liquid to pickle radishes, carrots, beets, jalapenos and cucumbers! I'm hoping to make a pickling addict out of you…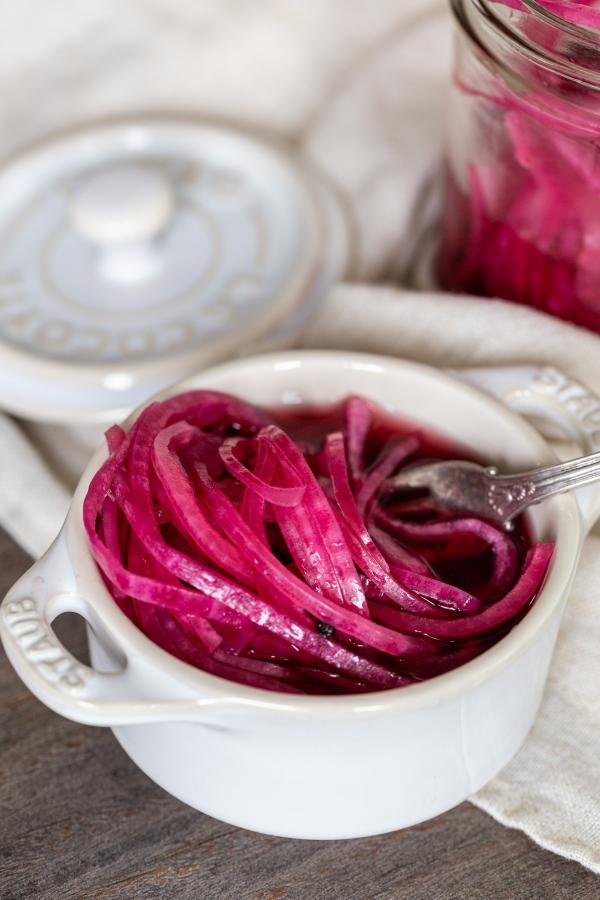 What to Eat Pickled Red Onions With
The possibilities are seriously endless here. If you are a fan of Mexican food, you have probably came across tacos topped with these crunchy treats. However, they can be used for almost anything. Here are a couple of my favorites dishes to add pickled red onions to.
How Long do Pickled Onions Last?
When I say make a big batch, I mean it. These onions will keep for up to two weeks stored in an airtight container in the fridge. Bonus: They get better with time. The longer they soak in the pickling liquid, the more flavor you get. If you can, store your pickled red onions in a mason jar.
Marinade for Pickled Onions
To make the marinade for the pickled onions, all you need to do is combine water, apple cider vinegar, salt, sugar and peppercorns. It's so easy! Sometimes I even use a bit of the marinade and a drizzle of olive oil as a lazy salad dressing.
Recipe
Easy Pickled Red Onions only take about 5 minutes to put together. Make a big batch and use them for a million different things!
Ingredients
Nutrition Facts
Easy Pickled Onions Recipe
Amount Per Serving
Calories 11
Calories from Fat 9
% Daily Value*
Fat 1g2%
Sodium 389mg16%
Potassium 26mg1%
Carbohydrates 2g1%
Protein 1g2%
Vitamin C 0.7mg1%
Calcium 4mg0%
Iron 0.1mg1%
* Percent Daily Values are based on a 2000 calorie diet.