This unique eggplant sandwich recipe features mozzarella, garlicky mayo, and tomato sandwiched between roasted eggplant. The perfect appetizer!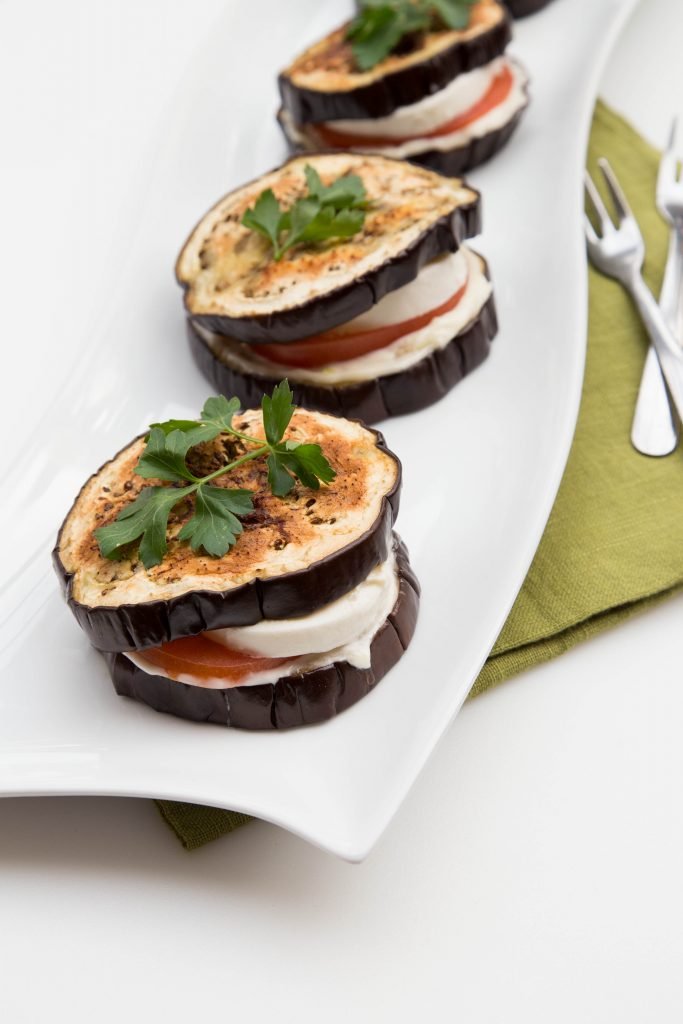 Sometimes you just have to experiment in the kitchen and let your imagination run wild. This recipe was born out of a desire to do something new and exciting with eggplant! The end result? A naturally low-carb appetizer that's ridiculously binge-worthy.
The Two Main Types of Eggplant
There are so many different varieties of eggplant out there, but there are two main kinds you'll find in most grocery stores.
American Eggplant (Recommended for this Recipe): American eggplant is the variety you are most likely familiar with. It's most commonly used in eggplant parmesan and features a dark purple exterior and a soft, inner flesh.
Chinese Eggplant (A Good Runner-Up): Chinese eggplant is the second most common eggplant found in conventional grocery stores. It's long and skinny and features a dark purple exterior and firm inner flesh. You'll find it served in a wide variety of Asian-style stir fry dishes.
Preparing this Easy Eggplant Sandwich Recipe
For as fancy as this recipe looks, it's actually so simple to put together and only requires 8 ingredients. Here's how to do it:
Prepare the Eggplant: First, slice the eggplant into 1-inch thick rings and assemble them in a single layer on a rimmed baking sheet. Brush them with olive oil and sprinkle on some salt.
Roast the Eggplant: Next, bake the eggplant at 415°F for about 15 minutes or until golden brown. Set the eggplant aside to cool at room temperature.
Make the Garlicky Mayo: Press the garlic into the mayo and stir to combine.
Assemble the Eggplant Sandwiches: Spread a thin layer of the mayo on top of each eggplant slice and top with tomato and mozzarella. Next, top each sandwich with another eggplant slice and a garnish of fresh basil leaves or a sprig of dill. Enjoy!
Hot Tip: Up-level the sandwiches with a drizzle of balsamic vinegar or a couple of cracks of black pepper.
Handy Tips & Tricks to Help You Along the Way
A couple simple tips and tricks will help you knock this eggplant sandwich recipe out of the park.
Pat the eggplant dry of any excess moisture. After cleaning the eggplant under cool water, use a paper towel to pat it dry. This will help it get crispy in the oven!
Grill eggplant slices for a smokier flavor profile. If you'd like, grill the eggplant instead of roasting it. You can also cook them on the stovetop in a grill pan.
Use fresh mozzarella. You'll want to opt for soft, fresh mozzarella over harder varieties. If the kind you're using comes packed in water, make sure to pat it dry so it doesn't make the sandwiches soggy.
Different Ways to Serve this Eggplant Sandwich Recipe
Looking to make a killer appetizer spread for your next party? Build an appetizer tray around this eggplant sandwich recipe by adding some variety to the mix. Throw on a couple more finger sandwiches, like our smoked salmon tea sandwiches, chicken bacon canapés, or egg and sprats canapés.
Tops Tips for Make-Ahead & Storage
If you're planning on preparing these sandwiches ahead of time, only assemble them an hour in advance tops to prevent them from turning soggy. That said, you can always prepare the garlicky mayo a couple of days in advance and store it in an airtight container to let it really develop its flavors. When it comes to leftovers, you'll want to play it by ear since these are best eaten fresh.
FAQ
How do you make eggplant less soggy?
Eggplant is most prone to turning soggy when it's pan-fried or sautéed too long or with too much oil. Since you'll be roasting it for this recipe, you shouldn't run into any problems.
Do you have to peel eggplant before cooking with it?
No, the peel is perfectly safe to eat. In fact, it makes these sandwiches much more sturdy.
Why is your roasted eggplant chewy?
Your roasted eggplant likely came out chewy if it was slightly undercooked.
Can you use a different kind of cheese than mozzarella?
Yes, you can use goat cheese, havarti, provolone, or feta.
More Delicious Eggplant Appetizers
Recipe
This eggplant sandwich recipe is sure to "wow" your guests at your next dinner party. Stacked high with fresh mozzarella, tomatoes, and garlicky mayo!
Ingredients
1

eggplant

1

tsp

salt

to taste

1

tsp

olive oil

for baking

2

tbsp

mayonnaise

2

large garlic cloves

2

large tomatoes

1/2

lb

fresh mozzarella

fresh herbs

for garnish
Nutrition Facts
Eggplant Sandwiches Recipe
Amount Per Serving
Calories 134
Calories from Fat 90
% Daily Value*
Fat 10g15%
Cholesterol 24mg8%
Sodium 493mg21%
Potassium 229mg7%
Carbohydrates 5g2%
Protein 7g14%
Vitamin A 463IU9%
Vitamin C 6mg7%
Calcium 153mg15%
Iron 1mg6%
* Percent Daily Values are based on a 2000 calorie diet.