Marinated red bell peppers are insanely delicious and easy to make. Leave them overnight and wake up to the most flavorful bell peppers out there!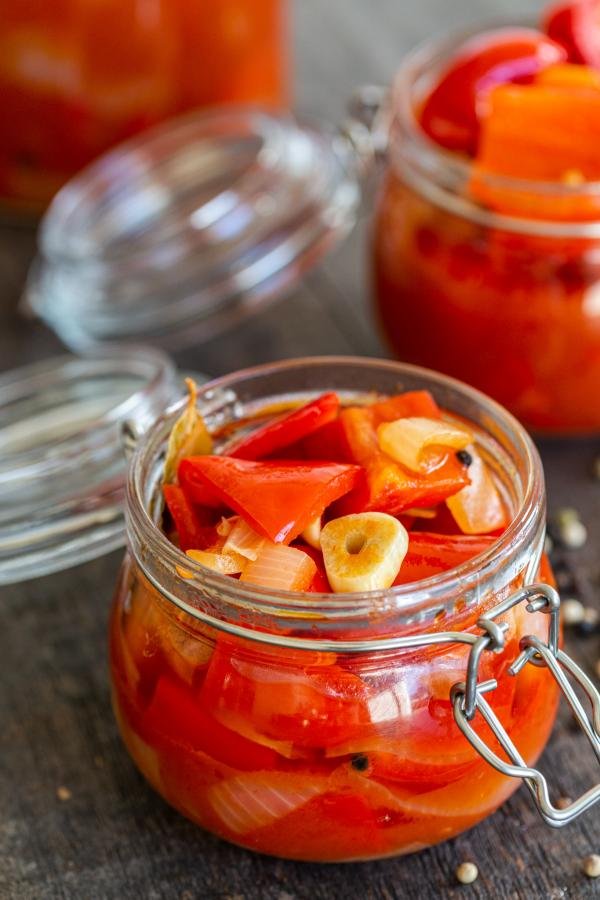 Marinating bell peppers is the best way to preserve them. The longer you let them sit, the better.
Keep a jar of these tasty guys on hand for a rainy day. Trust me, when you have unexpected guests, you will be happy that you can use them to create a last minute charcuterie tray.
This recipe has been a staple in my family for years. We love marinating veggies year round. I love adding them to a variety of dishes, such as Uzbek Plov and my Cream Mushroom Potatoes.
Did I mention that they are the perfect addition to a sandwich? Pop a handful on a steak sandwich or a philly cheesesteak to get a refreshing pop of flavor!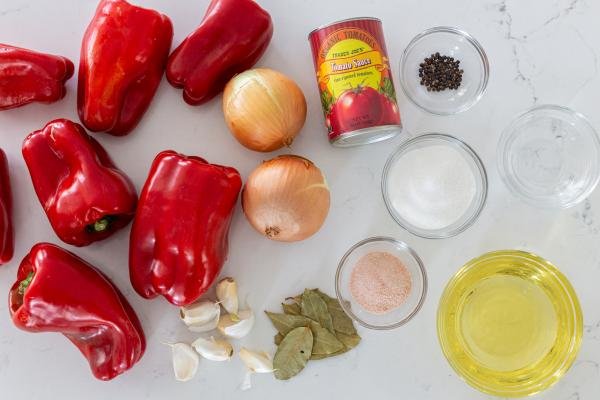 Choosing the Right Bell Peppers
Large red bell peppers are going to be your best bet. Why? Red bell peppers are the sweetest of all bell peppers. Their natural flavor also lends itself really well to the marinade. I have tried using green and yellow peppers, but it's just not the same.
Have mini bell peppers on hand? Try making my recipe for Marinated Mini Bell Peppers. They are great for the times when you want to meal prep. Which I bet is all the time right?! You, productive cook, you! 🙂
How to Make Marinated Bell Peppers
Making marinated bell peppers is as simple as it gets. Follow these easy directions and get a whopping 2.5 quarts of canned peppers! Preserving is truly the gift that keeps giving…
Chop up your bell peppers and onions.
Place all of your ingredients into a large pot.
Boil all the ingredients together for 10 minutes.
Simply place the bell peppers in an airtight jar in the fridge or can them (see instructions below) so they keep for extra long.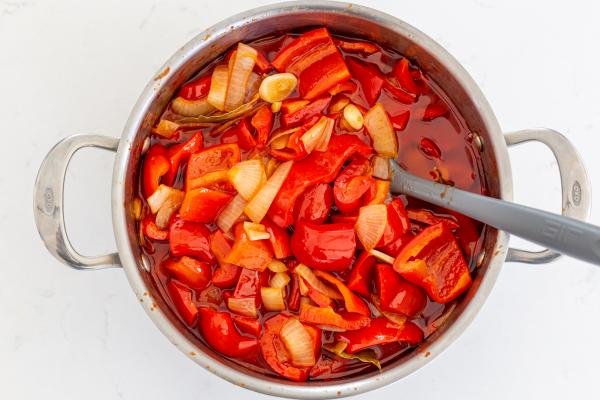 How To Can Marinated Bell Peppers?
Canning is a right of passage for any home chef. Having delicious, preserved veggies on hand assures that you will always have something fresh to eat — especially on those crazy weeknights when going to the store to pick up produce is out of the question.
I don't have to tell you this, but it's best to can bell peppers when they are in season. They will have the most flavor and they will be much cheaper than during off-season. A good habit to get into is canning veggies at peak flavor. Why waste all the effort on dull, flavorless and shipped-clear-across the country marinating?
If you are intimidated by the process of marinating peppers, fear not! Follow these step-by-step instructions and nail it each and every time:
Preheat the oven to 215 ℉.
Wash your jars and lids in hot, soapy water.
Without drying them, transfer them to a roasting tray.
Pop the clean and wet jars and lids into the oven for 15 minutes.
Using a canning funnel, transfer the peppers into the jars while they are still piping hot. Close all the lids very tightly.
Flip the sealed jars upside down on the counter to finish sealing. Let them sit for several hours this way.
Store in a cool, dry place for up to a year.
Storing Marinated Bell Peppers
If you don't feel like canning, it's perfectly fine to do a simple marinade. Just be sure that you refrigerate your bell peppers if you don't can them. Marinated bell peppers don't keep the same way that canned peppers do! They will, however, stay fresh enough to eat for up to two months in the fridge.
Recipe
Marinated red bell peppers are insanely delicious and easy to make. Leave them overnight and wake up to the most flavorful bell peppers out there!
Ingredients
15

medium red bell pepper

2

large onions

15

oz

tomato pure

(or tomato sauce)

3/4

cup

sugar

1/2

cup

vinegar

2

tbsp

salt

2

cup

vegetable oil

20

pieces of whole back peppers

10

bay leaves

6

garlic cloves

thinly sliced
Instructions
Marinating
Combine ingredients together into a large pot. The peppers will not be covered by liquid at first, but they will eventually shrink and cause a perfect amount of marinade.
Canning
Sterilize the jars and preheat the oven to 215 °F. Wash the jars and lids and place them in the oven for about 15 minutes or until completely dry. With the help of a canning funnel, place peppers into jars, while they are still hot.

Close all lids very tightly. Flip them upside down and keep it for several hours; this process helps seal the lid. Store in a cool place. They can be stored up to a year.
Nutrition Facts
Marinated Red Bell Peppers
Amount Per Serving
Calories 181
Calories from Fat 45
% Daily Value*
Fat 5g8%
Sodium 1416mg59%
Potassium 603mg17%
Carbohydrates 32g11%
Protein 3g6%
Vitamin A 5812IU116%
Vitamin C 235mg285%
Calcium 28mg3%
Iron 2mg11%
* Percent Daily Values are based on a 2000 calorie diet.