These easy marinated mushrooms are bursting with flavor from fresh herbs and garlic. With just 15 minutes of prep, they're a simple yet impressive addition to your next antipasto platter!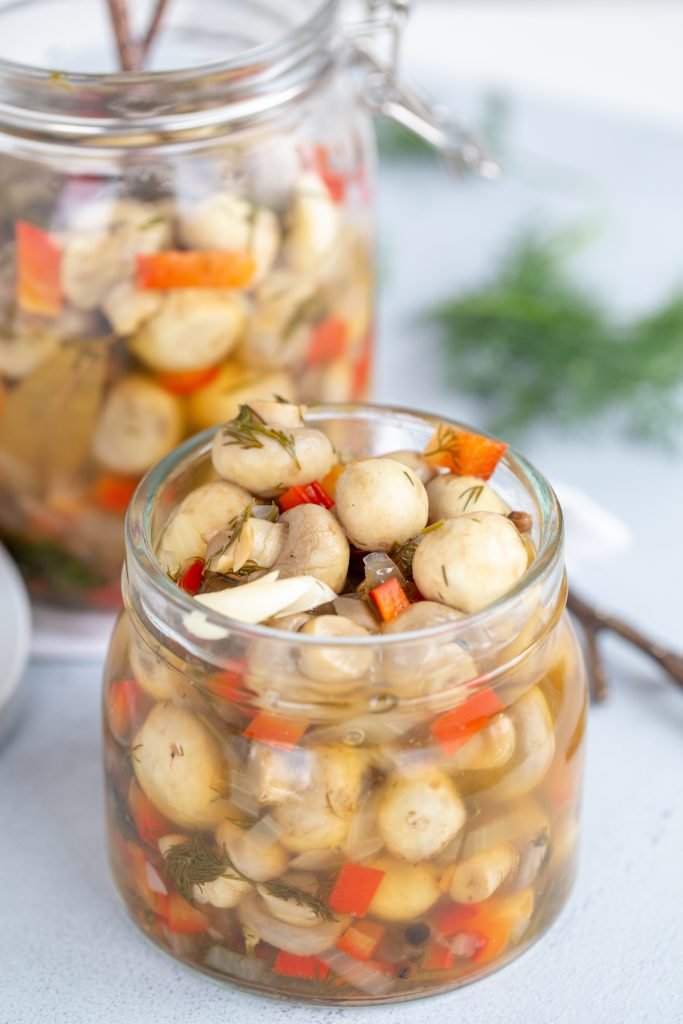 This marinated mushrooms recipe is going to be your new favorite go-to for when a vinegary craving strikes. For those of you out there that love mushrooms, don't be surprised if you eat them straight from the jar!
Unlike pickling, marinating mushrooms doesn't require any sterilization or stress. All you do is boil the mushrooms, make the marinade, and combine the two in a canning jar overnight. With just 15 minutes of prep time, you'll have super flavorful mushrooms to have as a snack, side dish, or unique addition to a charcuterie board.
Let's get to it!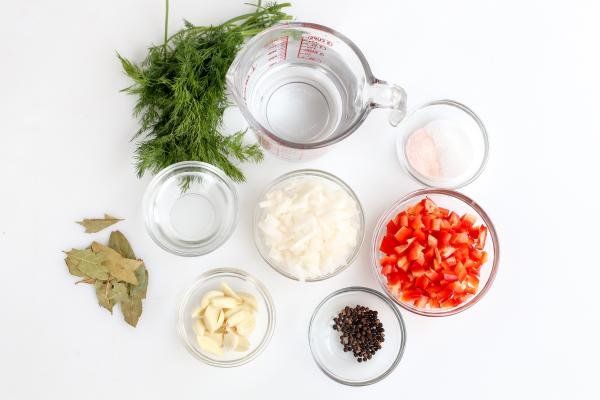 How to Make Marinated Mushrooms
Making marinated mushrooms only requires a few simple ingredients and a couple of easy steps. Below, find a quick hitter overview of the recipe before you dive in.
Hot Tip: If you don't have distilled white vinegar on hand, you can use apple cider vinegar or red wine vinegar. Just keep in mind that either will make the marinade a bit sweeter.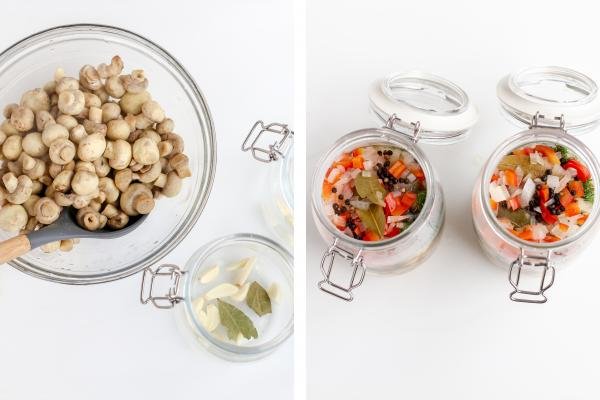 Tips for the Best Marinated Mushrooms
Find a collection of tips and tricks to help you make the best marinated mushrooms below.
Use fresh herbs versus dried herbs. Fresh herbs pack so much more flavor than dried and will elevate the flavor of your marinated mushrooms.
Feel free to mix up the marinade seasoning. If you like it spicy, add some red pepper flakes. If you are a huge garlic fan, add a couple more cloves. Make these mushrooms your own!
Store marinated mushrooms in a sealable canning jar. To keep your mushrooms fresher longer, store them in a sealable canning jar. This will also prevent them from soaking up any smells hanging out in your refrigerator.
Serving Marinated Mushrooms
Serve marinated mushrooms alongside cured meats, cheeses, and crackers on an antipasto or charcuterie board. They pair especially well with tangy, soft cheeses. Herbed goat cheese immediately comes to mind. Marinated mushrooms are also an awesome topper for grilled ribeyes steaks (don't forget to sprinkle on some blue cheese too!). And don't forget – you can always eat them straight out of the jar for a healthy, low-calorie snack!
Storing Marinated Mushrooms
The best way to store marinated mushrooms is to keep them refrigerated in a glass jar. These mushrooms can be refrigerated for up to two weeks. Note: Marinated mushrooms do not freeze well. Only make what you can eat within a couple of weeks.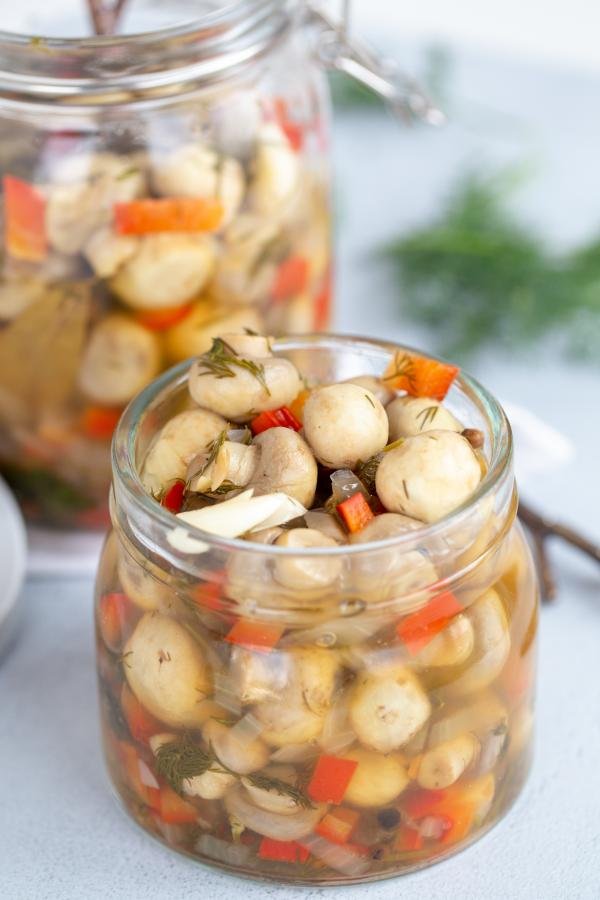 FAQ
What do you use marinated mushrooms for?
You can use marinated mushrooms as a quick snack or a fun addition to an antipasto platter or charcuterie board. You can also serve them as a healthy side dish to any protein or grain.
Are marinated mushrooms healthy?
Marinated mushrooms are very healthy! Not only are they a low-calorie way to add flavor to your favorite salads and dishes, but they are also packed with vitamins and nutrients.
How long do marinated mushrooms last?
Marinated mushrooms last up to two weeks when properly stored in a sealable canning jar in the refrigerator.
Do I need to refrigerate marinated mushrooms?
Yes, you need to refrigerate marinated mushrooms.
How long do pickled mushrooms last compared to marinated mushrooms?
Pickled mushrooms can last up to a year when canned properly and stored in a cool place. Marinated mushrooms, on the other hand, only keep up to two weeks when stored in a sealed canning jar in the refrigerator.
Other Yummy Mushroom Recipes
Recipe
These easy marinated mushrooms are bursting with flavor from fresh herbs and garlic. They'll make a great addition to your antipasto platter!
Ingredients
Ingredients for Mushroom Marinate
Nutrition Facts
Easy Marinated Mushrooms (15 Minutes)
Amount Per Serving
Calories 52
Calories from Fat 9
% Daily Value*
Fat 1g2%
Sodium 1755mg73%
Potassium 439mg13%
Carbohydrates 9g3%
Protein 4g8%
Vitamin A 478IU10%
Vitamin C 23mg28%
Calcium 22mg2%
Iron 1mg6%
* Percent Daily Values are based on a 2000 calorie diet.