A homemade baguette is a true treat! Better yet, this recipe requires only four simple ingredients and absolutely no kneading.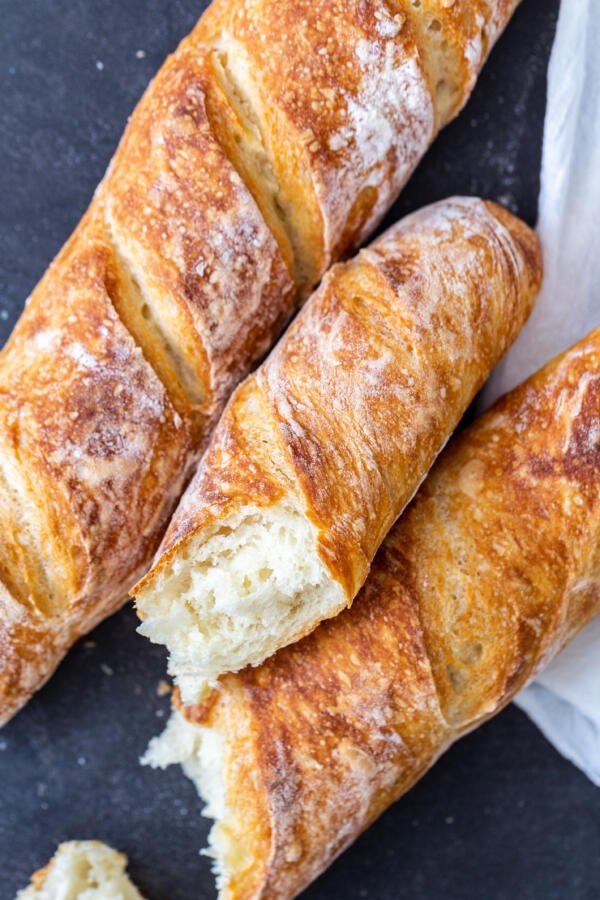 Baguette is perfect for every occasion. From soups to salads to hearty roast dinners, fresh baked bread is always welcome on our table.
Baguette making can be an extremely time consuming process, but with this no-knead recipe you will cut corners without compromising taste. We are obsessed with the chewy inside and crispy exterior. It's just like the baguette we had on our last family trip to Paris!
What is Baguette?
If you have eaten at a French restaurant, it's likely you have tried this iconic bread. Simply put, a baguette is a long, thin loaf of French bread that is characterized by a crisp crust and chewy center. The ingredients are pure and simple, consisting of water, flour, salt and yeast.
How Do You Make Baguettes From Scratch?
This method is the easiest way to make baguette and happens to also be my personal favorite. Follow these simple steps to nail the loaf each time:
Mix the dry ingredients together and add water. Cover with plastic wrap and let sit overnight (up to 20 hours) on the countertop in a well oiled bowl.
Generously flour your hands and your baking sheet.
Form dough into baguette shape (about 12 inches long) and let it rise in a warm place for 1-2 hours. Follow this video tutorial for tips on shaping the dough.
Bake in the oven for ten minutes with a pan of boiled water resting on the bottom rack. Remove the water and bake until golden brown.
DON'T PANIC! The dough will be really sticky and that's perfectly OK. To make handling it easier, make sure the work surface is really well-floured or wet your hands periodically throughout the shaping process. I also love using a dough scraper for easier handling.
Tips for the Best Baguette
Use the right flour. Try using flour with higher protein content to get the best texture. A couple of my favorites include King Arthur or Bobs' Red Mill. Any Canadian brand will typically fit the bill.
Score the top with a very sharp knife. Scoring, or slicing, the top of your baguettes isn't just for decoration. When you initially shape your bread, you are creating a very taut surface. When you pop your baguette into the oven without scoring the top, the heat causes a burst of gas called an "oven spring" that can rupture the top of the bread and destroy its shape.
Freeze and reheat your baguette. I like to bake a couple loaves of bread at once and freeze a couple for later. Reheat them in the oven and they will be just as good as freshly baked bread!
Make sure your yeast is fresh. This common mistake happens to the best of us. Over time, active yeast deactivates and loses its ability to make your bread rise and fluff. Always check the label to make sure it's not expired!
Don't skip the steam bath. The steam bath is crucial to making the outside of your bread crusty. It's well worth the extra step!
How to Shape The Baguette
Serving Baguette
I probably don't have to tell you too much about how to enjoy baguette, but here are some of my favorite ways to serve it.
FAQ
Why are my baguettes flat?
When shaping the baguettes you will need to use ample flour to successfully shape the baguettes- have a well floured surface and hands, and keep folding the dough until you get a tight, skinny log/baton shape. Watch this tutorial on shaping the dough.
Why is the dough sticky or wet?
Rest assured it is normal for the dough to be very sticky and wet as this is a high hydration dough. More flour is added when shaping the dough-you will need to have well floured hands and surface when shaping the baguettes.
What if my dough is rising faster than 12-20 hours?
This dough needs ample time to rise because not a lot of yeast is called for. The longer it sits, the better the final texture and taste. You may find that the dough rises much faster if you live in a warmer, humid climate. In this case, the rising time may be closer to 12 hours- you can place the dough into the fridge for the remainder of the rising time, if desired.
Why is the crust so hard?
Baguettes are known for their crispy, golden exterior. If you'd like to soften the crust, wrap your baguettes in a clean kitchen towel after baking.
How many baguettes does this recipe make?
This recipe will easily yield 2-6 baguettes, depending on the size of baguette you prefer!
Recipe
Homemade baguette is a true treat! Better yet, this recipe requires only four simple ingredients and absolutely no kneading.
Nutrition Facts
No Knead Bread-Baguette
Amount Per Serving
Calories 230
Calories from Fat 9
% Daily Value*
Fat 1g2%
Sodium 392mg16%
Potassium 73mg2%
Carbohydrates 48g16%
Protein 7g14%
Calcium 11mg1%
Iron 3mg17%
* Percent Daily Values are based on a 2000 calorie diet.