These chocolate biscotti are full of chocolate chunks and chopped hazelnuts. Perfect dipped in coffee or tea!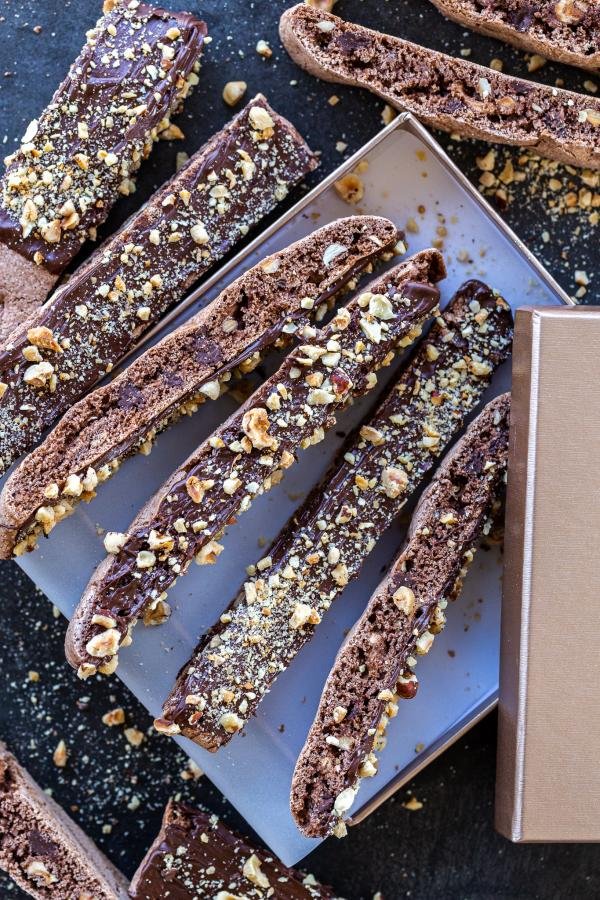 Biscotti are Italian-style dessert biscuits that are best served with a piping hot cup of coffee or tea. These are packed full of chocolate chunks and chopped hazelnuts, then finished with a dip of rich chocolate. Yum!
I was introduced to these tasty little biscuits by my first landlord in the United States. She was a sweet, old Italian woman who owned a biscotti factory nearby and would bring my family samples every now and again. I quickly fell in love with the texture and the way the biscuit just melts in your mouth when paired with a hot drink.
In this recipe, you'll see just how easy it is to make these fancy biscuits homemade. Whether you're prepping for the holidays or just looking to have a sweet treat on hand, these biscotti are perfect for gifting and they have a much longer shelf life than other baked goods.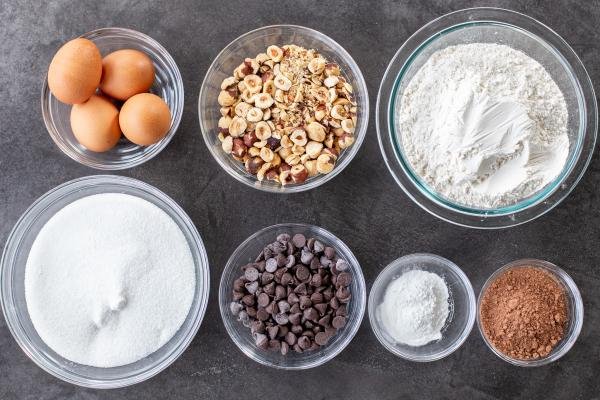 How to Make Chocolate Biscotti
Making biscotti only requires a handful of ingredients and an authentic double-baking method. Below, find a quick hitter overview of the recipe before you dive in.
Mix the Wet Ingredients: Preheat the oven to 350°F. Using a stand mixer or hand mixer, beat the eggs and sugar together until fluffy.
Mix the Dry Ingredients: In a large mixing bowl, combine the flour, baking powder, and cacao.
Make the Batter: Combine the flour mixture and egg mixture until smooth. Add in the chopped hazelnuts and chocolate chips.
Divide the Dough: Dive the dough in half and form 2-4 thick logs on a baking sheet lined with parchment paper.
Bake at High Heat: For the first round of baking, bake the logs at 350°F for 35 minutes. Set them aside to cool at room temperature. Next, slice the logs into 3/4-inch thick pieces and place them on on a baking sheet covered with parchment paper.
Tips for Making the Best Chocolate Biscotti
Below, find some pro tips to help you make the best biscotti on the planet.
Don't skip the double-baking method. The double-baking method is key to making authentic biscotti and nailing that signature biscuit-like texture.
Experiment with different nuts. If hazelnuts aren't your thing, swap them out for almonds, pecans, or pistachios.
Wet your hands to handle the dough. If your dough is a bit too sticky to handle, wet your hands with a bit of cold water.
Sift the dry ingredients. If you have a flour sifter or a find mesh sieve, use it to remove any clumps from the flour, baking powder, and cacao.
Storing Chocolate Biscotti
Room Temperature (Recommended): Store biscotti in an airtight container on the counter for up to two weeks. To prevent sticking, place a piece of parchment paper in between the layers of biscotti.
Refrigerator: There's no need to store the biscotti in the refrigerator. In fact, the cold air will make it ultra-hard and won't do much to preserve its freshness.
Freezer: To freeze biscotti, go through the first round of high heat baking. After you slice the biscotti, lay them out on a baking sheet lined with parchment paper. Pop the entire baking sheet in the freezer for a couple of hours, or until the biscuits are completely frozen. Transfer the biscotti to a freezer-safe bag for up to 3 months. When you're ready to eat the biscotti, simply pop them in the oven for the second round of low heat baking and enjoy!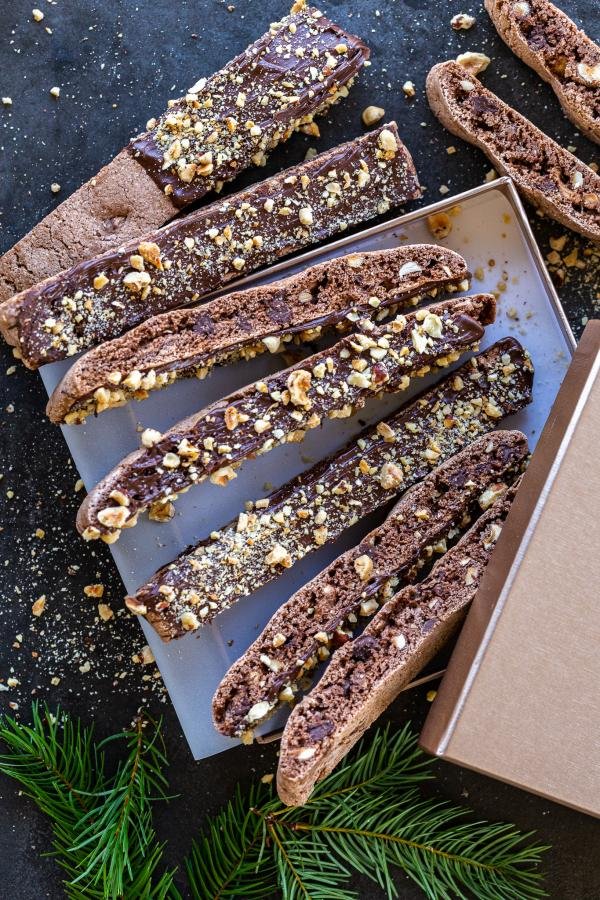 FAQ
Why is biscotti so hard?
Biscotti are purposefully hard because they are meant to be dipped in hot coffee or tea. A match made in heaven!
Is biscotti considered a cookie?
Biscotti are more closely aligned with biscuits than cookies. They're dry, dense, and just the right amount of crunchy.
What makes a good biscotti?
The key to making good biscotti is using the double-baking method. By first cooking the biscotti on high heat and then dropping it low, you'll get that signature biscuit texture you're looking for.
Can you freeze biscotti dough?
Yes, you can freeze biscotti dough. It's best to freeze the dough after the first round of high heat baking so you can slice the biscotti and skip straight to the low heat round of baking.
Why is my biscotti dough so dry?
Biscotti dough is supposed to be a bit dry and hard to work with. This is key to nailing the biscuit-like texture.
More Sweet Treats to Try
Recipe
These chocolate biscotti are full of chocolate chunks and chopped hazelnuts. Perfect dipped in coffee or tea!
Nutrition Facts
Chocolate Biscotti Recipe with Hazelnuts
Amount Per Serving
Calories 245
Calories from Fat 99
% Daily Value*
Fat 11g17%
Cholesterol 28mg9%
Sodium 13mg1%
Potassium 262mg7%
Carbohydrates 34g11%
Protein 5g10%
Vitamin A 47IU1%
Vitamin C 1mg1%
Calcium 68mg7%
Iron 2mg11%
* Percent Daily Values are based on a 2000 calorie diet.