This hazelnut log cake features a moist chocolate and hazelnut sponge cake, covered in decadent dulce de leche and Nutella cake cream. A Ferrero Rocher lover's dream!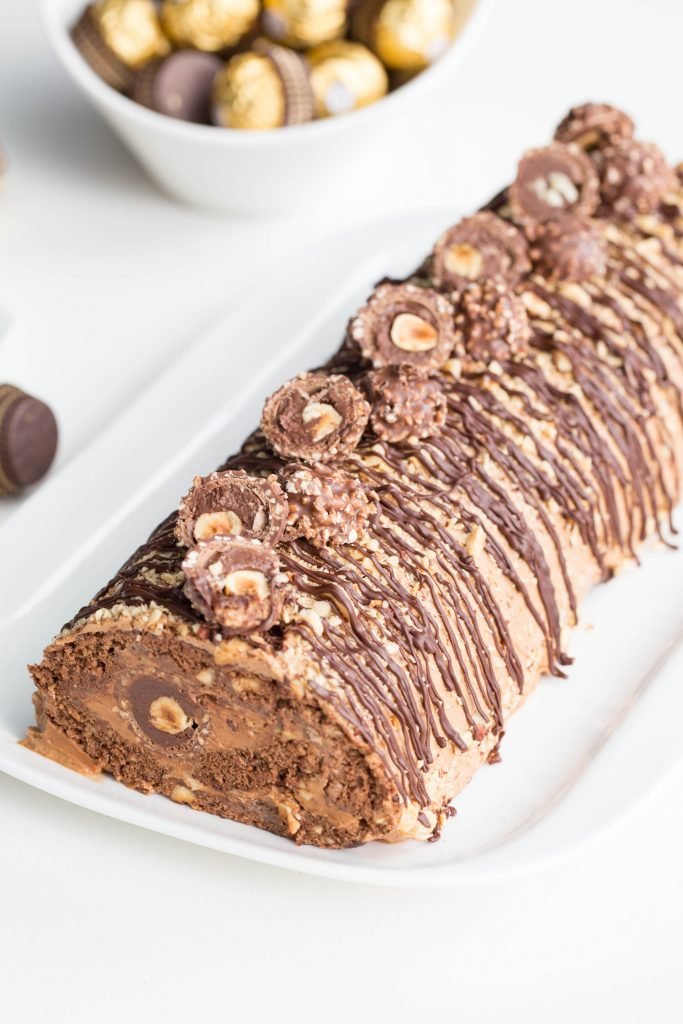 Does nothing bring you as much joy as unwrapping a Ferrero Rocher candy? Well, there's something even better in store for you. This hazelnut log cake is packed full of chocolate and hazelnuts and laced with a ribbon of Ferrero Rocher candies. Get ready to fall in love.
Love the Ferrero line of chocolates? You've got to try our Raffaello Cake Roll as well. Hello, coconut and almond heaven!
The Secret to a Perfect Roll Cake
If making a cake roll intimidates you, rest assured. In this recipe, you'll employ the tried-and-true towel trick to get a perfect roll. By laying the towel on top of the cake right after it comes out of the oven and using it as an aide to roll, you'll skip out on cracked cake and make a log cake so perfect it will be worthy of any bakery case.
Overview on Making a Hazelnut Log Cake
​To make a hazelnut log cake, you need to whip up homemade sponge cake and homemade dulce de leche and Nutella cake cream.
Preheat the Oven: Preheat the oven to 350°F.
Make the Cake Batter: Using a stand mixer, whisk the eggs with sugar at high speed until the mixture doubles in volume and turns into a meringue. In a different bowl, sift the all-purpose flour and cocoa powder. In thirds, fold the flour mixture into the egg mixture with a spatula. Lastly, stir in some of the crushed hazelnuts.
Bake the Cake: Next, spread the cake batter onto a prepared jelly roll pan lined with parchment paper. Bake the cake for 12 minutes.
Roll the Cake: Take the cake out of the oven, lift it out of the baking sheet by the parchment paper, and place it on top of a kitchen towel. Starting from the shorter end, roll it up into a log and cool it to room temperature.
Make the Cake Cream: In the bowl of stand mixer, beat the unsalted butter, dulce de leche, and Nutella hazelnut spread together.
Soak the Cake: Whisk the heavy cream and sweetened condensed milk together. Unroll the cake and drizzle the cream mixture over it. Allow the cake to soak for a few minutes.
Assemble the Log Cake: Spread a bit of the cake cream on the inside of the roll. At one of the ends, line up the Ferrero Rocher candies. Sprinkle some of the crushed hazelnuts over the top and roll the cake up. Frost the top and side of the log with the remaining cream and sprinkle the hazelnuts on top.
Decorate the Cake: Melt the chocolate in the microwave and place it in a piping bag. Drizzle the chocolate ganache over of the cake with it and top the cake with halved Ferrero Rocher candies. Refrigerate the cake to allow it to set. Enjoy!
3 Tips for the Perfect Hazelnut Log Cake
A handful of helpful tips will help you knock this chocolatey hazelnut cake out of the park.
Don't over mix the cake batter. To keep the consistency of the cake light and spongey, make sure that you don't over mix the cake batter. Once the ingredients are well-incorporated, leave them be!
Roll the cake while it's still hot. Roll the cake immediately after it comes out of the oven to prevent it from cracking. The hotter it is, the more malleable it is. If you let it cool down too much, it's more prone to breaking!
Let the cake set in the refrigerator overnight. For best results, allow the cake to set int the refrigerator overnight. This will help it develop not only it's flavors, but also help it keep its shape.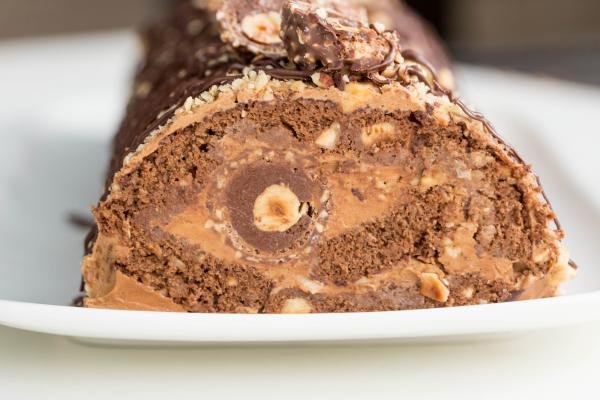 Storage Best Practices
To keep the hazelnut log cake on hand for up to a week, store it in an airtight cake container made especially for cake rolls. This will prevent the cake from absorbing any lingering smells in your refrigerator, while also preventing it from getting damaged.
FAQ
Can you roll a hazelnut log cake without a kitchen towel?
While we recommend that you enlist the help of a kitchen towel or tea towel to help you roll the hazelnut log cake, experienced roll cake makers often just rely on parchment paper. That said, we find using a kitchen towel yields a smaller margin of error.
Should you eat a hazelnut log cake hot or cold?
Hazelnut log cake is best eaten cold or at room temperature. This gives the cake time to set, hold it's texture, and develop its flavors.
Do you need a jelly roll pan to make hazelnut log cake?
A jelly roll pan is just a deeper baking sheet and makes for a thicker cake layer. Feel free to get one or simply us a standard, rimmed baking sheet.
What kind of flour should you use for hazelnut log cake?
Regular, all-purpose flour is recommended for making hazelnut log cake. Cake flour is much too fine to get the nice spongey texture you want for the cake.
What's the difference between a kitchen towel and a tea towel?
A kitchen towel is thick and is typically used for cleaning, while a tea towel is thinner and used for baking. While you can use either to make this hazelnut log cake, a tea towel is a bit more flexible and easier to work with.
More Log Cake and Jelly Roll Recipes to Try
Recipe
This hazelnut log cake is packed with hazelnuts, decadent dulce de leche & Nutella cake cream, and everyone's favorite candy – Ferrero Rocher. Yum!
Ingredients
Nutrition Facts
Hazelnut Log Cake (Ferrero Rocher Inspired)
Amount Per Serving
Calories 800
Calories from Fat 531
% Daily Value*
Fat 59g91%
Cholesterol 173mg58%
Sodium 69mg3%
Potassium 388mg11%
Carbohydrates 60g20%
Protein 11g22%
Vitamin A 1197IU24%
Vitamin C 2mg2%
Calcium 125mg13%
Iron 4mg22%
* Percent Daily Values are based on a 2000 calorie diet.