This biscotti recipe is teeming with plump dried cranberries and crunchy almonds. Perfect dipped in hot coffee or tea during the holidays or year round!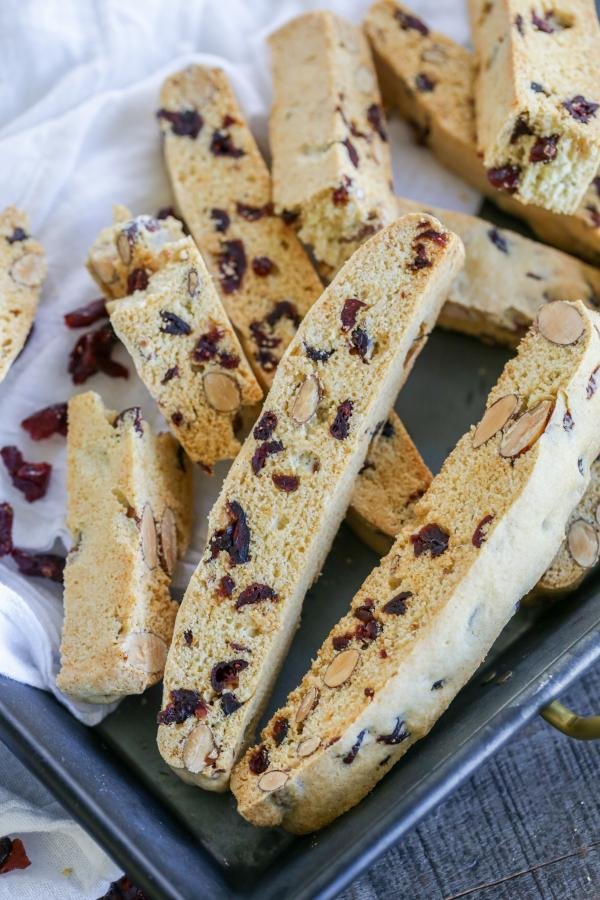 There is nothing quite like dipping biscotti into a piping hot mug of coffee or tea. The best part about this Italian cookie is that it doesn't go bad as quickly as other desserts. I like to make a large batch and leave it on the counter for those times when my sweet tooth must be obeyed.
What's better? Biscotti is so easy to tweak and customize! There are so many fun flavor combinations to play with. In this recipe, you'll learn how to make a classic biscotti that is balanced with the tart flavor of cranberries and the nutty crunch of almonds. If you have a hankering for chocolate, try this recipe for chocolate biscotti instead.
What are Biscotti?
Biscotti are oblong-shaped biscuits that originated in the Italian city of Prato in the late 1800s. That's right – this cookie is steeped in history! Twice-baked and dry, they made for the perfect snack to bring along on long journeys. Traditionally, you'll find biscotti served with an Italian dessert wine.
In America, we like our biscotti at breakfast or for dessert with coffee or tea! Dunking the biscotti in a hot beverage loosens up the hard biscuit and makes for an absolutely luscious treat. Move over milk and cookies, biscotti and coffee are coming to town!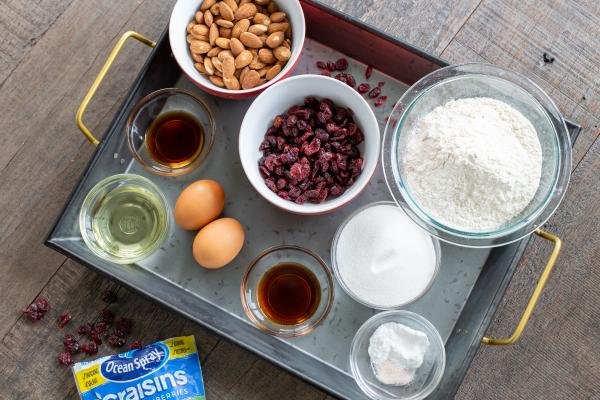 How to Make Biscotti
Making this biscotti recipe only requires a handful of simple ingredients and the classic, double-baking method to get that signature biscuit-like texture. Below, find a quick rundown of the recipe before you dive in.
Make the Batter: While the oven preheats to 300°F, whisk the oil and sugar together. Next, mix in the vanilla extract and almond extract, followed by the eggs. In a separate bowl, combine the flour, salt, and baking powder. Next, mix the dry ingredients into the egg mixture in small portions. Finally, mix in the cranberries and almonds with a spatula.
Bake on High Heat: Form a log out of the batter on a baking sheet lined with parchment paper. Bake it for 35 minutes, or until it turns light brown. Remove the log and set it aside to cool completely.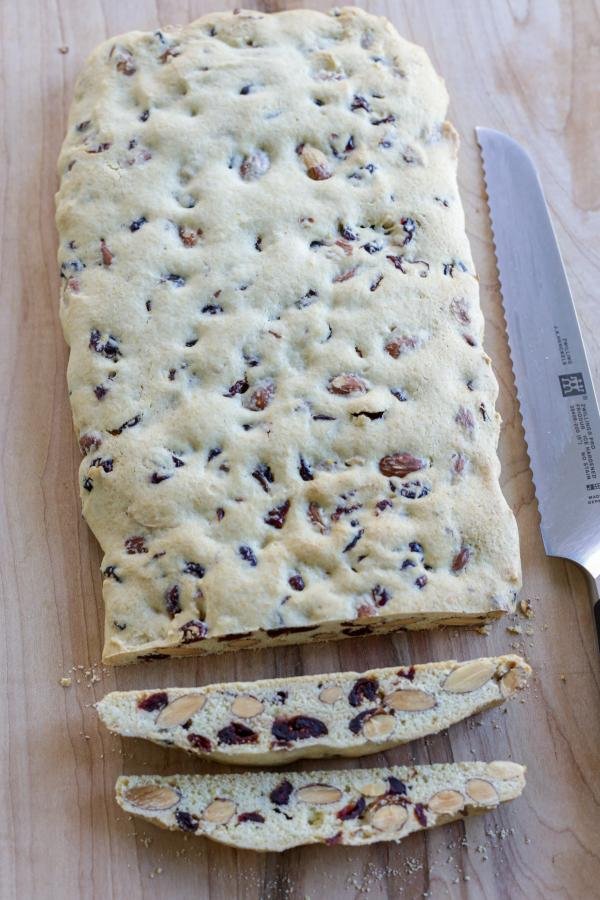 Tips for Making the Best Biscotti
Below, find some pro tips and tricks to make bakery-worthy biscotti in your own home kitchen.
Let the biscotti log cool. Once you remove the biscotti log from the oven, it is imperative that you let it cool for 30 minutes before you cut it into long pieces. If you don't, the biscotti will break and crumble and lose their signature shape.
Use a serrated knife to cut the biscotti. To get that coveted biscotti shape, you are going to want to use a sharp, serrated knife. Use a gentle sawing motion (versus a pressing motion) to carefully cut the log into biscotti pieces.
Increase the time of the second bake for extra crunchy biscotti. I am a huge fan of extra crunchy biscotti! If you are too, increase the amount of time of the second-bake. But, be careful not to burn the biscotti! Extra-crunchy biscotti will only require a few more minutes of baking. I recommend turning on your oven light and keeping a close eye.
Mini Biscotti Hack: Want a fun addition to your holiday gift trays this year? Form two thinner logs, this way when you cut your biscotti pieces they will be much shorter. Arrange them next to your snowman sugar cookies and fudge.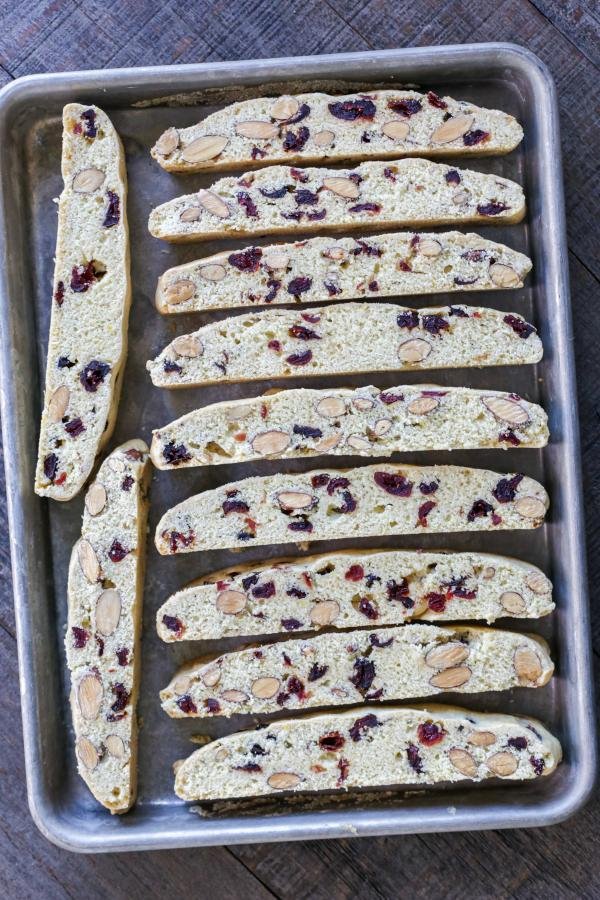 How to Make Chocolate-Dipped Biscotti
Another Ameican variation to this treat is dipping finished biscotti in chocolate! This is ultra-decadent and it produces a visually stunning result. Here's how to do it:
Allow your biscotti to completely cool.
Melt 8 oz of baking chocolate in the microwave in increments of 15 seconds. Make sure to stir the chocolate vigorously with a spoon after each increment. This will prevent the chocolate from clumping up. You will want an ultra-smooth texture before you get to dipping.
Now that you have silky smooth, melty chocolate, dip one side of the biscotti into it. Return the biscotti to a baking sheet to allow the chocolate to set at room temperature for about 45 minutes.
Storing Biscotti
Whether you want to store your biscotti for a couple of weeks or freeze the dough to have on hand for later, find all the storage instructions you need.
Room Temperature: Biscotti is one of those awesome baked treats that stays good for weeks. The best way to store it is in an airtight container or cookie tin on the counter. They will continue to get harder as they sit, but will become moist when dipped in hot coffee or tea.
Freezer: The best time to freeze biscotti is after the first round of baking. Once you slice the biscotti, freeze them on a baking sheet lined with parchment paper. When you're ready, finish them off in the oven with the low baking round.
FAQ
Is biscotti better with butter or oil?
Biscotti is best made with oil versus butter. This gives it a nice, earthy flavor.
Are biscotti healthier than cookies?
Yes, biscotti are healthier than most cookies. Typically, they are much lower in fat and contain a lot less sugar.
How hard are biscotti supposed to be?
After the first round of baking, biscotti should be firm but not overly hard. After the second round of baking, they will get much harder.
Should I dunk biscotti?
Biscotti are the perfect texture to dip in coffee or tea. This will help to moisten the biscuit and makes for such an awesome pairing.
Can you overcook biscotti?
Yes, you can overcook biscotti. You'll want to pull them out of the oven while they are still soft enough to cut.
More European Treats
Recipe
This biscotti recipe is teeming with plump dried cranberries and crunchy almonds. Perfect dipped in hot coffee or tea during the holidays or year round!
Nutrition Facts
Cranberry Almond Biscotti Recipe
Amount Per Serving
Calories 286
Calories from Fat 126
% Daily Value*
Fat 14g22%
Cholesterol 27mg9%
Sodium 60mg3%
Potassium 189mg5%
Carbohydrates 35g12%
Protein 7g14%
Vitamin A 40IU1%
Calcium 68mg7%
Iron 2mg11%
* Percent Daily Values are based on a 2000 calorie diet.