Chocolate Sponge Cake can be used as the foundation for so many different desserts. With just four, simple ingredients, this recipe is the perfect addition to any home baker's tool belt.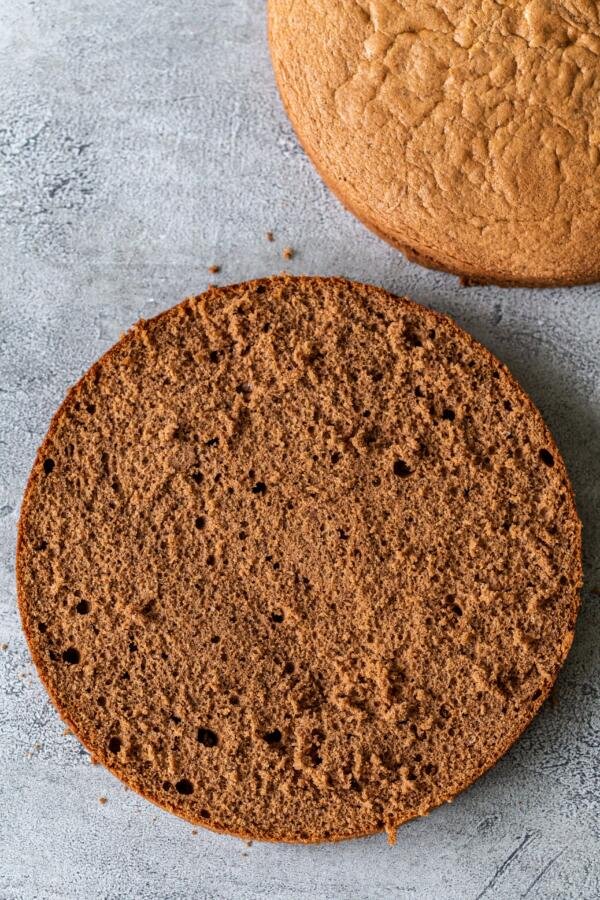 An easy sponge cake is a must for every home cook. Once you learn the basics of the cake, you'll be able to use it for so many different recipes. Consider it the gift that keeps on giving.
Despite its impressive texture and appearance, this cake comes together so simply. It doesn't require oil or butter, just sugar, flour, cocoa powder, and eggs.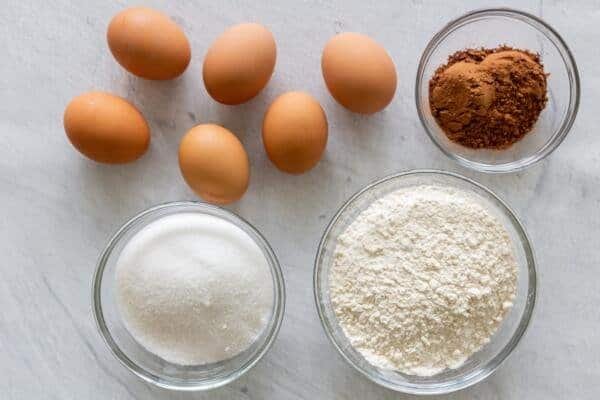 How to Make Chocolate Sponge Cake
While the ingredients are simple, the technique makes all the difference. To get that light, airy texture associated with all great sponge cakes, follow the simple steps below.
With a stand or handheld mixer, beat eggs with sugar until they increase three times in volume. For a stand mixer, this will take about 10 minutes. If using a hand mixer, it may take twice as long. The batter is the correct consistency when you get thick ribbons.
Sift in flour and cocoa powder.
Using a spatula, fold in the dry ingredients. Be gentle and don't over mix as this can compromise the fluffiness of the cake.
Add cake batter to oiled or parchment paper lined baking pan.
Bake at 350°F for 30 minutes. Do the classic toothpick check to gauge doneness. Use for your favorite recipe!
Hot Tip: If you have a springform pan, use it! Since the sponge cake is so delicate, this will help ensure you don't break or crack the cake.
Tips for the Best Chocolate Sponge Cake
You don't need to have the background of a fancy French baker to make the perfect sponge cake. Below, find our top tips and tricks to nail this recipe each and every time.
Use room temperature eggs. They will beat better and will help achieve that fluffy, airy texture.
Beat the egg mixture long enough. In a stand mixer, this will take about 10 minutes on medium-high speed. The batter is ready when you get thick ribbons and can create shapes with it.
Use the right flour. A high-quality, all-purpose flour is all you need. No cake flour required for this recipe. We love to use European or Canadian brands sine they typically have a higher protein content.
Add the cocoa powder. You can use any cocoa powder but my absolute favorite is this one. It's my go-to for baking!
Don't forget to fold. It might seem like an inconsequential step, but folding in your dry ingredients with a spatula makes all the difference. Stirring or whisking will destroy the cakes fluffiness and result in a flat, dense cake.
Line or oil the pan. Prevent your cake from sticking and cracking by lining or oiling your cake pan. If you do run into issues, simply take a butter knife and run it along the edges of the pan to loosen the cake from its hold. Additionally, give the cake time to cool to room temperature and set before you attempt to remove it.
Getting a nice, even cake top. Right before placing the sponge cake in the oven, shake the pan slightly to create an even top. This will remove any air bubbles and ensure your frosting can glide right across the cake with no issue.
Resist the urge to open the oven. When baking, it can be really tempting to want to open the oven and check in on your cake. Resist the urge! When cold, outside air enters the oven, it can cause your cake to sink in the center.
Cool on a wire rack. After you allow your sponge cake to cool in the cake pan for 10-15 minutes, transfer it to a wire wrack to finish the process. This will help the bottoms and sides set.
Ways To Use Chocolate Sponge Cake
Now that you've mastered the chocolate sponge cake base, it's time to create some awesome desserts. Here are a couple of our favorite recipes try:
FAQ
What makes a sponge cake light and fluffy?
It's all about the folding. Overmixing your cake batter will result in a dense, flat cake.
What is the difference between a regular cake and sponge cake?
Regular cake often requires butter, sugar, flour, eggs, and some type of leavening agent. Sponge cake, on the other hand, can be made with just flour, beaten eggs, and sugar. In this case, we add a bit of cocoa powder, but feel free to omit if you don't want to go the chocolate route.
Why is my chocolate sponge cake dry?
If there's too much flour, your cake will likely turn out dry. When it comes to baking, measuring really matters. This is where the sifting step comes in handy too. Ensuring that there are no lumps prevents pockets of flour from drying out your cake.
Cakes, Cakes, and More Cakes
Looking for a couple more cakes to add to your baking arsenal? Check out a few more of our favorites below.
Recipe
Chocolate Sponge Cake can be used as the foundation for so many different desserts. With just four, simple ingredients, this recipe is the perfect addition to any home baker's tool belt.
Notes:
This recipe doesn't need baking soda or baking powder. The leavening agent is the air that is beat into the batter.
Nutrition Facts
Chocolate Sponge Cake (Only 4 Ingredients)
Amount Per Serving
Calories 276
Calories from Fat 45
% Daily Value*
Fat 5g8%
Cholesterol 164mg55%
Sodium 64mg3%
Potassium 138mg4%
Carbohydrates 52g17%
Protein 8g16%
Vitamin A 238IU5%
Calcium 33mg3%
Iron 2mg11%
* Percent Daily Values are based on a 2000 calorie diet.