These Moroccan donuts are light, airy, and so irresistible. Perfect for a lazy Sunday breakfast with a piping hot cup of coffee!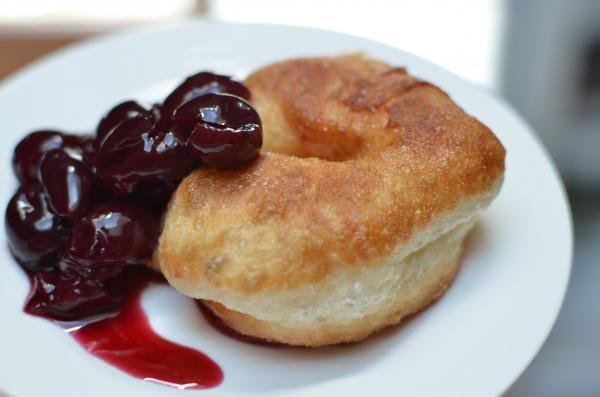 Picture yourself walking down a bustling street in Morocco. All of the sudden, an aroma so heavenly hits your nose you have to pause and see where it's coming from. Friend, what you just smelled is sfenj Moroccan donuts. These deep-fried delights are a wonderful departure from your typical American-style donut and a staple throughout the maghreb, or Northern, region of Africa.
What is Sfenj?
Sfenj is a fritter-like Moroccan donut that is made with leavened, sticky dough, deep-fried, and dusted with sugar. Typically, you'll see them made to order on street corners and tied together with a ribbon of palm leaf. Below, find a rundown of the flavor, texture, and time it takes to make our rendition.
Flavor: The flavor of sfenj is just the right amount of sweet. This is due to the dough not being sweetened itself and the outside being covered in granulated sugar.
Texture: The texture of sfenj is lightly crispy on the outside with a light, airy, and fluffy center. They're like pillows of decadence!
Time: From start to finish, these donuts take an hour and a half of rise time (one 30 minute rise and an hour-long second rise) and about an hour and a half of prep and cook time.
Making Sfenj Moroccan Donuts from Scratch
Despite their fancy appearance, these donuts only require really basic ingredients that you likely have hanging out in your pantry already.
Make the Yeast Mixture: First, stir the yeast and sugar together in a small bowl and let the mixture sit for a bit.
Assemble the Dough: Next, combine the salt with 1 cup of all purpose flour in the large bowl of an electric stand mixer. Using your hands, make a well about the size of a small egg in the center of the flour mixture. Add in the yeast mixture and beat until you get a thin batter. Cover with a cloth and let the dough rest for 30 minutes.
Add in the Rest of the Flour: Gradually beat in the remaining flour until you get a soft dough. Knead the dough until it's elastic. Cover it with a towel and let it sit for an hour.
Divide the Dough Pieces: On a floured surface, stretch the dough into a long log and divide it into 20, golf ball sized pieces.
Shape the Donuts: Using your finger, punch a hole in the middle of each dough piece.
Fry the Donuts: Next, heat the oil in a deep pan and drop the donuts in one at a time. Fry them until they're golden brown. Lift the donuts out with a skewer and place them on a paper towel lined plate.
Toss the Donuts: Lastly, toss the donuts in sugar. Enjoy!
Handy Tips & Tricks for Sfenj Moroccan Donuts
A couple of handy tips & tricks will help you make these donuts as good as any seasoned street vendor.
Divide the dough into as equal-sized pieces as possible. To promote even-cooking, try to make the dough pieces as even as possible.
Don't overcrowd the hot oil. To prevent the donuts from sticking to one another in the hot oil, make sure to not overcrowd the pan and give them enough space in between.
Toss the donuts in sugar while they're still warm. The sugar will stick much better if it's tossed on while the donuts are still warm.
Different Toppings for Sfenj Moroccan Donuts
While sfenj is delicious eaten plain or with a simple dusting of sugar, you can spruce them up with a couple of different toppings.
Honey-Soaked (Super Traditional!): After the donuts come out of the hot oil, dunk them swiftly into a shallow bowl of warm honey and allow them to dry on a wire rack.
Nutella Drizzle: Melt some Nutella in a bowl and drizzle it over the donuts when they're fresh out of the oil.
Canned Cherries: Serve the donuts with a side of canned, marinated cherries for a pop of flavor.
Storing & Reheating Best Practices
While these donuts are best eaten right away, here's all you need to know about keeping them as fresh as possible in storage.
Storing: To keep the donuts on hand for up to 3 days, store them in an airtight container or plastic storage bag at room temperature.
Reheating: To reheat the donuts, pop them in the oven until warmed through or through them in your air fryer tray (our favorite method!).
FAQ
Where is sfenj from?
Sfenj hails from Northern Africa, aka the maghreb region. It's commonly eaten in Morocco, Algeria, Tunisia, Libya, and Mauritania.
Can you freeze sfenj?
Like most fried foods, sfenj are best eaten fresh out of the fryer oil and don't tend to freeze well. Upon thawing, they lose their crispy texture.
How far in advance can you make sfenj dough?
You'll only want to prepare sfenj dough the same day you plan to make the donuts. If you let it sit in the refrigerator for a couple days, it's prone to turning hard and being super difficult to work with.
What heat should you fry the sfenj in?
You'll want to keep the hot oil at around 365°F for best results. If you go any hotter, you'll risk burning the delicate dough.
More Tasty Simple Treats
Recipe
This recipe for sfenj Moroccan donuts features light, airy, and spongy dough deep-fried to perfection and sprinkled with sugar. Perfect with a cup of coffee!
Instructions
Stir the yeast and sugar into the water and let the mixture sit for a few minutes until all the yeast is dissolved.

Combine the salt with 1 cup of flour in a mixing bowl. Make a well in the middle of the flour and add in the yeast and water mixture. Mix the liquid into the flour until it turns into a thin batter. Cover with a cloth and let it sit for 30 minutes.

Using an electric stand mixer, gradually stir in the remaining flour until you get a soft dough. Knead the dough until smooth and elastic.

Cover the dough with a towel again and let it sit for an hour, or until it doubles in size.

Place the dough on a floured surface and stretch it into a long log. Divide the log into 20 even pieces.

With your finger, punch out a hole in the middle of one of the dough pieces. Repeat until all the dough pieces have a hole in the center.

Heat the oil until it begins sizzling over medium-low heat. Drop the donuts in one-by-one into the oil, cooking until golden on each side.
Nutrition Facts
Sfenj (Moroccan Donuts)
Amount Per Serving
Calories 96
Calories from Fat 9
% Daily Value*
Fat 1g2%
Sodium 60mg3%
Potassium 32mg1%
Carbohydrates 21g7%
Protein 2g4%
Vitamin C 1mg1%
Calcium 4mg0%
Iron 1mg6%
* Percent Daily Values are based on a 2000 calorie diet.