Apple Fritters are a real treat. Although these donuts look and taste impressive, they are actually quite easy to make in the comfort of your own home.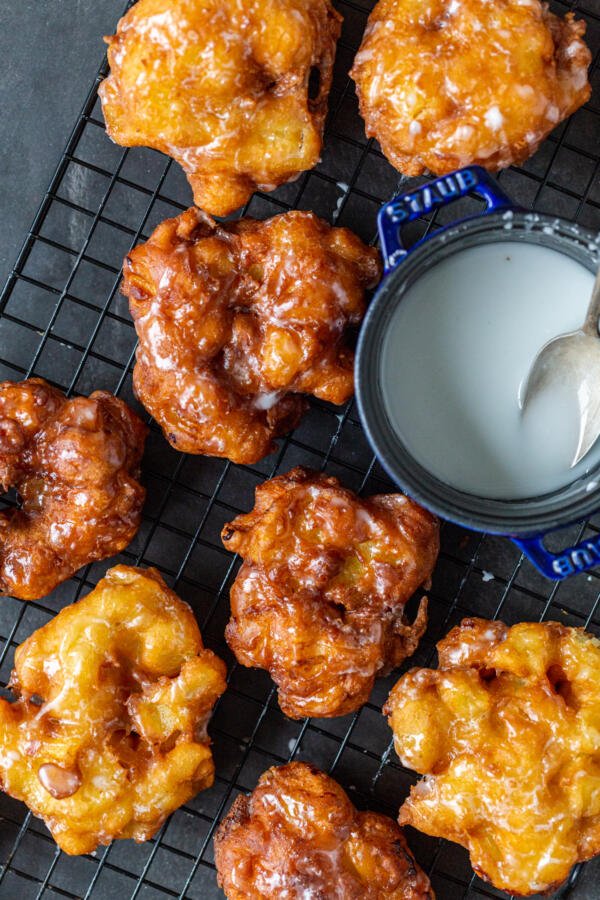 Apple Fritters are rustic-style donuts that are packed with fresh apple chunks and spicy cinnamon. The dough is a bit denser than a traditional donut, which makes it even more perfect for dipping in coffee or tea.
Not only do these homemade Apple Fritters taste amazing, they will straight up have your home smelling like your favorite Fall candle. Let's get started!
Apple Fritters Video
How to Make Apple Fritters?
Apples – Slice your apples and toss them with lemon juice. Set aside.
Fritter Dough – Combine flour with cinnamon, baking powder and salt. Set aside. Whisk eggs with sugar until the mixture is fluffy. Stir in flour mixture, followed by the milk. Stir to combine. Fold your apples into the dough.
Shape Apple Fritter – Using an ice cream scooper or measuring cup, drop fritters directly in the pan. Don't worry about being perfect. Fritters are supposed to look misshapen and messy.
Frying Fritters – Using a Dutch oven or a deep pot, heat your frying oil. Fritters are fully cooked once they turn a darker shade of brown on both sides.
Donut Glaze – Although you don't need to use a glaze, this simple frosting takes your fritters to the next level. Mix powdered sugar, lemon juice and water together until you get a nice, smooth texture. Drizzle right on top of your hot fritter and allow to set for a couple of minutes before serving.
Hot Tip: You could also coat your fritters in a mixture of cinnamon-sugar. This adds an extra pop of Fall flavor and a nice crunch.
Can You Bake Apple Fritters?
You can bake your Apple Fritters, but I wouldn't recommend it. You just won't get that same texture you would get from frying.
If you must bake them, line a baking sheet with parchment paper and preheat your oven to 350F. Make your Apple Fritter batter according to instruction. Then, using an ice cream scooper or measuring cup, scoop out about 1/4 cup batter for each fritter. Press down the fritter with the back of the scooper or measuring spoon to flatted it out a bit.
Bake in the oven for about 15 minutes or until golden brown. Immediately drizzle on your glaze and serve warm.
Tips for the BEST Apple Fritters
Choose the right apple. Granny Smiths are the go-to apple for fritters. Why? They stay firm and don't get mushy when fried at high heat.
Don't overmix the dough. Overmixing the dough will make your fritters turn out flat and dense. Fold the apples into the dough just until they are covered to keep the end product nice and airy.
Don't overcrowd the frying oil. It might be tempting to rush the frying process, but don't overcrowd the oil with too much batter. This will turn into a big mess. Fry no more than 2-3 at the time to get perfect, crispy fritters.
Use a candy thermometer to maintain hot oil. Your oil should stay at 375F when frying donuts. This is the perfect temperature for getting them nice and crispy.
Let donuts rest on a towel or a cooling rack. It would be a shame for you to do all that frying just to end up with soggy fritters. Instead of stacking your fritters on top of one another when they come out of the fryer, set them on a towel or cooling rack to drain.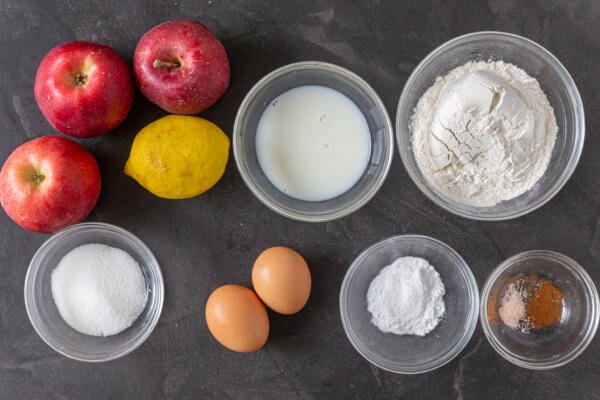 Storing Apple Fritters
Store your Apple Fritters in an airtight container on the counter. When you are ready to chow down, reheat them in an air fryer to make them crispy again. You could also use a conventional oven for the same effect.
If you made too many and need to freeze a couple, go right ahead! Fritters reheat great from frozen too.
Hot Tip: Never microwave a fritter to reheat it. It will always come out soggy and as it cools it will turn chewy and rubbery. The extra time spent using the air fryer or oven is well worth the wait.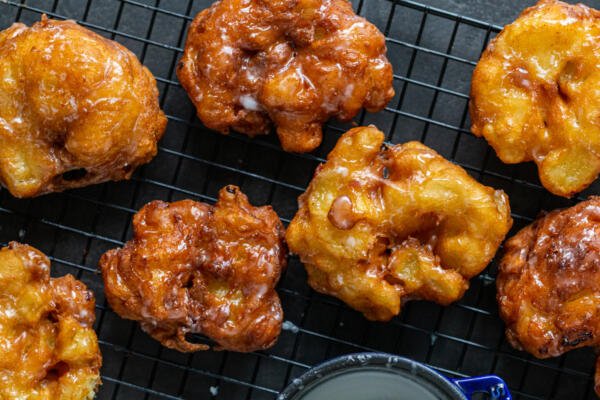 Other Apple Recipes
Recipe
Apple Fritters are a real treat. Although these donuts look and taste impressive, they are actually quite easy to make in the comfort of your own home.
Nutrition Facts
Apple Fritters
Amount Per Serving
Calories 278
Calories from Fat 18
% Daily Value*
Fat 2g3%
Cholesterol 56mg19%
Sodium 126mg5%
Potassium 291mg8%
Carbohydrates 62g21%
Protein 4g8%
Vitamin A 129IU3%
Vitamin C 3mg4%
Calcium 103mg10%
Iron 1mg6%
* Percent Daily Values are based on a 2000 calorie diet.