Farmer's Cheese Donut Holes (ponchiki) are bite-sized morsels of goodness. They are a classic Ukrainian/Russian treat we indulged in growing up. Ponchiki are so easy to make, full of flavor, and have an irresistible crispy crust and a fluffy inside.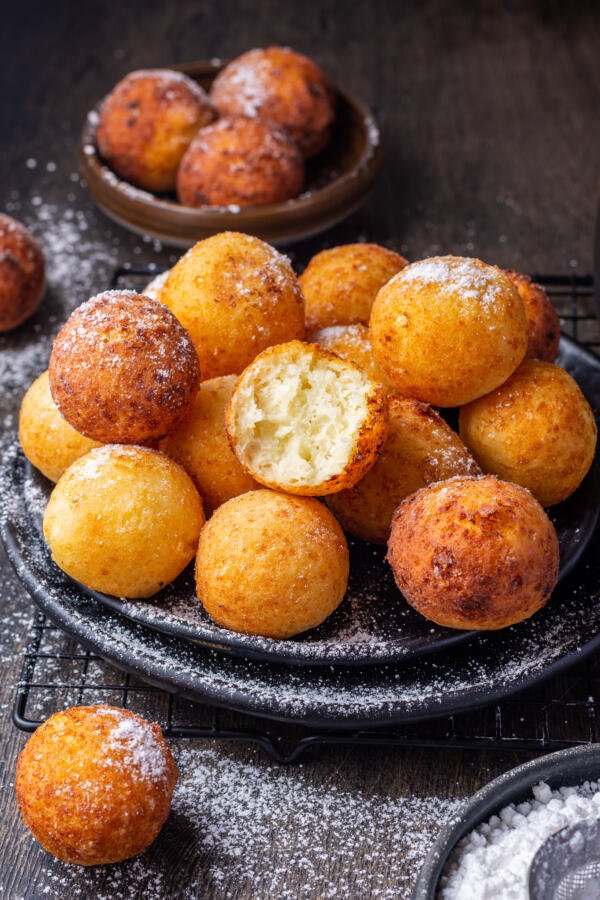 Farmer's Cheese Donut Holes are called "ponchiki" in Russian/Ukrainian. They are lightly sweet, bite-sized donuts that are filled with luscious farmer's cheese, deep-fried, and finished with a dusting of powdered sugar. If you already love fried desserts like beignets, you need to give these donut holes a try!
It's important to note the main ingredient in these ponchiki is farmer's cheese, not flour. This makes for a texture that melts in your mouth. Bonus: As you bite into each donut hole, you'll get little pockets of cheese curds. Aside from the crispy outer layer, this has to be the most to-die-for aspect of this recipe.
To prevent your ponchiki from going stale, it's best to eat them immediately. Serve them fresh for breakfast with a hot cup of coffee or tea, or whip up a batch for dessert.
Keep in mind, you'll need Farmer's Cheese for this recipe!
What is Farmer's Cheese? It's very similar to cottage cheese and is commonly used in Eastern European baking to make ultra-creamy treats. You can find it at your local European specialty store, but it's also super easy (and fun!) to make at home. Give our linked recipe above a try!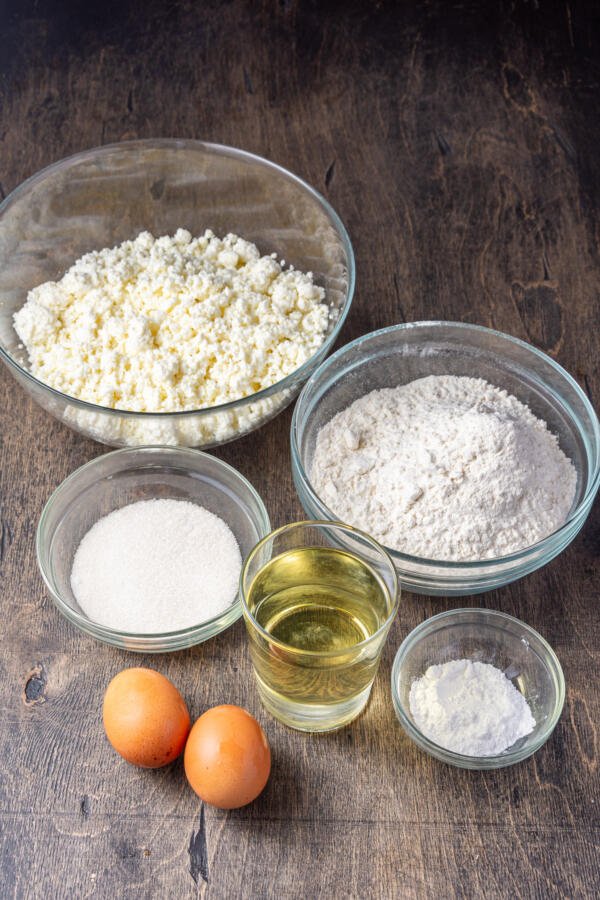 How to Make Farmer's Cheese Donut Holes
Farmer's Cheese Donut Holes only require five ingredients and a few simple steps to make:
Making the Dough: No mixer required here! The dough is made with a simple combination of farmer's cheese, flour, sugar, and baking powder. The appearance will be a bit chunky due to the farmer's cheese and that's exactly what you want. Remember the cheese curd surprises mentioned earlier?
Shaping the Donut Holes: You won't have to get your hands messy here at all. By using an ice cream scoop, you can drop the dough directly into the hot oil, while also ensuring your donut holes are similar in size (hello, even cooking!). Just make sure to release the dough from the scoop as swiftly as possible to prevent it from sticking and making a mess of your oil.
Cooking: It might be tempting to pop as many ponchiki into your frying oil as possible, but this will only result in sticking. Give each donut hole enough space so you can gently flip it with your fork without compromising the shape.
Serving: To ensure the powdered sugar sticks, you'll want to sprinkle it on immediately after you place your ponchiki on the cooling rack.
Tips for Making Farmer's Cheese Donut Holes
Below, find the best and brightest tips for making Ponchiki. These were gathered from over three generations of our family whipping these delicious morsels up!
Don't Over Mix the Dough. Taking special care to fold the flour into the wet batter is key. Overmixing the dough will result in flat, dense donuts.
Substitute for Farmer's Cheese? If you can't find farmer's cheese, don't fret! Use full-fat cottage cheese instead to get that creamy texture. Note: you may need to add in extra flour to compensate for the extra liquid in cottage cheese.
Get Creative and Switch Up The Glaze. Powdered sugar is a classic topping, but feel free to get creative and drizzle them with chocolate or fruit syrup, cinnamon sugar, or even Nutella. The possibilities are endless!
Make to Serve. While these donuts do hold up well and reheat perfectly, there is nothing better than a freshly made donut. Plan to make only as many as you can eat in one sitting and serve them straight away.
Storing Donut Holes
If you are one of those lucky individuals with self-control, you might have a handful of donut holes left. To keep your donuts fresh, store them using the below methods.
Refrigerator: Storing your donut holes in the refrigerator in an airtight container is your best option. When you're ready to reheat, pop them in the air fryer for a minute or so. If you don't have an air fryer, zap them in the microwave for 20-30 seconds or reheat them in a toaster or conventional oven until crispy.
Freezer: If you have a good amount of leftovers (go, you!), place individual donuts on a lined baking sheet. Place the entire baking sheet in the freezer. Once completely frozen, transfer the donuts to an airtight container or freezer-safe plastic bag. When you're ready to reheat, use any of the above methods to return your donuts to a crispy state.
Hot Tip: The best way to reheat fried foods is in an air fryer or oven. Microwaving might be quick and tempting, but it turns dough soggy!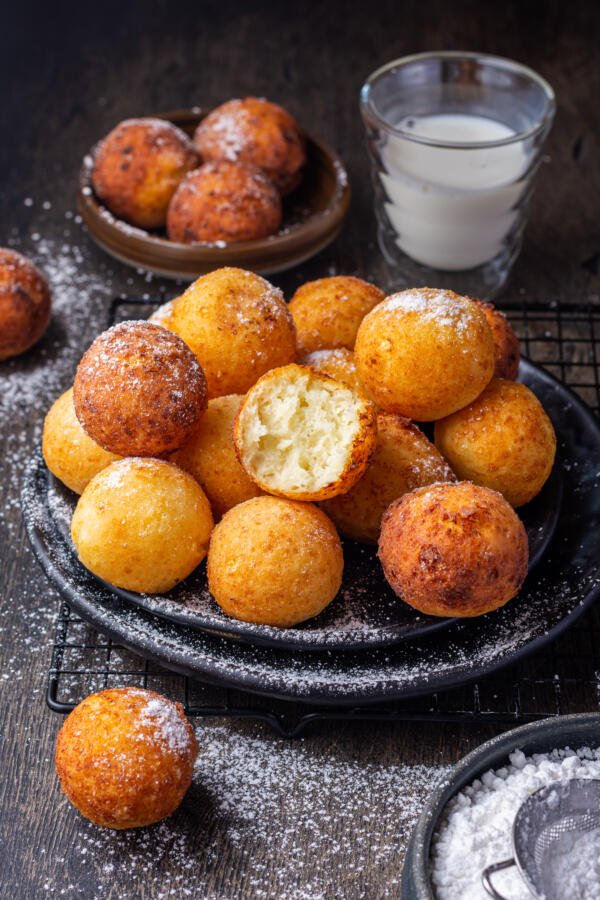 FAQ
Are donut holes actually donut holes?
Donut makers often use the odds and ends of leftover dough to make – you guessed it – donut holes. Originally a tactic to prevent waste, today, most donut holes are not actually made from the donut holes.
What oil is best for frying donuts?
Canola, avocado, and grape seed oils are best for frying donut holes. They have a higher smoke point and a mild flavor that doesn't overpower.
What is the best flour for donut holes?
High-quality, all-purpose flour is your best bet for donut holes. You can use any brand you love, but using European or Canadian style brands is even better, as it tends to have a higher protein content.
What is a good replacement for Farmer's cheese?
While nothing compares to traditional farmer's cheese, you can use ricotta or cottage cheese when you're in a pinch. Keep in mind you may need to add a bit of flour to thicken up the batter if you go with either substitute.
More Farmer's Cheese Recipes
Can't get enough of the creamy, rich flavor of farmer's cheese? Us either. Find some of our favorite recipes below:
Recipe
Farmer's Cheese Donut Holes (Ponchiki) are bite-sized morsels of goodness. A Ukrainian spin on an American breakfast favorite!
Nutrition Facts
Farmer's Cheese Donut Holes (Russian Ponchiki)
Amount Per Serving
Calories 52
Calories from Fat 18
% Daily Value*
Fat 2g3%
Cholesterol 28mg9%
Sodium 113mg5%
Potassium 39mg1%
Carbohydrates 6g2%
Protein 3g6%
Vitamin A 36IU1%
Calcium 15mg2%
Iron 1mg6%
* Percent Daily Values are based on a 2000 calorie diet.