Imagine enjoying a homemade Dulce De Leche in less than an hour, and with virtually no work. With this recipe, you'll have the most luxurious dessert, without the wait.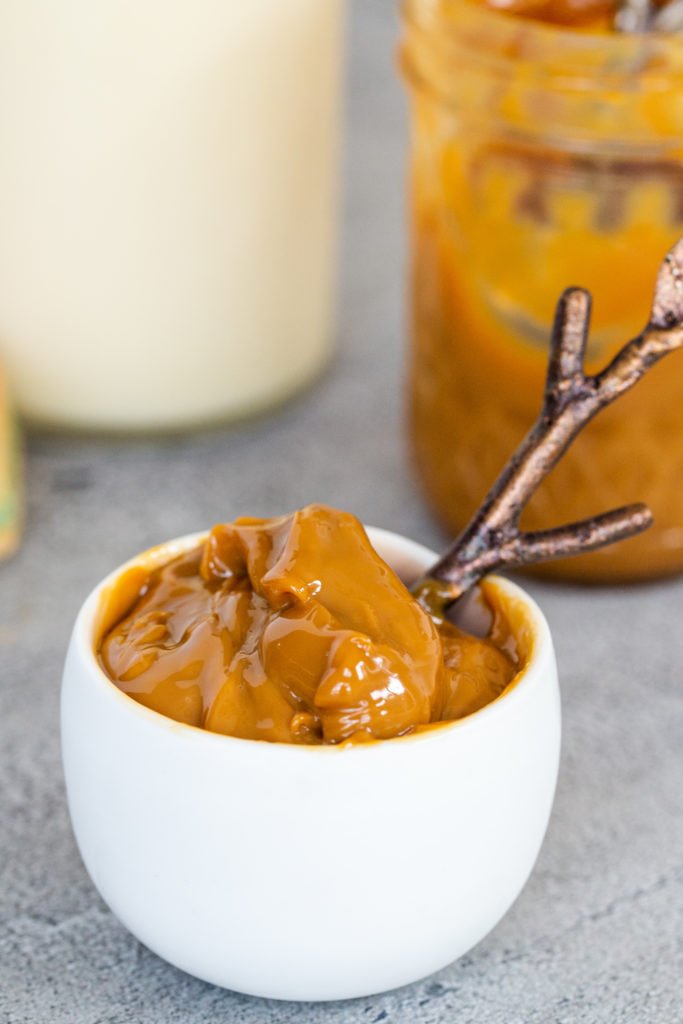 One of my favorite childhood treats was cooked condensed milk. In Ukrainian, it's called "zgushchonka" and it's used in many cakes and cookies. The cooked condensed milk is a creamy, sweet dessert that rolls over your tongue and awakens your taste buds. You can never forget the taste!
What is Dulce de Leche?
The term "dulce de leche" is Spanish and it means "sweet milk" or "caramel". It's a thick sauce made by slowly heating sweetened condensed milk until it becomes thick in consistency, sweeter and darker color. Many people describe it as being close in taste to caramel, but a bit more milky and creamy in nature.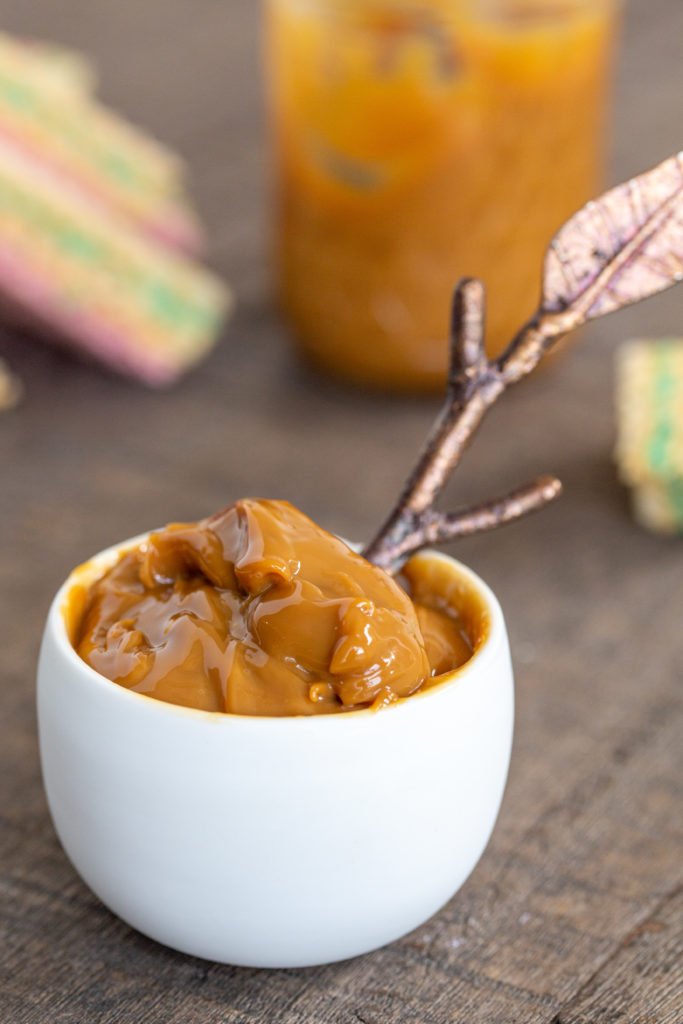 How to Prepare Instant Pot Dulce de Leche
Preparing Instant Pot dulce de leche only requires 3 cans of sweetened condensed milk and a pressure cooker. It's that easy!
Jar the Sweetened Condensed Milk: First, place the sweetened condensed milk into half pint-sized mason jars and seal the lid on super tight.
Place the Jars in the Pressure Cooker: Next, place the jars into the Instant Pot and pour water into the pot until it reaches just underneath the lower point of the lids.
Pressure Cook the Condensed Milk: Cook the condensed milk on high pressure for 30 minutes and carefully quick release the pressure. Remove the jars carefully and allow them to cool completely before opening them. Enjoy!
Hot Tip: Remove the labels from the cans beforehand to prevent a big mess in the pot.
3 Tips for Making Dulce de Leche in Instant Pot
Making dulce de leche in the Instant Pot could not be easier, but there are tips and tricks that I've learned along the way.
Be careful removing the jars. Be careful! The jars will be super hot after dulce de leche is cooked. Use a jar lifter to get them out. To avoid getting burned, let the hot dulce de leche jars cool down completely, before attempting to open them.
Allow the jars to cool at room temperature. Do not place the jars in the refrigerator to speed cool them. Instead, place a towel over the top of the dulce de leche jars while they cool on the counter. By allowing for dulce de leche to cool off slowly, you're allowing it to result in a thicker texture.
Cook it longer for a thicker & richer taste. You can leave it in the pressure cooker for 35 minutes. Dulce de leche will come out thicker and darker in color.
Hot Tip: Alternatively, place the cans on a trivet so you can easily pick them up and out of the pot.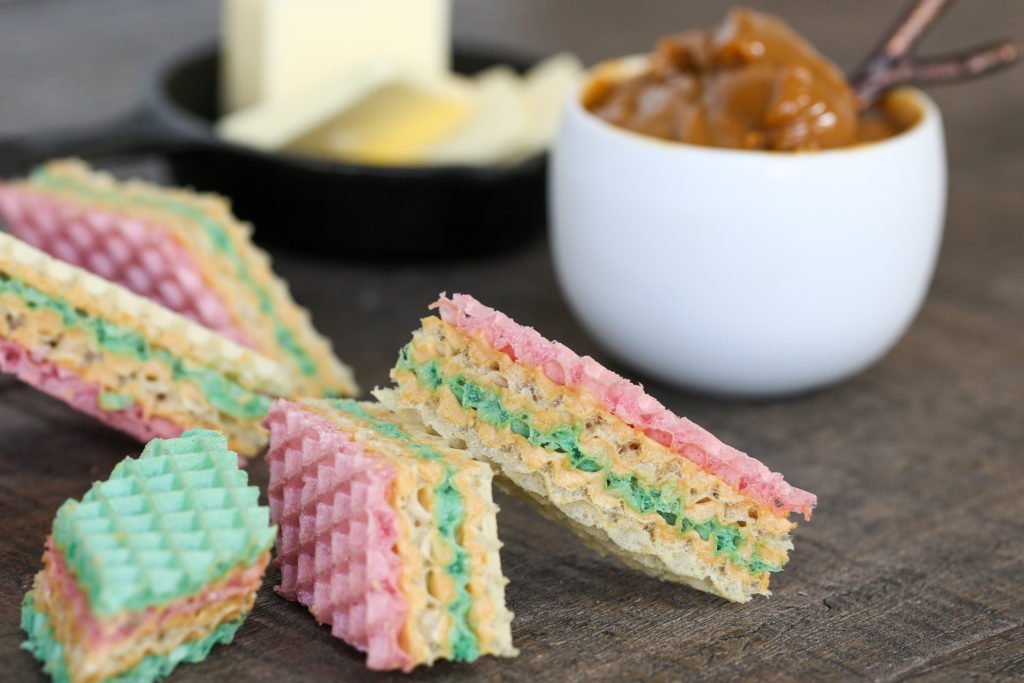 Different Uses for Dulce de Leche
Dulce de Leche is a wonderful addition to a number of desserts. Here are some of my favorite ways to use it…
Stir it into your coffee. Add a spoon or two of dulce de leche to your coffee alongside some half-and-half for a caramely cup of joe.
Use it in cakes or brownies. Use the filling for our dulce de leche cake – it's a really simple recipe. You can also swirl it into a cheesecake or a batch of brownies.
Make French macarons. Try it as a creme filling for dulce de leche macarons – so decadent and effortlessly fancy!
Prepare Ukrainian waffle cakes. Spread the dulce de leche over the layers of a traditional, colorful waffle cake.
Drizzle it over ice-cream. Snag your favorite vanilla bean ice cream from the store and use it just like you would caramel syrup.
Serve it over sweet breakfast favorites. Drizzle the dulce de leche over sourdough pancakes, crepes or buttermilk waffles.
Use it as a dip for fresh fruit. Slice up apples, bananas and pears and serve the dulce de leche as a fun dip alongside it (great for kids' lunches!).
Spread it on toast. Whip up brioche or challah and spread the dulce de leche on top like you would jam.
How to Store Dulce de Leche
Store dulce de leche in the fridge in sealed jars. When stored properly, dulce de leche should stay fresh for about one month. Whatever you do, don't freeze it as it doesn't tend to thaw well at all.
FAQ
Is dulce de leche the same as caramel sauce?
Since dulce de leche has a literal translation to caramel and has a caramel color, it's easy to mix them up. However, there are the key differences. Caramel sauce is made by heating sugar with butter and milk until it turns brown in color. It's much sweeter than dulce de leche and less thick in texture, resulting in a syrup-like feel. Dulce de leche, however, is made by heating or cooking sweetened condensed milk until it darkens in color.
Can you overcook dulce de leche in the Instant Pot?
Avoid pressure cooking the dulce de leche past an hour in the Instant Pot. If it cooks too long, the water will evaporate and it will begin to turn stringy.
Can you make dulce de leche on the stove top?
You can make dulce de leche by heating sweetened condensed milk for a few hours. However, the easier way to do it is to slow boil an unopened can of sweetened condensed milk to avoid burning it.
Will dulce de leche thicken as it cools?
Yes, dulce de leche will continue to thicken as it cools. It will also develop a nice, shiny sheen and texture.
Can you boil an opened can of condensed milk to make dulce de leche?
You should never boil an unopened can of condensed milk to make dulce de leche. The water will filter into the can and cause it to become watery.
Other Sweet Spreads to Make Homemade
Recipe
This easy recipe for Instant Pot dulce de leche is creamy, decadent & perfect for so many different baked goods. A delicious Slavic staple and a must-try!
Instructions
Nutrition Facts
Easy Instant Pot Dulce De Leche
Amount Per Serving
Calories 191
Calories from Fat 45
% Daily Value*
Fat 5g8%
Cholesterol 20mg7%
Sodium 75mg3%
Potassium 220mg6%
Carbohydrates 32g11%
Protein 5g10%
Vitamin A 160IU3%
Vitamin C 1.6mg2%
Calcium 169mg17%
Iron 0.1mg1%
* Percent Daily Values are based on a 2000 calorie diet.