This recipe for tushonka is a modern and delicious spin on the canned stewed meat eaten in the Soviet Union during World War II.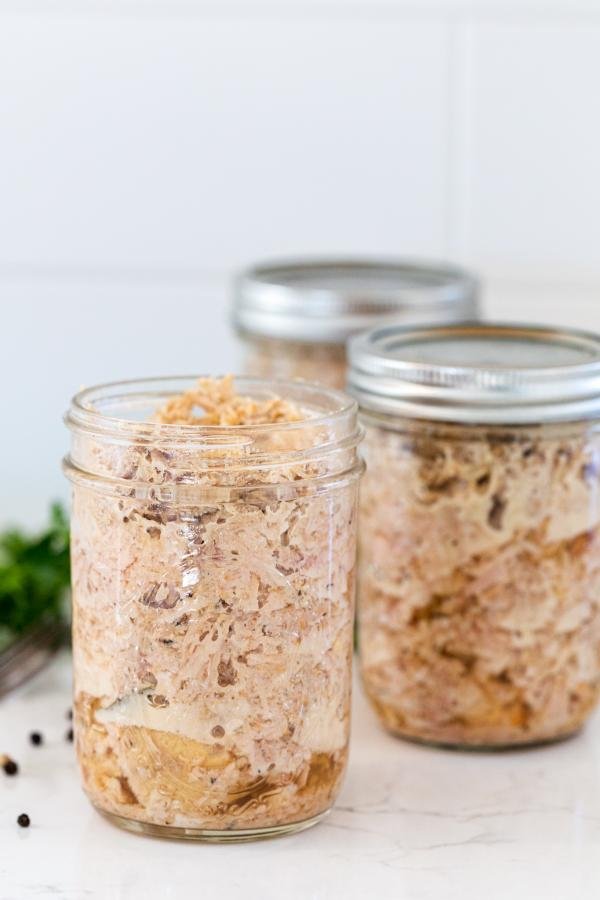 Tushonka, or Russian canned stewed meat, was a staple in my Ukrainian household growing up. I can still remember the delicious smell of my mother spending an entire day in the kitchen slow-cooking and canning it. To this day, I still crave it and always have a jar or two on hand myself.
Initially eaten primarily by Soviet soldiers during World War II, tushonka slowly crept into civilian life and ultimately became beloved comfort food. More so, it represents a deep-seated love affair the Slavic people have with canning and storing meat for a rainy day.
Today, tushonka is used as a quick way to add tasty protein to a variety of pasta and buckwheat dishes. Consider it the SPAM of Slavic culture!
The Homemade Advantage: I often purchase Army Brand Tushonka at a local Russian store in my neighborhood. Although delicious, it's very fatty and full of preservatives. Making your own tushonka at home is a great way to save money AND control the ingredients!
What is Tushonka?
Although tasty and comforting, tushonka has somewhat of a dark history. During World War II, it was shipped into the former Soviet Union through the Lend-Lease Act, an American foreign policy that permitted then-President Roosevelt to send everything from military to food supplies to the Allied Powers. Today, it's a staple in many Slavic households. Below, find an overview of the recipe flavor, texture, and cooking time.
Flavor: Tushonka is super savory with a simple seasoning of bay leaves, pepper, salt, and garlic.
Texture: Much like a canned chicken or tuna, the texture of Russian canned stewed meat is ultra-tender and moist.
Time: From prep to canning, tushonka takes just under 5 hours to make.
How to Make Stewed Meat
Making tushonka requires a few wholesome ingredients, a couple steps, and a little bit of patience. Below, find a quick hitter overview of the recipe.
Trim & Prep the Meat: Using a sharp knife, trim the meat of excess fat and slice it into one-inch cubes.
Season the Meat: Place the meat cubes into a Dutch oven and season liberally.
Bake the Meat: Next, cover the Dutch oven with a lid and bake the meat at 250°F (4 hours for pork, 6 hours for beef).
Sterilize the Jars: In the last 30 minutes of cooking, sterilize the canning jars. First, wash the lids and jars thoroughly with soap and hot water. Place them in the oven next to the Dutch oven for around 15 minutes, or until they appear totally dry.
Can the Meat: Being careful not to burn your hands, spoon the hot meat mixture into the hot jars. Using an oven mitt or towel, twist on the lids tightly. To further seal the lids, flip the jars upside down for about 2 hours.
Refrigerate Canned Tushonka: Finally, place the jars of tushonka in the refrigerator. Keep them stored for up to 3 months and enjoy!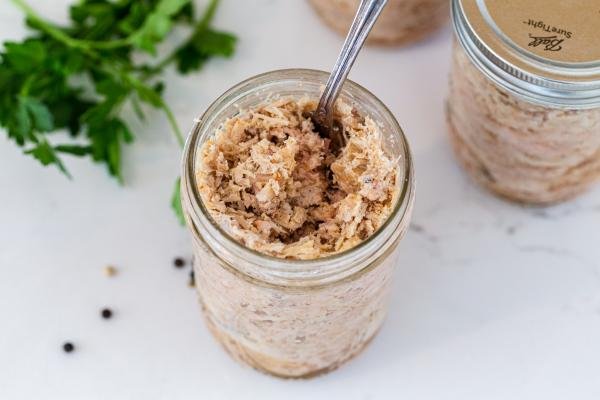 Tips for Making the Best Tushonka
Below, find some top tips and tricks for making the best tushonka.
Use lean cuts of beef or pork. If you're using beef, opt for chunk roast or a couple of tenderloins. If you're using pork, opt for tenderloin, loin roast, or shoulder. Since the stewing process will make the meat ultra-tender, there's no need to shell out the big bucks for expensive cuts.
Season the meat liberally. Use your hands to massage the seasoning onto the meat thoroughly. Don't be shy!
Cook the meat low and slow. Cooking the meat on low heat over a long period of time will make it super tender and tasty.
Serving Tushonka
For a simple snack or light lunch, spread old or warmed tushonka onto a toasted piece of bread. You can also add it to a variety of soups and pasta or grain dishes for extra protein. Keep in line with Slavic tradition by mixing it into buckwheat with mushrooms or beef stroganoff pasta or substituting it for ground beef in old fashioned goulash.
Storing Tushonka
Refrigerator: When properly canned, Russian canned stewed meat will keep for up to 3 months. Once you open a jar, plan to use it within a week.
Freezer: Freeze tushonka by allowing it to cool down completely. Then, transfer it into an airtight plastic container or a freezer-safe bag. It will keep for up to 6 months. When you're ready to use it, thaw it in the refrigerator for a couple of hours.
FAQ
What is Russian tushonka?
Russian tushonka is a traditional stewed canned meat. It was eaten by Soviet soldiers during WWII but is widely see as a Slavic comfort food today.
What is tushonka used for?
Tushonka is used as a quick protein for a variety of grain, pasta, and soup dishes. Many Slavic households keep a couple jars on hand for a rainy day.
How do I eat tushonka?
You can eat tushonka by spreading it on top of toasted bread. You can also add it to buckwheat, pasta, or soup.
What type of beef or pork cut should I use for tushonka?
Use lean cuts of beef or pork for tushonka. Tenderloin or roasts work really well.
How should I store canned tushonka?
Store canned tushonka in the refrigerator for up to three months. Once you open a jar, plan to eat it within a week.
Other Classic Russian & Ukrainian Recipes
Recipe
This recipe for tushonka is a modern and delicious spin on the canned stewed meat eaten in the Soviet Union during World War II.
Ingredients
8

lb

lean pork or beef

1

cup

water

6

dry bay leaves

2

tbsp

black pepper

9

garlic cloves

2

tbsp

salt

adjust to taste
Nutrition Facts
Canned Stewed Meat (Tushonka Recipe)
Amount Per Serving
Calories 464
Calories from Fat 324
% Daily Value*
Fat 36g55%
Cholesterol 129mg43%
Sodium 123mg5%
Potassium 503mg14%
Carbohydrates 1g0%
Protein 31g62%
Vitamin A 5IU0%
Vitamin C 1mg1%
Calcium 38mg4%
Iron 4mg22%
* Percent Daily Values are based on a 2000 calorie diet.