Chebureki are pan-fried dumplings that are stuffed with a savory ground meat filling. Our tortilla hack gets this street food on the table fast!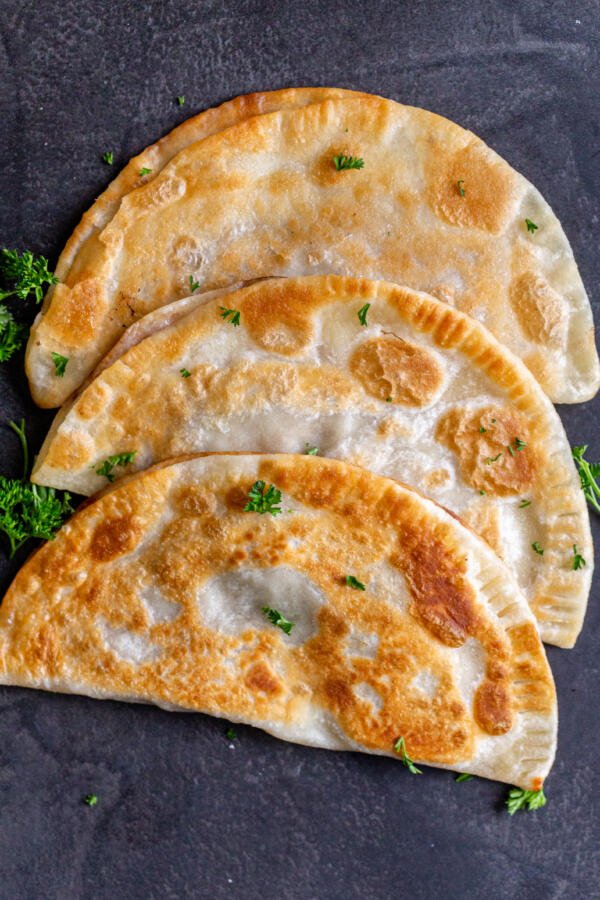 Chebureki are savory turnovers that are the definition of Slavic comfort food. In this recipe, we use an off-the-beaten-path hack to help you whip them up at lightning speed – raw tortillas! Yes, this is not 100% traditional, but the outcome is so similar to authentic chebureki that you'll hardly notice the difference. Who doesn't love a good shortcut anyways?
Where can you find raw tortillas? Costco has an amazing pack of raw tortillas in the refrigerated section. If you don't have a membership, you can find them at most grocery stores.
What are Chebureki?
Chebureki is a popular Slavic pastry that has roots in both Eastern Europe and Central Asia. Deep-fried or pan-fried, the turnover is filled with a savory blend of ground meat, onions, and simple seasonings. Despite the turnover being pioneered by Crimean Tatars, you'll find it served in many restaurants and street markets throughout Russia, Turkey, Ukraine, and beyond. Below, find an overview of the flavor, texture, and time it takes to make our simplified version of this snack.
Flavor: The rich and savory filling of spiced chicken and beef is complemented by the earthy, slight sweetness of the tortilla.
Texture: The texture of chebureki features crispy pan-fried tortilla that's sandwiched around a tender filling of ground meat and crunchy onions.
Time: From prep to table, these chebureki take just under 40 minutes to make.
Did you know? Traditional chebureki is made with a yeast dough that is rolled out into a super thin layer with a rolling pin. If you want to skip the tortillas and make the authentic version, you can get the recipe in our eBook on The Ultimate Russian Recipes.
How to Make Chebureki
Making our version of chebureki only requires 7 ingredients you likely already have hanging out in the kitchen and some super simple prep. Below, find a high-level overview of the recipe before you dive in.
Make the Filling: In a large bowl, mix the ground meat, salt, pepper, egg, and chopped onion until well-combined combined.
Assemble the Chebureki: Place a few tablespoons of filling on one side of the raw flour tortillas. Next, fold the tortillas over and use a fork to pinch the sides together.
Cook the Chebureki: Heat the oil in a large skillet or frying pan. Fry the chebureki on each side until golden brown. Then, place the fried chebureki on a large plate lined with paper towels to absorb the excess oil. Enjoy!
Hot Tip: Spread the filling in a thin, even layer so it cooks through consistently.
4 Top Tips for the Best Chebureki
Here you'll find a collection of our top tips for the best chebureki.
Use lean ground meat. To prevent your dumplings from turning out super oily and soggy, opt for lean ground meat (90% lean or more).
Opt for raw tortillas over cooked tortillas if you can. Raw tortillas yield the best texture when pan-fried. In a pinch, it's okay to use precooked tortillas.
Add in some fresh herbs. For a pop of earthiness, add some fresh parsley or cilantro to your filling.
Play around with different ground meats. You can use any combination of ground beef, lamb, chicken, pork, or turkey for the filling. Experiment with different combinations until you land on one you love!
Storing and Freezing Chebureki
Whether you have a couple of leftover chebureki to store in the fridge or a batch you'd like to freeze for later, find our top tips for storing and freezing here.
Refrigerator: To keep chebureki on hand for up to 3 days, store leftovers in an airtight container in the fridge. This will keep them from turning soggy faster.
Freezer: Chebureki are best frozen before cooking and can be kept on hand for up to 1 month. After you assemble the dumplings, wrap them in plastic wrap and stick them in a sealable plastic bag or layer them between parchment paper in a freezer-safe container to prevent them from sticking. To thaw, place them in the fridge for a couple of hours and then fry them according to the recipe instructions.
Reheating Tip: Chebureki are best reheated in a conventional oven, toaster oven, or air fryer (check out this model by Cosori that I love if you don't have an air fryer yet) until they're crispy again. Avoid microwaving the dumplings, as they're prone to turning soggy.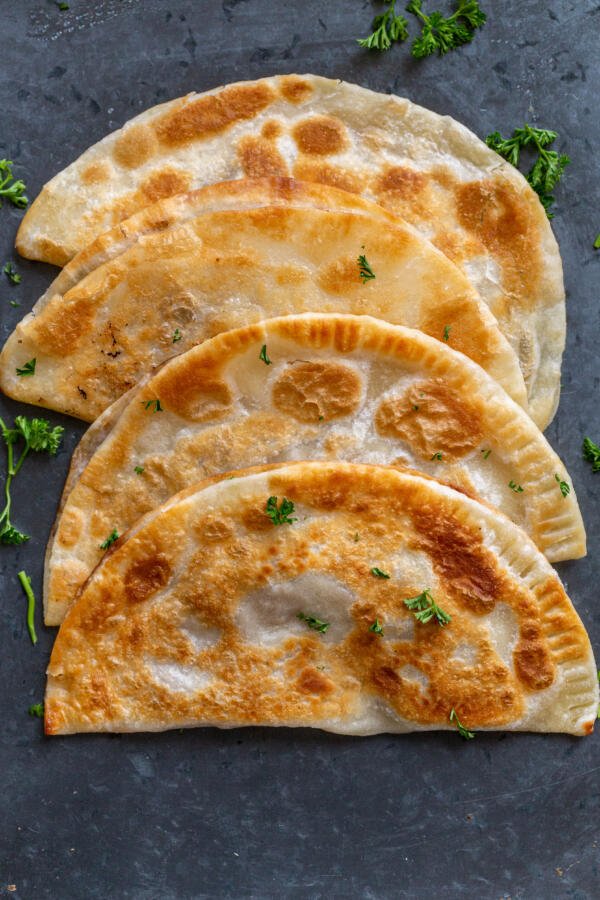 FAQ
Can you add anything else to the filling?
Oftentimes, you'll find a couple of tablespoons of milk added for moisture or some minced garlic.
How much salt and pepper should you add to the filling?
This really depends on your personal preference. Typically, we add about a teaspoon of each.
Can you make these in the air fryer?
Yes, the air fryer would get the chebureki crispy without the need for added oil. Just make sure to coat the tray well with cooking spray so the tortilla doesn't stick.
Can you bake them instead?
It's not recommended to bake the chebureki, as they won't get as crispy. If you do, make sure to flip them halfway through cooking time and coat them well with oil.
Do you need to cook the meat filling first?
There's no need to cook the meat filling before assembling the dumplings. Just ensure you spread a thin enough layer of the filling so that it fully cooks during pan-frying.
More of Classic Recipes
Recipe
Chebureki are fried turnovers that are crunchy on the outside and filled with meat. A classic Slavic street food and crowd pleaser!
Nutrition Facts
Chebureki (Fried Dumplings)
Amount Per Serving
Calories 297
Calories from Fat 162
% Daily Value*
Fat 18g28%
Cholesterol 81mg27%
Sodium 849mg35%
Potassium 278mg8%
Carbohydrates 16g5%
Protein 16g32%
Vitamin A 42IU1%
Vitamin C 1mg1%
Calcium 53mg5%
Iron 3mg17%
* Percent Daily Values are based on a 2000 calorie diet.