Zucchini spread, or "ikra", is a classic Russian side dish. It pairs perfectly with meat, spread on toast or used as a simple and refreshing dip.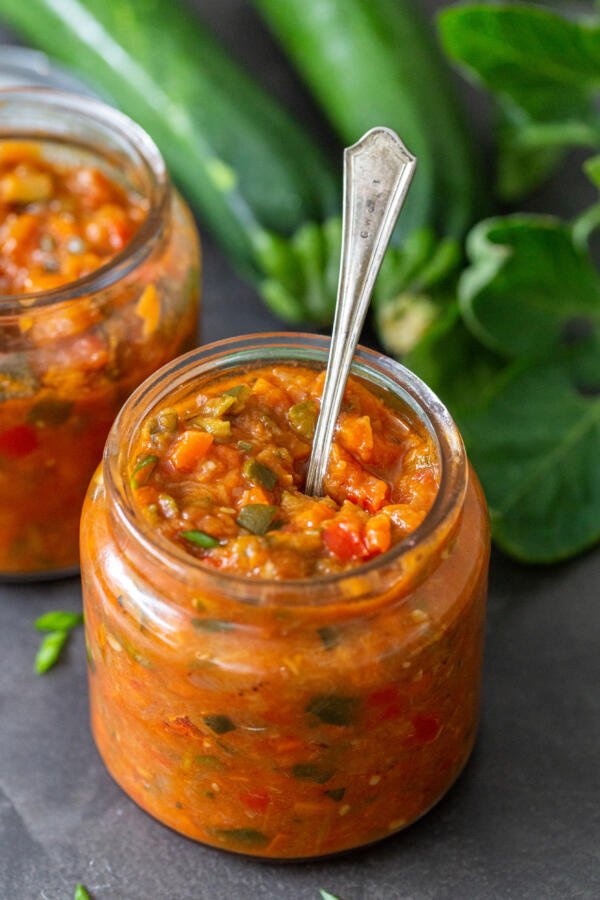 Zucchini Ikra is a dish made with shredded zucchini and a variety of fresh veggies. Cooked down into a sauce and spiced, this spread is absolutely savory and addictive.
Throughout Eastern Europe, caviar has always been a delicacy. Considered a replacement for the "poor man", ikra became a popular comfort food. But, although it's cheap to make, it never compromises on flavor! There are different variations of it, including eggplant ikra.
Ikra: Explained
"Ikra" translates to "caviar" or "roe" in Ukrainian. Ikra can take many different forms, most containing eggplant (see traditional recipe at bottom of page). This iteration features zucchini, bell peppers, onions, carrots, tomatoes and spices. Although not included in this recipe, ikra is awesome with a bit of garlic in it too (feel free to add).
Texture wise, ikra can be smooth or chunky and it's best served cold. It's all about your preference. This recipe comes chunky, but if you like it smooth, pop it in the food processor or blender for a couple pulses. Ikra is best served cold.
Hot tip: Lots of leftovers? Not a problem. As ikra marinates in itself in the fridge, it gets more and more flavorful.
How to Make Zucchini Ikra Spread
Ikra is so easy to make. Grab your apron, gather your ingredients and follow these easy steps to nail it on your first try: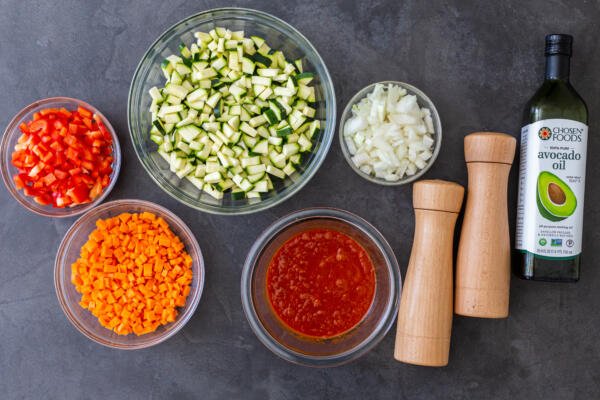 Slice all your veggies.
In a pan, saute your onion and carrots and cook them until they soften.
Preheat a large pan with a little bit of oil. Add in onion and carrots to the dish and cook until they soften.
Add in bell peppers, canned tomatoes and zucchini. Season with salt and pepper.
Cook the veggies on low-heat for roughly 60 minutes, stirring occasionally.
Allow the mixture to completely cool and store.
Ways to Serve Zucchini Spread
Zucchini spread can be used in any way you would use an aioli or romesco sauce. Bake a loaf of no-knead bread and spread it on thick for an appetizer. You can also add a ramekin of ikra to a fancy cheese board. It's wonderful to spread on crackers and eat with charcuterie.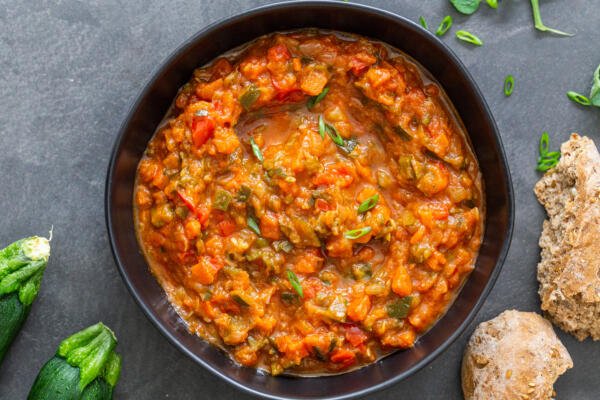 In terms of dinner, you can quite literally pair ikra with any meat. Rice stuffed chicken thighs or beef shish kabobs come to mind…
It's also super tasty served with herbed or roasted potatoes. You get the idea! This spread is universal.
Storing Zucchini Spread
Once the ikra cools down completely, store it in mason jars in the fridge. Ikra will stay good for up to two weeks when stored properly. Good luck because it will likely not last that long 😀.
Other Zucchini Recipes
Zucchini is one of those veggies that is so versatile. If you just harvested a bunch from your home garden or snagged a bunch from the farmer's market, put them to good use with some of our favorite recipes below:
Recipe
Zucchini spread, or "ikra", is a classic Russian side dish. It pairs perfectly with meat, spread on toast or used as a simple and refreshing dip.
Ingredients
2

medium zucchini

2

red bell peppers

1

cup

canned tomatoes

1

yellow onion

2

large carrots

1

tbsp

black pepper

adjust to taste

1

tbsp

salt

adjust to taste

1

tbsp

oil
Nutrition Facts
Vegetable Zucchini Spread Recipe
Amount Per Serving
Calories 54
Calories from Fat 9
% Daily Value*
Fat 1g2%
Sodium 155mg6%
Potassium 416mg12%
Carbohydrates 12g4%
Protein 2g4%
Vitamin A 4040IU81%
Vitamin C 55.6mg67%
Calcium 25mg3%
Iron 0.6mg3%
* Percent Daily Values are based on a 2000 calorie diet.