Buckwheat Meat Patties are filled with protein, healthy grains, and veggies. They're perfect as an appetizer, side dish, or entree. Best of all, you can whip up a batch using the ingredients you likely already have hanging out in your kitchen!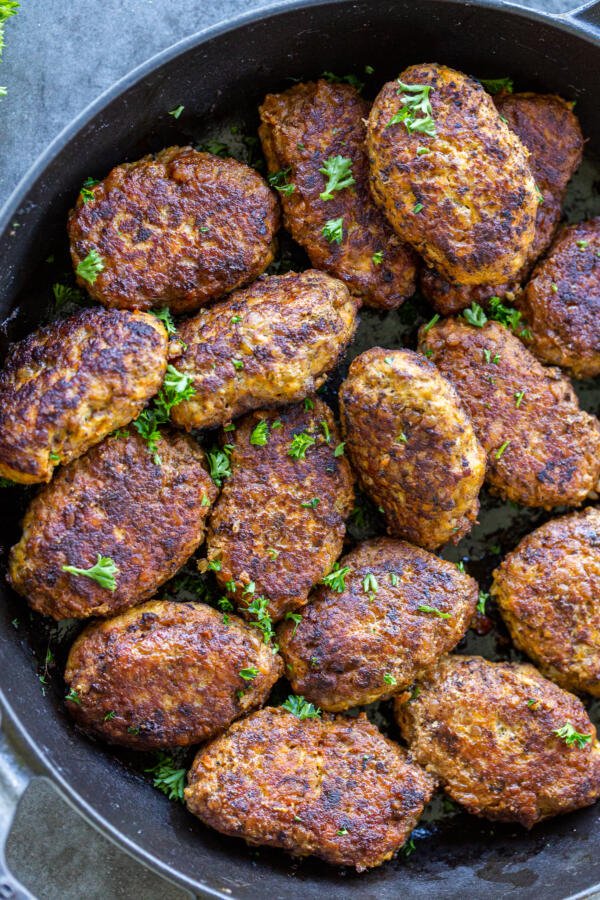 Buckwheat Meat Patties are a popular Eastern European dish. In Ukraine, they are called "hrechanyky". They land somewhere in between a hamburger and a breakfast sausage patty, but are made much more filling with the addition of hearty buckwheat (that's right: buckwheat isn't just good for making breakfast cereal). With a simple seasoning of paprika, salt, and pepper, these patties are ultra-savory, yet extremely versatile.
Their simplicity makes this recipe the perfect candidate for meal prepping. Make a batch (or three!) on a slow Sunday and have quick protein on hand for the rest of the week or month (freezing instructions below). When you need an easy, no-fuss meal, pull some patties out and sandwich them between brioche buns (we love doing this with salmon cakes too), use them as a salad topper, or pair them with a vegetable dish.
Did you know? Buckwheat is a gluten-free grain that touts a nutty, toasty flavor. For those who are Celiac or simply watching their gluten intake, it's a great, filling substitute to rice.
What are Buckwheat Meat Patties?
There are many different variations of buckwheat meat patties, but a few key ingredients always remain: ground meat, buckwheat, and eggs to bind everything together.
Flavor – The richness of the ground meat (a combination of chicken and beef in this recipe) is balanced by the earthiness of the buckwheat and veggies. Although these patties are packed with flavor, they are neutral enough that both kids and adults alike enjoy them.
Texture – These patties serve up quite the bite. By blending the onions and carrots, the juices of the veggies are released into the meat, making the patties ultra-moist. This is contrasted by the firm, yet chewy, texture of the cooked buckwheat grouts.
Time Required to Prepare – These patties come together in about an hour and don't require any fancy cooking techniques. All you need to know how to do is blend, mix, and form a patty with your hands.
Hot Tip: Have an ultra-picky eater in your house who scoffs at the sight of vegetables? These patties are a stealthy way to sneak a serving onto their plate.
How to Make Buckwheat Meat Patties
With just a few simple steps, these patties come together in no time.
Make the Patty Mixture: Whip up the patty mixture by first cooking your buckwheat. Then, puree sauteed carrots and onions. Combine buckwheat and veggies with eggs, ground meat, paprika, salt, and pepper. Don't be afraid to be generous with the seasoning. Using your hand or a slotted spoon, mix until combined.
Form the Patties: Form a nice, palm-sized patty in your hand. It doesn't have to be perfect, but you'll want to make each one is a similar size for even cooking.
Brown and Bake: Brown each side of the patty and transfer to a lined baking sheet. Repeat until you use all of the meat mixture. Finish cooking the patties in the oven. Enjoy!
Tips for Making Buckwheat Meat Patties
Preparing buckwheat and veggies. Ensuring that both the buckwheat and veggies are cooked properly will make a world of difference when it comes to nailing the texture. Softening the buckwheat grouts and pureeing the carrots and onions also allows the patties to bind more effectively with the eggs, meat, and seasoning.
Dealing with stickiness. Typically, the mixture won't stick too much, but if you find that it does feel free to coat your hands with a bit of water in between patties.
Browning is crucial. Browning is one of the most crucial steps to yield a perfect texture. This process cooks off any excess fat, locks moisture inside the patties, and ensures they don't fall apart. Just make sure you don't brown them in the pan too long, as they will finishing cooking in the oven.
Sneak in more veggies. If you want to up the veggie content (without your kids knowing!), saute and puree in some zucchini and garlic too.
Serving Buckwheat Meat Patties
There are many ways to enjoy your buckwheat patties. To serve them more traditionally, top them with a bit of sour cream and serve them alongside pickled veggies (great for winter) or a fresh cabbage salad (perfect for summer).
If you want to veer off the traditional track, pop them in between a freshly baked brioche bun for a fun spin on a burger. You can top them with cheddar cheese, tomatoes, onions, and all the usual suspects.
Making Buckwheat Meat Patties In Advance
Whether you're prepping ahead for party in a couple of days or freezing a batch for the next couple of months, buckwheat meat patties can easily be prepared in advance.
Refrigerating: Place completely cooled patties in an airtight storage container in the fridge. They will last for up to a week. To reheat, pop in the oven until warmed through or in the air fryer for a couple of minutes.
Freezing: Place completely cooled patties in a single layer on a lined baking tray. Pop into the freezer. Once frozen, transfer to a freezer-safe plastic storage bag. To reheat, follow either method above.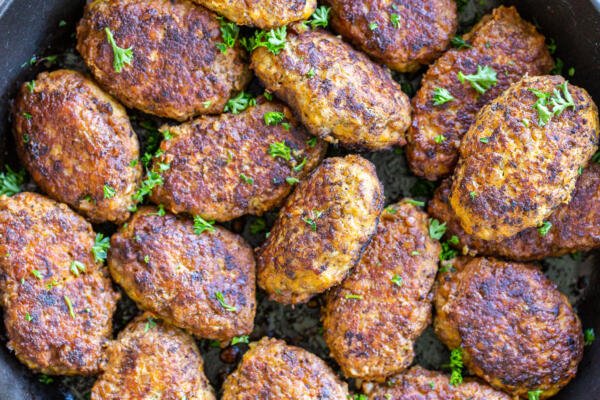 FAQ
What are the benefits of eating buckwheat?
Buckwheat is so healthy it's considered a "superfood". It's a trifecta of protein, fiber, and nutrients.
How long does cooked buckwheat stays fresh?
Cooked buckwheat lasts for 3-5 days when stored in an airtight container in the fridge. Use leftovers as a salad topping or side dish.
Can you freeze buckwheat?
Buckwheat is great for freezing and is wonderful to have on hand. Once you cook your buckwheat, allow it to cool down completely. Transfer it into a freezer safe plastic bag in your desired portions. Reheat in the microwave with a little bit of water.
What are different types of buckwheat?
There are two types of buckwheats that are grown for consumption: common buckwheat (used in this recipe) and Tartary buckwheat (tougher and typically ground into flour).
More Buckwheat Recipes
Recipe
Buckwheat Meat Patties are filled with protein, healthy grains, and veggies. They're perfect as an appetizer, side dish, or entree.
Nutrition Facts
Buckwheat Meat Patties Recipe
Amount Per Serving
Calories 287
Calories from Fat 153
% Daily Value*
Fat 17g26%
Cholesterol 104mg35%
Sodium 1475mg61%
Potassium 518mg15%
Carbohydrates 15g5%
Protein 19g38%
Vitamin A 2200IU44%
Vitamin C 1.6mg2%
Calcium 28mg3%
Iron 1.9mg11%
* Percent Daily Values are based on a 2000 calorie diet.