This one-pot beef stroganoff is the definition of melt-in-your-mouth comfort food. Serve it over rice, egg noodles, or mashed potatoes!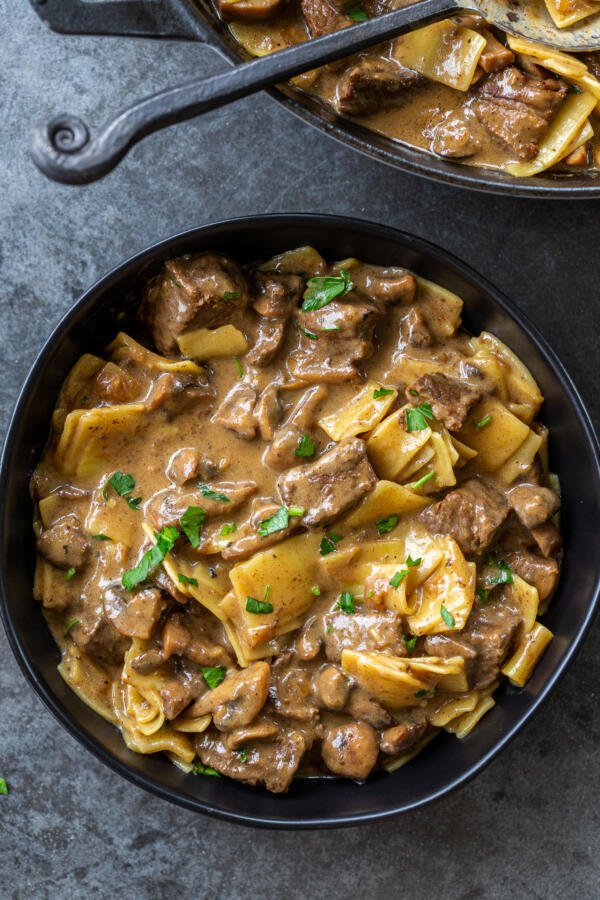 Beef Stroganoff is made with a creamy sauce that is packed with tender strips of beef and mushrooms. Super decadent and comforting, it's great to eat with egg noodles, potatoes, or your favorite grain.
This recipe strays away from traditional Russian stroganoff, as it solely calls for heavy whipping cream versus sour cream. Inspired by the stroganoff served at the popular restaurant II Corvo Pasta in Seattle, it has an Italian-style flair to it.
What's better? This is a one-pot beef stroganoff that requires minimal fuss or clean-up. You're going to just love this recipe!
What is the Best Beef for Stroganoff?
Below, find the best beef to use for stroganoff ranked in order.
Boneless ribeye – tender, well-marbled, and a little pricey
Boneless sirloin – tender yet lean
Beef tenderloin – lean, flavorful, and tender
Sirloin steak tips or stew meat – tons of connective tissue but great when slow-cooked
Rump steak or round steak – super lean with minimal fat and marbling, needs to be slow-cooked to get tender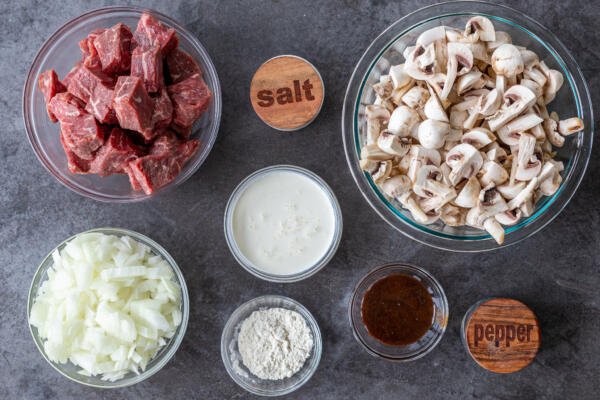 How to Make Beef for Stroganoff
Making beef stroganoff only requires a few simple ingredients and a bit of patience for low and slow cooking. Below, find a quick hitter overview of the recipe before you dive in.
Cook the Veggies and Beef: In a deep skillet or pot with a lid, sauté diced onions and mushrooms. Next, add thinly cut strips of beef and sauté. Cover with boiled water and add in beef broth concentrate. Cover with a lid and let the mixture simmer for 2 hours.
Add in Flour and Cream: Add in the flour and stir to combine, followed by the heavy whipping cream. Allow the mixture to simmer until it thickens.
Add the Pasta: Add in fully cooked pasta and simmer for 10 minutes. Alternatively, leave the pasta out and smother the stroganoff over mashed potatoes or your favorite grain. Serve and enjoy!
Dutch Oven Hack: Use a Dutch oven if you have one. It will make the beef so tender and is perfect for slow cooking! If you need a recommendation, I love my Staub. It never leaves my stovetop.
Tips for Making the Best Beef Stroganoff
Below, find a handful of tips and tricks to help you make best beef stroganoff.
Slice the beef strips against the grain. Use a sharp knife to cut the beef against the grain and break up the tough muscle fibers. This will make the beef easier to chew and so much more tender!
Keep the heat on a low simmer. To make the beef ultra-tender and prevent the cream from curdling, make sure you keep the heat to a low simmer.
Precook the pasta. Precooking the pasta is key before adding it to the stroganoff. This removes the excess starch, which could cause your sauce to over-thicken.
Crock Pot Hack: If you're in the mood to "set it and forget it", use a Crock Pot or slow cooker. After you sauté the beef and veggies in a skillet, transfer all the ingredients to the slow cooker and cook on low for 4 hours. Add the cooked pasta in the last 15 minutes and enjoy!
FAQ
How do you make stew meat tender fast?
Stew meat is naturally on the lean side and can't be made tender fast. Instead, slow cooking it is your best option.
How can I add flavor to beef stroganoff?
If your stroganoff is a little bland, add more salt and pepper to taste. If you like a bit of tang, add a dollop of sour cream on top.
What is the difference between goulash and stroganoff?
Goulash consists of a hearty tomato and ground beef sauce tossed in noodles, while stroganoff consists of a cream-based sauce with mushrooms and beef.
What cut of beef is best for stroganoff?
The best cut of beef for stroganoff is boneless ribeye. You can also use boneless sirloin, steak tips, stew meat, or beef tenderloin. If you're on a budget, you can use rump steak or round steak, but these cuts are pretty tough and need to be cooked low and slow!
Is stroganoff Russian or German?
Stroganoff is a Russian dish that has been adopted and adapted in many different countries, including Germany.
Serving Beef Stroganoff
Beef stroganoff is tasty served year-round, but it's especially good on a cold winter's day. If you want to go the traditional route, serve it with egg noodles and a dollop of sour cream on top. You can also smother it on steamed white rice, creamy mashed potatoes, quinoa, or buckwheat.
Storing Beef Stroganoff
Refrigerator: Store leftover stroganoff in an airtight container in the refrigerator. It should keep for up to 5 days. The kicker? The flavors will continue to develop in the fridge, making for some pretty killer leftovers.
Freezer: Not recommended. The cream sauce doesn't thaw very well and tends to separate.
Reheating Tip: Reheat stroganoff in a saucepan over low heat until warmed through or zap it in the microwave for a couple of minutes.
More Creamy Pasta Recipes
Recipe
This one-pot beef stroganoff is the definition of slow-cooked comfort food. Serve it over rice, egg noodles, or mashed potatoes!
Ingredients
1

tbsp

oil

2

lb

mushrooms

1

onion

2

lb

beef

cut into bit size pieces

2

tbsp

all-purpose flour

1/2

cup

heavy whipped cream

2

tbsp

Better Than Bouillon Beef Base Concentrate

1

tbsp

salt

adjust to taste

1

tsp

ground black pepper

1

lb

pasta

cooked to package instructions
Nutrition Facts
One-Pot Beef Stroganoff Pasta Recipe
Amount Per Serving
Calories 374
Calories from Fat 162
% Daily Value*
Fat 18g28%
Cholesterol 56mg19%
Sodium 639mg27%
Potassium 550mg16%
Carbohydrates 33g11%
Protein 21g42%
Vitamin A 18IU0%
Vitamin C 2mg2%
Calcium 30mg3%
Iron 2mg11%
* Percent Daily Values are based on a 2000 calorie diet.