This classic, old fashioned goulash features tender noodles tossed with ground beef, veggies, and a savory tomato sauce. An easy and satisfying weeknight meal!
We partnered with Beef. It's What's for Dinner., on behalf of the Beef Checkoff to show you how to make this Goulash.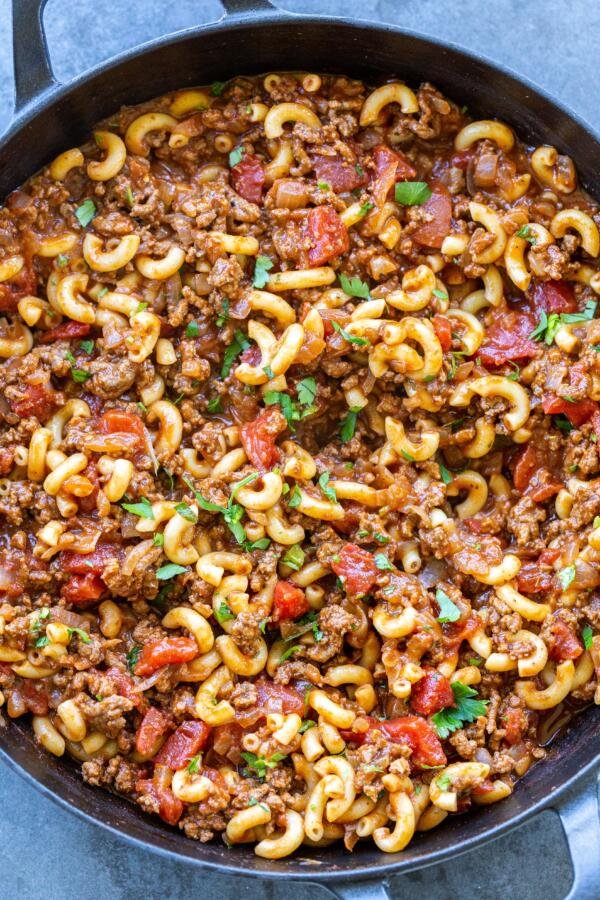 Goulash is a classic American comfort food. It is typically made from Beef, macaroni noodles and tomatoes. It's simple to make from easy pantry ingredients, comforting and filling.
This easy goulash recipe makes a large enough batch to leave leftovers! It reheats well, making it great for work lunches throughout the week. The leftover goulash will last in the fridge for up to 5 days, but it's so delicious that you'll likely finish it by then.
Best Beef to Use in Goulash
Ground Beef is the key ingredient in a classic goulash recipe! Ground Beef is such a versatile meat. You can turn it into patties for hamburgers, form it into meatballs or meatloaf, or cook and crumble it for this goulash recipe!
When making goulash you want to use leaner Ground Beef. I recommend using Ground Beef that is 93% lean or leaner. If you use higher fat Ground Beef, then you will just need to drain and remove some of the excess fat after cooking.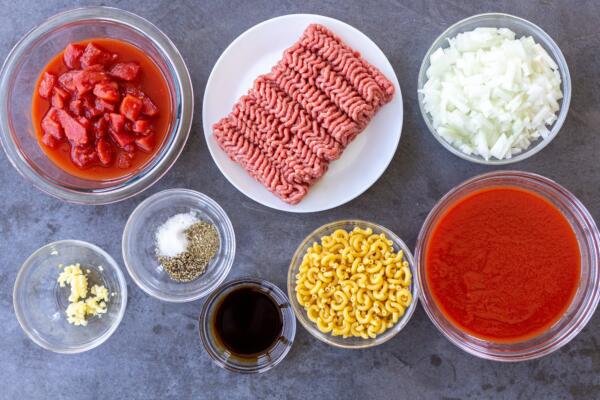 Goulash Ingredients
The ingredients for this recipe are easy to find and I bet you have most, if not all, already in your pantry! Here is what you need:
Ground Beef – I recommend using 93% lean or leaner Beef for this recipe. Ground Beef is such a versatile meat, you should always have it on hand. You can check out the Beef It's What's for Dinner website for Beef recipe ideas!
Onion – you can use yellow or white onion in this recipe.
Garlic Cloves – I prefer to use fresh garlic for best taste, but you can also use the minced in a jar.
Canned Tomato Sauce and Canned Diced Tomatoes – I recommend using the "no salt added" versions of both, so you can control the seasoning in the recipe.
Worcestershire Sauce
Italian Seasoning
Salt and Pepper – You can always adjust to taste.
Uncooked Elbow Macaroni Noodles – Macaroni is the classic choice for goulash!
How to Make Old-Fashioned Goulash
Making an old-fashioned goulash is super simple. The entire dish comes together in about 30 minutes. It's easy enough for a busy weeknight. Here are the steps you can take to make an old-fashioned goulash:
Cook Macaroni – Cook macaroni noodles in a large pot of salted boiling water. Cook for 3 minutes less than the package directions recommend. This will prevent the noodles from overcooking and getting too soft in the goulash.
Brown the Ground Beef – While the macaroni is cooking, heat a large pan over medium heat. Brown the ground Beef, diced onion and minced garlic. Cook for about 10 minutes until the onions are soft and the Beef is fully cooked (160°F) and crumbled.
Simmer Goulash – Add the tomatoes (diced and sauce) and Worcestershire sauce. Stir and allow to simmer for about 15 minutes. Season with salt, pepper and Italian seasoning.
Add Cooked Macaroni – Stir in the cooked macaroni noodles and cheese. Enjoy!
How to Serve Leftover Goulash
Transform the leftover goulash into another family meal! This is the perfect way to repurpose leftovers into something new and reduce food waste at the same time! Here is how you can make a cheesy goulash casserole:
Transfer Goulash to Baking Dish – Add the leftover goulash to an oven-safe baking dish. The size of the baking dish will depend on how much goulash you have leftover. You can even divide the goulash among multiple smaller single-serve baking dishes.
Top Goulash with Cheese – Top the goulash with about ½ cup of shredded cheese. You can use your favorite shredded cheese (we love using shredded mozzarella or parmesan). You can also adjust the amount of cheese you use. We love to make the goulash casserole extra cheesy!
Bake the Goulash – Bake the goulash casserole in a 350°F preheated oven for about 10-15 minutes. The casserole is done when the cheese is melted and golden brown.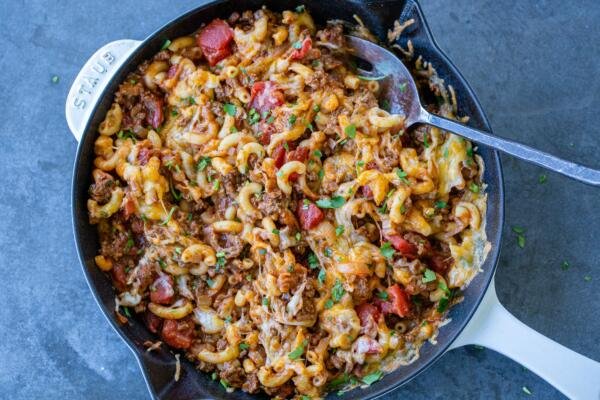 Sides to Serve with Goulash
This Beef goulash is a super filling recipe, but it pairs well with many sides for a complete family meal. For some greens, we love pairing it with a big salad like this garden salad or caesar salad. It's also great served with a basket of warm garlic knots.
If you are a cheese-loving family, you can serve the goulash with extra grated or shredded parmesan cheese. This is optional, but we love a little extra cheese in our house!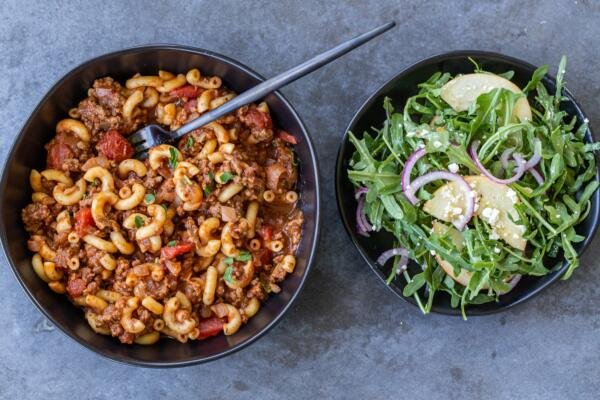 More Beef Recipes that Reheat Well
Recipe
A Classic Old-Fashioned Goulash with Beef, veggies and noodles will be your go-to dinner any night of the week. Don't worry about food going to waste, because you can make an entirely new dish using the leftovers!
Nutrition Facts
Old Fashioned Goulash
Amount Per Serving
Calories 484
Calories from Fat 216
% Daily Value*
Fat 24g37%
Cholesterol 81mg27%
Sodium 1311mg55%
Potassium 1056mg30%
Carbohydrates 42g14%
Protein 27g54%
Vitamin A 604IU12%
Vitamin C 20mg24%
Calcium 109mg11%
Iron 6mg33%
* Percent Daily Values are based on a 2000 calorie diet.