The Perfect Yeast Pastry Dough is your new best friend. From savory to sweet, you can use this recipe to create all your favorite baked goods.
This ultimate guide will have you feeling like a Parisian pastry chef. From poppy seed buns to Russian Cream Cheese Vatrushka Buns, you can use it as the basis for some amazing treats.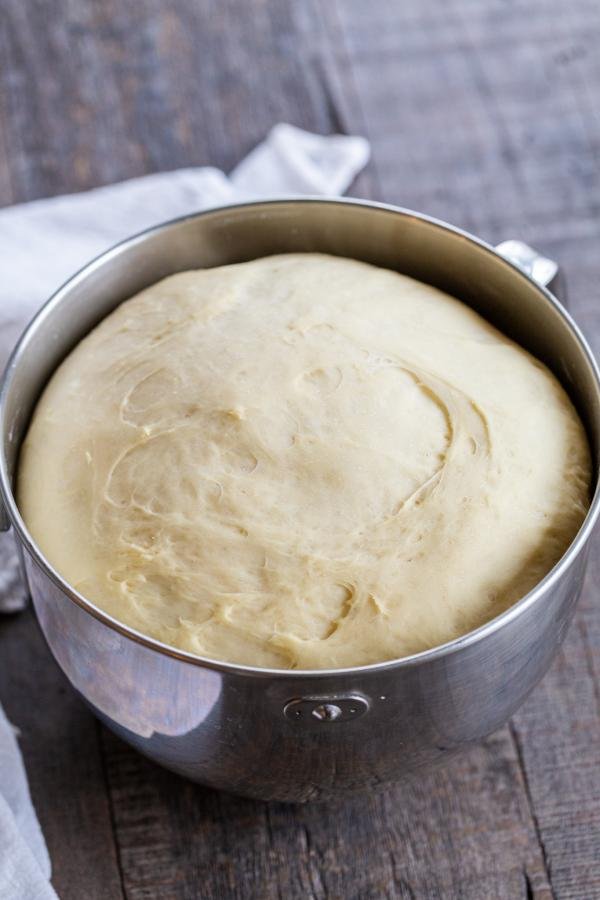 Since the dough can be intimidating, we thought it would be a great idea to put everything you need to know in one helpful place. I have spent a lot of time in my test kitchen trying out new methods for making the best dough. I am happy to save you the work (and heartache) and can't wait to hear your feedback on all my tips and tricks!
Happy baking!
What is Yeast Dough?
Yeast dough only requires a little bit of kneading (10 minutes) and is the perfect basis for sticky buns, monkey bread and all other types of pastries that love a good "rise". This dough is more yeast-heavy than other doughs, making the end-result more fluffy!
If this dough doesn't sound like the dough you are looking for, I have you covered. Check out my recipe for puff pastry dough, danish pastry dough, or pizza dough if they will suit your snacking needs a bit better! You know you are European when you have all kinds of dough recipes :).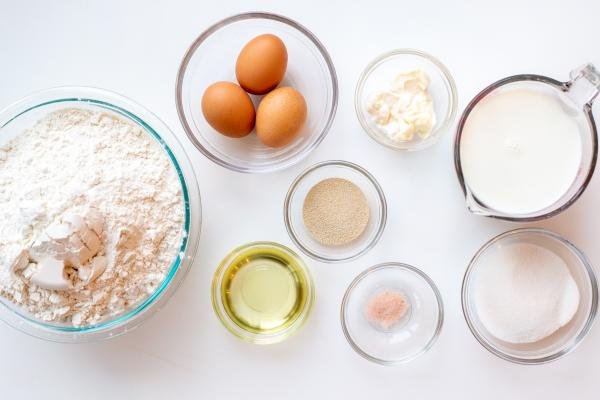 Tips for The Best Yeast Dough
Making the perfect dough isn't as hard as you might think. Follow these simple rules to make sure you get lovely, fluffy dough each and every time:
Pick the right flour: Flour is the key ingredient in this recipe. I use Rogers Brand Canadian Flour because it has a higher protein content. This results in a denser and more flavorful bread. King Arthur and Bob's Red Mill are great options as well!
Fresh yeast: When yeast stays open for a while or gets old, it deactivates and stops working. Check the expiration date and make sure you are using fresh yeast so that your pastries don't come out flat.
Give yeast time to activate: Combine milk, sugar and yeast together and let the mixture sit to activate. This will quicken the baking process.
Add the oil at the right time: Only add your oil after all the flour is mixed in. This step makes a huge difference in the consistency of your dough.
Knead the dough. The dough should be elastic, but not sticky, when you are through kneading. If you don't want to work your forearms here, use a KitchenAid standing mixer to do the hard work for you.
Add salt to the dough. Contrary to rumors, this doesn't kill the yeast. It adds another delicious dimension of flavor to the dough.
Flour that surface: When you are ready to roll your dough out, make sure to do so on a well-floured surface. This will prevent the dough from sticky to the surface and to your hands.
Major Tip: Each flour brand is different, you may need more or less flour depending on the brand. I would suggest adding flour one cup at a time. The dough should be soft, but not runny. After its kneaded, it shouldn't stick to your hands.
Recipes To Make with Yeast Dough
Fruit Piroshki Recipe: Piroshki is a wonderfully popular Eastern European dessert! Use your favorite jam here and enjoy with a cup of coffee or tea.
Poppy Seed Buns: Poppy seeds have a wonderfully earthy flavor. These buns are a traditional Ukrainian dessert that is impossible not to binge eat.
Simply Yeast Buns: Follow the recipe above, but omit the filling. You can pair these savory buns with your favorite pasta, salads or soups!
Recipe
Perfect Yeast Pastry Dough is your new best friend. From savory to sweet, you can use this recipe to create all your favorite baked goods.
Ingredients
Nutrition Facts
Perfect Yeast Pastry Dough
Amount Per Serving
Calories 167
Calories from Fat 36
% Daily Value*
Fat 4g6%
Cholesterol 22mg7%
Sodium 117mg5%
Potassium 67mg2%
Carbohydrates 28g9%
Protein 4g8%
Vitamin A 60IU1%
Calcium 30mg3%
Iron 1mg6%
* Percent Daily Values are based on a 2000 calorie diet.