Looking for a savory Piroshki recipe? If you love Piroshki, you are in for a treat! These fried Piroshki are a treat made with our favorite filling of ground meat and onions. I dare you to try and eat only one!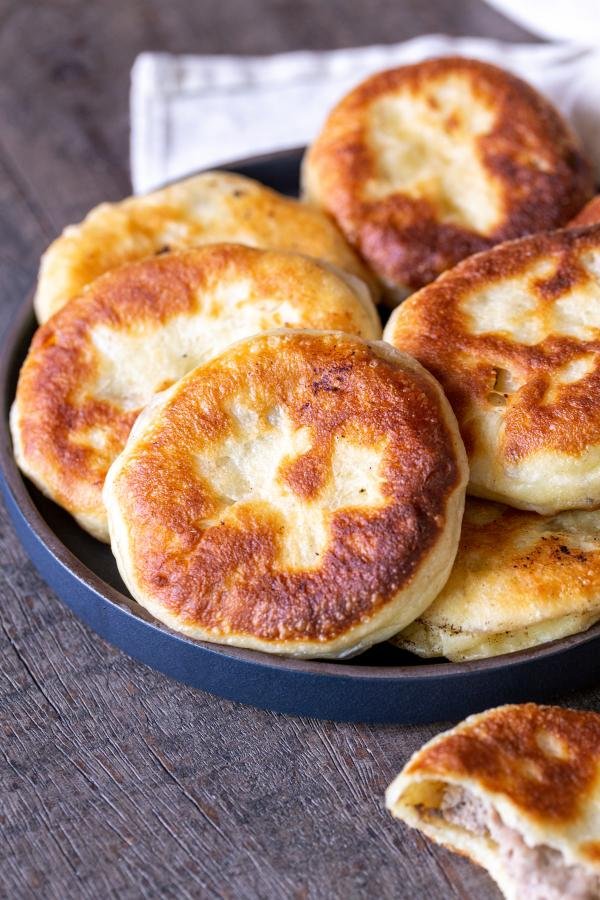 Here in Seattle, Piroshky Piroshky is a hot spot in Pike's Place Market. Tourists and locals alike flock to the tiny bakery to get their hands on this famous Russian delicacy. There is ALWAYS a super long line outside and people are more than happy to wait. But, what if I told you that you could make a better piroshki in the comfort of your own home? Read on!
This recipe for Savory Piroshki is sure to become a staple in your home. Surprisingly simple, these little morsels are the perfect make-ahead appetizer. But, to be honest, I often eat them as a meal all on their own. Since they freeze and reheat super well (I will provide you instructions on how to do this below), feel free to make some extra batches to enjoy later!
What is Piroshky aka Piroshki?
If you have any Russian or Ukrainian friends, chances are they have probably brought piroshki to a potluck and you fell in love! If you haven't tried them, let me give you the low down. In short, piroshki are filled pastry buns that are either baked or fried. The fillings for piroshki range from savory to sweet and depending on the chef, they range in size and dough style.
My recipe for Savory Piroshki is made with a sour cream infused dough (YUM!) and stuffed with seasoned ground beef and onions. The end result is a delicious fried disc that you seriously can't stop binge eating.
Not in the mood for a savory treat? Try making my recipe for Russian Sweet Piroshky.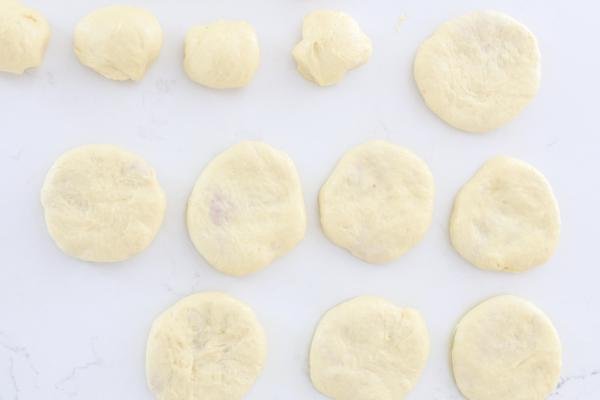 Tips for Making Russian Piroshki:
Knead the dough using a mixer instead of your hands. This will make the process so much easier.
Make sure to keep your hands oiled when you are working with the dough. Piroshky dough is notoriously sticky and you want the stuffing process to be fun, not messy!
Do not fry piroshki at high heat! You will want to keep your frying pan at a low-to-medium temperature so that the filling cooks as evenly as the dough.
Make sure to place the fried piroshki on top of a paper towel. This will absorb the extra oil and prevent your pastries from becoming soggy!
Storing Piroshki
You will want to keep your piroshki as warm as possible before serving. After frying, place them in a serving dish covered with a couple of paper towels.
Did you make the piroshki ahead of time and now you need to reheat them? No problem! As some of you already know, I love using my air fryer to cook all sorts of things. I have also found that this appliance is great for reheating fried food. Throw some piroshki (don't stack them!) in the air fryer tray at 350 °F for a couple of minutes. They will come out crispy and fryer fresh!
If you don't have an air fryer, no worries. Pop them into your conventional oven at 350 °F for about 5 minutes.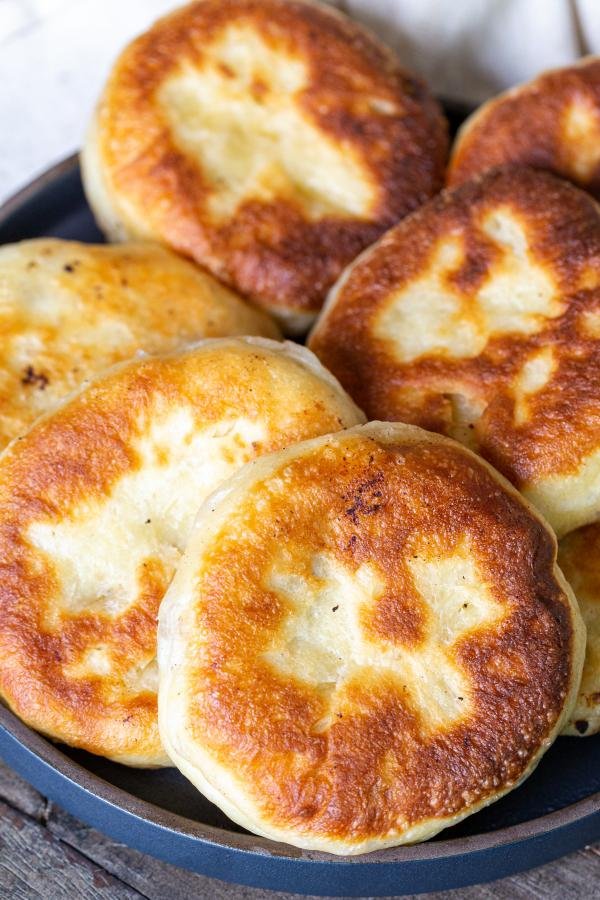 Freezing Piroshki
When I get to making piroshki, I make several batches. I like to have a couple dozen on hand for quick dinners, unexpected guests or when my kids have sleepovers at our house with their friends. It's a quick and easy snack to freeze and reheat, with all the wholesomeness of being homemade.
How to Freeze Fried Piroshki
Follow the recipe all the way through. Make sure that you let the fried piroshki completely cool down before you freeze them. Since the pastries are already cooked, you can stack them in an airtight container or a Ziplock with layers of parchment paper in between. Fried Piroshki can be kept in the freezer for up to 2 months. When you are ready to eat them, fry them up in a skillet or use an air fryer.
Other Piroshki Recipes to Try
About Author
Recipe
Looking for a savory Piroshki recipe? If you love Piroshki, you are in for a treat! These fried Piroshki are a treat made with our favorite filling of ground beef and onions. I dare you to try and eat only one!
Ingredients
Filling
3

lb

Ground Meat

1

large Onion (grated)

Seasoning
Instructions
Piroshki Filling
Nutrition Facts
Savory Piroshky
Amount Per Serving
Calories 209
Calories from Fat 90
% Daily Value*
Fat 10g15%
Cholesterol 56mg19%
Sodium 46mg2%
Potassium 150mg4%
Carbohydrates 18g6%
Protein 9g18%
Vitamin A 130IU3%
Vitamin C 0.2mg0%
Calcium 33mg3%
Iron 1.8mg10%
* Percent Daily Values are based on a 2000 calorie diet.