This creamy poppy seed filling is full of texture and sweet, nutty flavor. Use it as a spread or incorporate it into a variety of European baked goods!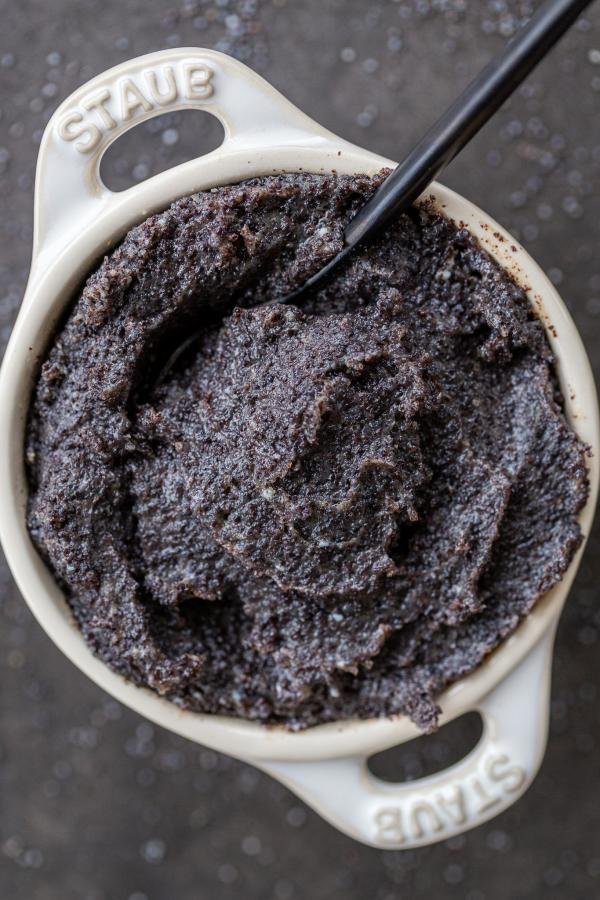 Europeans have been tapping into the powers of poppy seed filling for centuries and good reason – this stuff is seriously tasty. It's sweet, nutty, with a light crunch. Growing up, my grandmother used to stuff it and spread it into so many different baked goods. My mouth would literally salivate when she prepared it. Trust me, if you're a fan of poppy seeds you're going to fall head over heels for this recipe!
Where can you find poppy seeds? You'll find the finest quality European poppy seeds at an speciality European store. There's also great varieties in the baking aisle of most standard supermarkets. If you can't get your hands on them in-store, find an awesome option from Amazon.
What is Poppy Seed Filling?
Poppy seed filling is made with a simple ingredients list of poppy seeds, milk, butter, salt, sugar, and eggs. Throughout Europe, it's a beloved ingredient that's used in so many fun and interesting ways. Below, find an overview of the flavor, texture, and cooking time for this rendition of the famous spread.
Flavor: The flavor of poppy seed filling is a perfect balance between sweet cream and earthy poppyseeds.
Texture: The texture of poppy seed filling is between a custard and a paste, with the addition of slightly crunchy ground poppy seeds.
Time: From start to finish, this recipe takes just 30 minutes to make.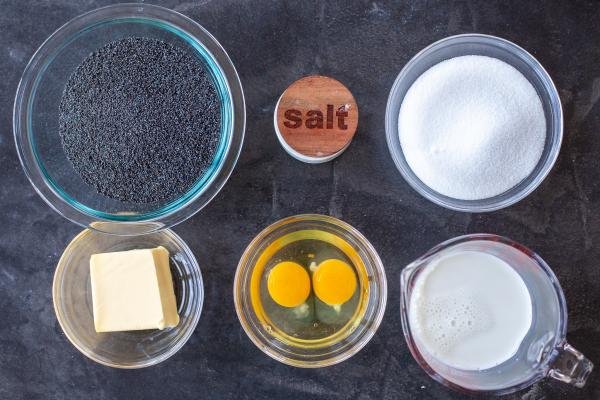 Preparing Poppy Seed Filling
Preparing poppy seed filling only requires 6 wholesome ingredients and a really simple cooking process. Below, find a simplified overview of the recipe before you get to work.
Grind the Poppy Seeds: Grind the poppy seeds down until fine in texture.
Make the Custard: In a saucepan, add the milk, butter, salt, and sugar and cook on low until the sugar dissolves. Slowly, whisk in the eggs and continue stirring until the mixture thickens.
Add in the Poppy Seeds: Pour the poppy seeds into the saucepan and stir to combine. Next, remove the filling from heat and allow it to cool at room temperature. Finally, transfer the filling to an airtight container and store it in the fridge. Enjoy as a spread or added to a variety of desserts?
Different Ways to Grind Poppy Seeds
A food processor isn't the only choice you have for grinding down poppy seeds. Below, find a handful of different methods that work just as great.
Mortar and Pestle – In small batches, grind the poppy seeds down with the pestle in a circular motion
Coffee Grinder – Pulse the poppy. seeds in a coffee grinder on the espresso setting
High-Speed Blender – Blend the poppy seeds on high, scraping the sides of the blender with a spatula as you go
Plastic Bag & Meat Tenderizer – Pop the poppy seeds in the bag and gently pound the seeds with the tenderizer
Pro Tips for the Best Poppy Seed Filling
Here, you'll find a handful of tips to help you make the absolute best poppy seed filling.
Use whole, full-fat milk. Vitamin D milk is the way to go. It yields the creamiest filling possible and makes all the difference.
Stir the custard constantly to prevent the eggs from scrambling. Once you add the eggs in, it's crucial that you continuously stir the mixture until it thickens (the consistency should be similar to that of sweetened condensed milk). If you let it sit still, the eggs will cook and turn clumpy.
Immediately remove the filling from heat. Once you stir in the poppy seeds, immediately remove the filling from heat or else it will overcook and lose its creamy texture.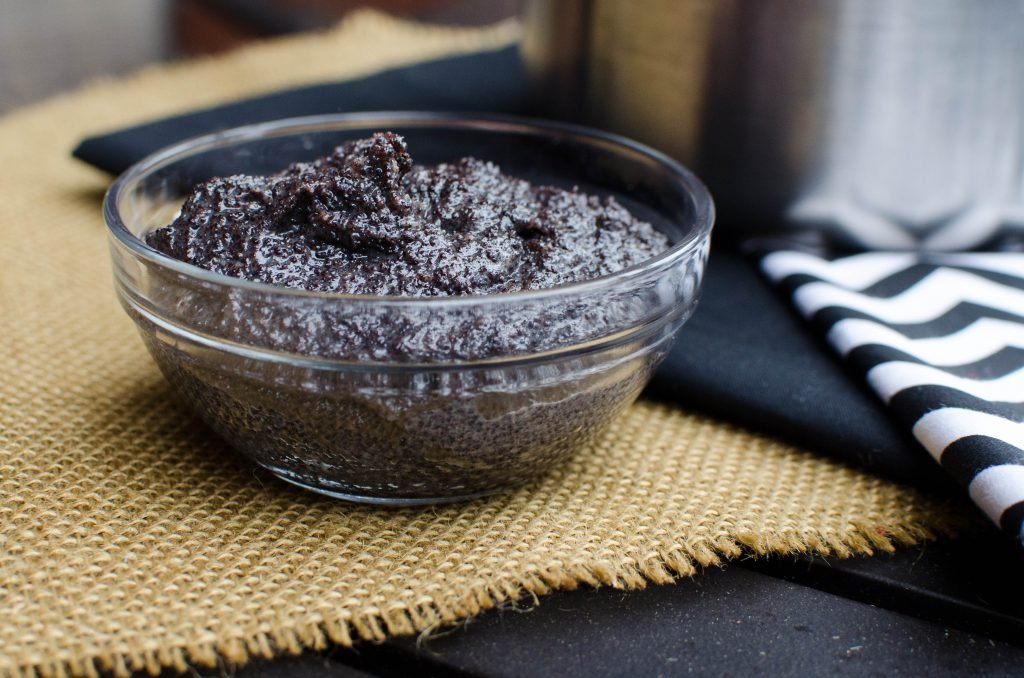 How to Use Poppy Seed Filling
While it's perfectly fine to use your poppy seed filling as a simple spread for toast or sweet bread, there are a million and one different easy desserts and pastries you can incorporate it into. Below, find a couple of options to choose from.
Storing Your Poppy Seed Filling
Whether you have a bit of filling you'd like to store in the fridge or you tripled the recipe and want to stow some away in the freezer, find our top tips for storage below.
Refrigerator: To keep poppy seed filling on hand for up to 5 days, store it in a sealable canning jar or airtight container in the fridge. This will keep it from absorbing any lingering smells in the fridge and will also keep it from drying out.
Freezer: To keep poppy seed filling on hand for up to 1 year, store it in portioned freezer-safe containers in the freezer. To thaw, simply place a jar in the fridge overnight.
FAQ
Do you have to grind poppy seeds for filling?
Yes, you should grind poppy seeds before incorporating them into your filling. This will not only yield a better texture, it will also reduce the chances of seeds getting stuck in your teeth!
Do you have to soak poppy seeds?
There is no need to soak the poppy seeds before making the filling.
How do you know if poppy seeds are spoiled?
You'll know your poppy seeds have spoiled if they are showing any discoloration from their typical dark gray shade or if they have a rancid taste. Before making your filling, taste them to ensure they haven't gone bad.
Why did my poppy seed filling turn out bitter?
A bitter filling is almost always a result of poppy seeds that have gone bad.
Do you need to rinse the poppy seeds before using them?
There's no need to rinse the poppy seeds before using them, unless you think they need it. If so, run them under cold water in a super fine-mesh sieve.
Other Sweet Spreads
Recipe
This luscious poppy seed filling is made with ground poppy seeds and a rich, creamy custard. A European staple!
Ingredients
Nutrition Facts
Poppy Seeds Filling Recipe
Amount Per Serving
Calories 139
Calories from Fat 81
% Daily Value*
Fat 9g14%
Cholesterol 30mg10%
Sodium 112mg5%
Potassium 87mg2%
Carbohydrates 13g4%
Protein 3g6%
Vitamin A 185IU4%
Vitamin C 1mg1%
Calcium 144mg14%
Iron 1mg6%
* Percent Daily Values are based on a 2000 calorie diet.