These Ferrero Rocher cookies feature a flakey cream cheese-infused dough that's stuffed with Ferrero Rocher candies. Simple & decadent!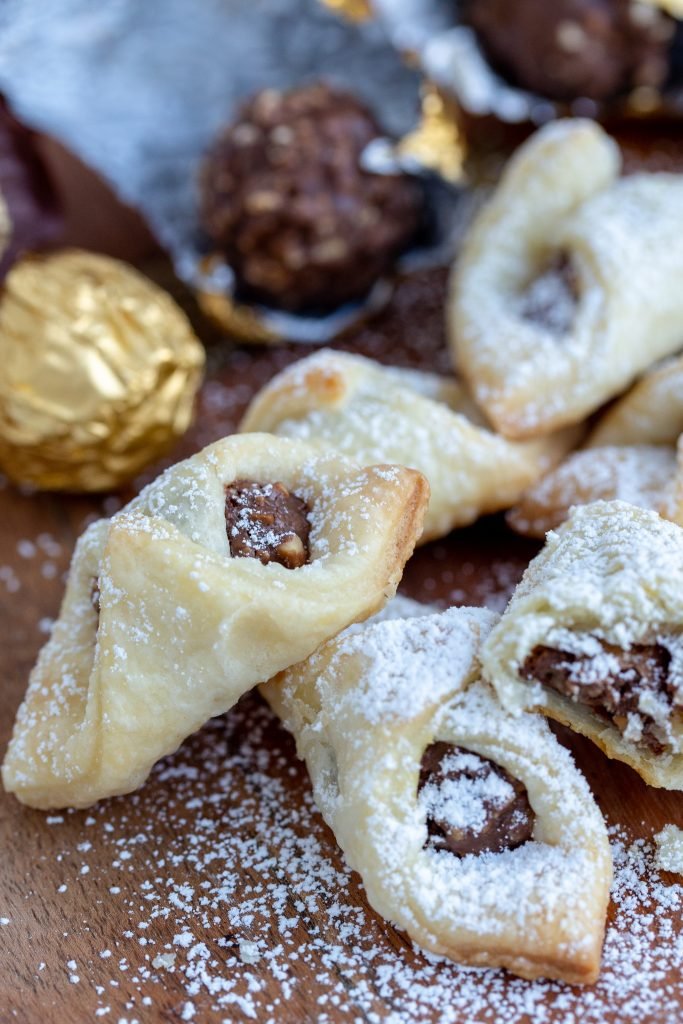 It seems like every year my family dreams up a new way to use the amazing flavors of Ferrero Rocher chocolates around Christmas. For a while, we couldn't stop making Ferrero Rocher cake. These days, we are obsessed with making these delicious Ferrero Rocher cookies. Not only do they look amazing on a Christmas cookie tray, but they also are crazy easy to put together. Get ready to fall hard for these cookies – they're truly one of a kind!
Best place to buy Ferrero Rocher in bulk? Around the winter holiday season, Costco usually carries an amazing bulk holiday pack. If you don't have a membership, purchase a big box Ferrero Rocher on Amazon.
What are Ferrero Rocher Candies?
If you've never tried a Ferrero Rocher candy, you're missing out. These chocolate hazelnut truffles feature a whole roasted hazelnut covered in a thin wafer shell that's filled with hazelnut chocolate. Then, the entire truffle is covered in milk chocolate and chopped hazelnuts. The result? A perfectly creamy and crunchy bite!
What is a Ferrero Rocher Cookie?
These Ferrero Rocher cookies feature a thinly rolled out piece of dough that's stuffed with a half of a truffle, baked, and finished with a dusting of powdered sugar. Below, find an overview of the flavor, texture, and time it takes to whip up this recipe.
Flavor: The flavor of these cookies is a delicate balance of buttery, cream cheese-infused dough and the beloved chocolate and hazelnut candies.
Texture: The texture of the cookies features flakey dough that's wrapped around a melted center of Ferrero Rocher candies.
Time: From start to finish, this recipe takes just under 40 minutes to make.
How to Prepare Ferrero Rocher Cookies
The first step is to pull out the cream cheese and butter and allow it to soften at room temperature.
Make the Dough: Once the cream cheese and butter are softened, whisk them together in a bowl until the mixture is fluffy. Next, gradually stir in the all-purpose flour to the wet ingredients, whisking until it's well-combined.
Refrigerate the Dough: Then, place the dough in plastic wrap and pop it in the refrigerator for about an hour.
Roll the Dough Out: Using a rolling pin, roll the dough out into a long, thin layer. Then, cut the dough into 20 evenly-sized squares.
Assemble the Cookies: Next, place a Ferrero Rocher candy half in the center of the dough and fold over two of the corners to secure the candy inside.
Bake the Cookies: Place the cookies on a baking tray lined with parchment paper and bake them at 350°F in the oven for 15 minutes. Finally, allow the cookies to cool on a cooling rack, dust them with powdered sugar, and enjoy!
Hot Tip: If you don't have an electric mixer or simply don't feel like pulling it out, you can use a rubber spatula or wooden spoon to beat together the dough in a medium bowl. It will require a bit of aggressive mixing, but it works!
3 Tips for Amazing Ferrero Rocher Cookies
A couple of tips will go a long way in making sure you nail these essential holiday cookies…
Roll the cookie dough out thin for the perfect bite. You'll want to roll the dough out pretty thin to prevent the cookies from becoming too doughy and overpowering the amazing flavors of the Ferrero Rocher chocolates. About a 1/8-inch thick is golden.
Seal the corners with egg wash if they won't stick. If the dough edges don't stick naturally, remove the egg yolk from a large egg, whisk it, and use the egg wash to seal the corners together.
Use a sifter or fine mesh sieve to dust the cookies. Dry ingredients like powdered sugar are prone to getting lumpy. To get a perfect dusting and a bakery style treat, use a flour sifter or fine mesh sieve.
Cookie Cups Hack: Don't feel like folding the cookies? Simply place the dough in a mini muffin tin greased with nonstick cooking spray. Top the dough with the candies and bake as directed!
Different Tweaks for Ferrero Rocher Cookies
The recipe is great as-is, but here are a couple of different tweaks to consider.
Peanut Butter Twist: Add 1/4 cup of creamy peanut butter to the dough for a nutty surprise.
Chunky Dough: If you want to add a bit of texture to the dough, mix in some finely chopped nuts or mini chocolate chips.
Finer Filling: If you don't want to use entire halves of Ferrero Rocher, pulse or blend the candies in a food processor or blender until fine. Then, use a cookie scoop to fill the dough with the candy paste instead.
Chocolate Drizzle: If you're a chocolate addict, finish the cookies with a chocolate drizzle. Microwave a cup of dark chocolate chips and 1/4 cup heavy cream in a microwave-safe bowl in 30-second increments, stirring between each round until smooth. Use a spoon to drizzle the sauce over the cooled cookies.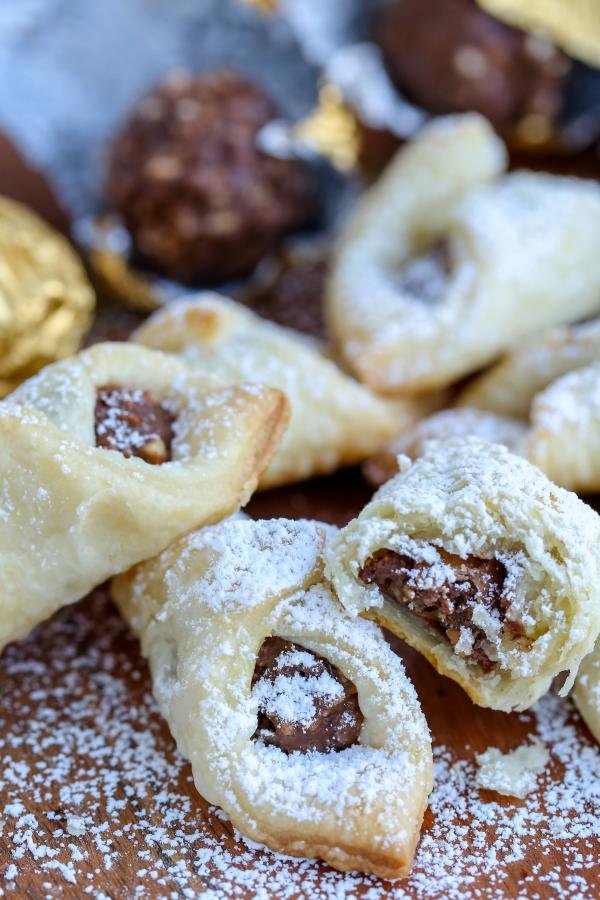 Best Practices for Storing and Freezing
Whether you're prepping ahead for the holidays or storing some after-Christmas leftovers, find all the best tips below.
Room Temperature: To keep the cookies on hand for up to a week, store them in an airtight container in the fridge. This will keep them from drying out.
Freezer (Dough): To keep the dough on hand for up to a month, wrap it tightly in plastic wrap and store it in a sealable plastic bag in the freezer. To thaw, let it sit in the fridge overnight and prepare the cookies as directed.
FAQ
How big should you slice the dough for each cookie?
Slice the dough into roughly 2-inch squares. If you have excess dough leftover, simply roll it out and make a couple more cookies with it if possible.
Could you use store-bought puff pastry dough instead?
Yes, this recipe can be made with store-bought puff pastry. Since this dough is prone to rise, roll it out super thin for best results.
Is it better to freeze the cookies whole or to just freeze the dough itself?
It's better to freeze the dough versus the baked cookies. Upon thawing, they tend to dry out a bit.
Can you use a different candy than Ferrero Rocher?
Yes, feel free to use any candy or truffle you like best. Ferrero Raffaello, Snickers, and Kit Kats will all work great. Just make sure not to overstuff the dough, or the candy will melt out and make a mess.
Other Christmas Cookies to Try
Recipe
These Ferrero Rocher cookies tap into the amazing flavors of Ferrero Rocher candies. Flakey, decadent, and perfect with every bite!
Ingredients
8

oz

cream cheese

room temperature

1 1/2

cups

unsalted butter

room temperature

3

cups

flour

10-12

Ferrero Rocher candies

cut in half

powdered sugar

for dusting
Nutrition Facts
Ferrero Rocher Christmas Cookies
Amount Per Serving
Calories 131
Calories from Fat 90
% Daily Value*
Fat 10g15%
Cholesterol 28mg9%
Sodium 22mg1%
Potassium 23mg1%
Carbohydrates 8g3%
Protein 2g4%
Vitamin A 330IU7%
Calcium 10mg1%
Iron 0.5mg3%
* Percent Daily Values are based on a 2000 calorie diet.