Each bite of these puff pastry nutella twists features velvety chocolate hazelnut spread intertwined in a flakey puff pastry crust. They're simply to-die-for.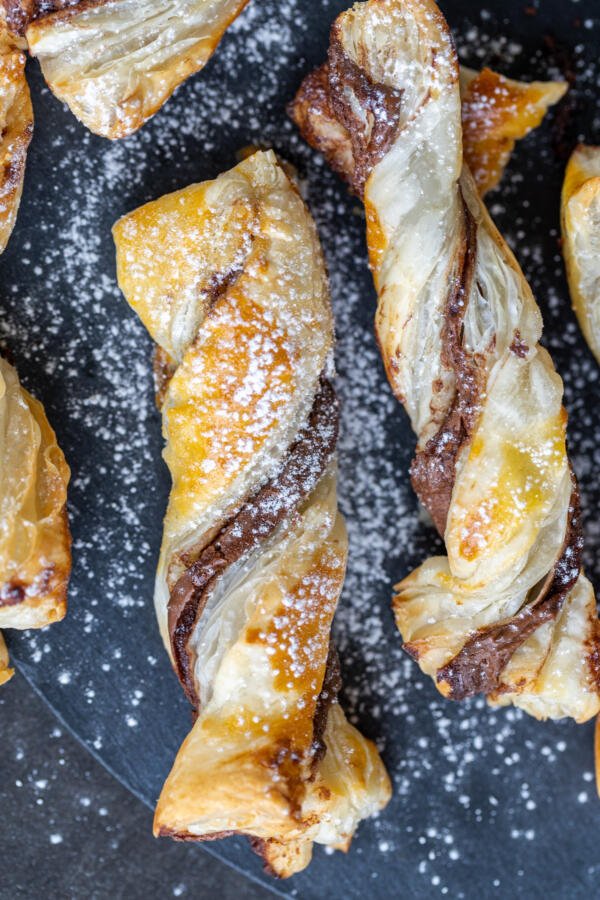 These nutella twists are on a regular rotation at our house. In our kitchen, we have a covered stand that almost always has a different pastry inside to snack on. It might be full of cranberry banana oat muffins, french madeleine cookies, banana zucchini bread, or nutella twists. The boys always grab a pastry as a little treat after school or during the day as a snack.
Hot tip: You'll need puff pastry for these twists. Make your own puff pastry dough with this quick recipe.
What are Nutella Twists?
Nutella twists are delicious pastries made from twisted strips of puff pastry sheets coated in a layer of sweet chocolatey Nutella. The third ingredient, an egg, is used to brush the puff pastry to give a perfect, golden crust. Nutella twists are an incredibly quick and easy dessert to make — with only a mere five minutes of prep work.
How to Make Puff Pastry Nutella Twists
It's crazy easy to make nutella twists. Once you have the basic recipe down, feel free to experiment with different flavors and shapes. But first, make sure to thaw the puff pastry on the counter or fridge before starting the recipe.
Roll the pastry dough: While the oven is preheating, roll out puff pastry dough with a rolling pin.
Warm the nutella: Warm the nutella in a small bowl in the microwave until it is easy to spread. Cut the pastry sheet in two pieces. Spread nutella on one half of the pastry sheet.
Slice the pastry dough: Place the remaining half of the pastry dough over the Nutella. Slice pastry into 1.5 inch wide strips using a pizza cutter or a sharp knife.
Twist the strips: Twist each strip and place onto a baking sheet, leaving space between each one.
Brush with egg wash: Optionally, brush each twist with the egg wash. Bake until golden brown. Enjoy!
Citrus Twist: Grate fresh lemon or orange zest onto the nutella for a citrus taste!
Tips from the Kitchen
Even the simplest recipes are made better with a few tips and tricks.
Dust with powdered sugar: To make the twists look more festive, dust with powdered sugar before serving.
Heat the Nutella: For nutella to easily spread onto the puff pastry, it needs to be warmed. Microwave it for about 15-25 seconds.
Vary the amount of Nutella: Use as much or as little Nutella as you desire. It'll turn out superb either way!
Shape the pastry into different shapes: We love twists because of the crispy edges, but the pastry can also be shaped into pinwheels or swirls. Get creative!
Change up the spread: Almond spread, peanut butter, and raspberry jam are all great substitutes for nutella.
Add nuts: For a bit of a crunch, sprinkle chopped pecans, walnuts, hazelnuts, or almonds into the spread.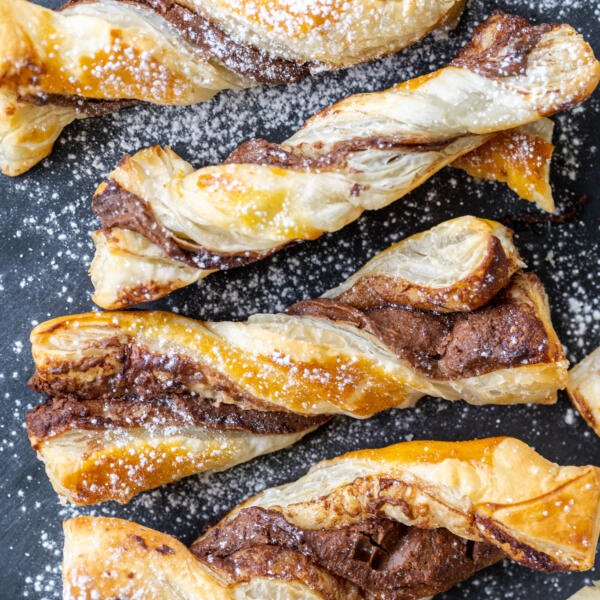 Making Ahead and Storing
If you're looking for a fast but delicious dessert to have on hand at all times, these nutella twists are it.
Make-ahead: To make ahead of time, assemble the twists but do not bake. Freeze the twists on a lined baking sheet, then move to a freezer-safe ziplock bag or airtight container until ready to bake. Thaw in the fridge before baking.
Storing: To keep for up to four days, store the twists in a covered container at room temperature to prevent them from drying out.
FAQ
Can I use melted butter instead of an egg wash to brush the pastry?
Yes, melted butter can be used instead of an egg wash. With butter, the nutella twists will have more of a buttery taste.
Is phyllo dough the same as puff pastry?
No, phyllo dough and puff pastry are very different. Phyllo is very thin like paper, whereas puff pastry is thicker.
Is it safe to microwave Nutella?
It is safe to microwave nutella, as long as it is in a microwave-safe container. It is also best to microwave it just until it is warm enough to easily spread.
Should puff pastry pie filling be hot or cold?
Puff pastry filling should be room temperature. If the filling is too hot, it can melt the pastry layers, affecting the pastry's ability to rise. If the filling is too cold, it will not spread easily on the pastry.
More Delicious Pastries
Recipe
Each bite of these puff pastry nutella twists features velvety chocolate hazelnut spread intertwined in a flakey puff pastry crust. They're simply to-die-for.
Ingredients
10

oz

puff pastry

1

cup

Nutella

adjust to taste

1

whisked egg

optional, to brush tops
Nutrition Facts
Puff Pastry Nutella Twists
Amount Per Serving
Calories 108
Calories from Fat 63
% Daily Value*
Fat 7g11%
Cholesterol 5mg2%
Sodium 30mg1%
Potassium 48mg1%
Carbohydrates 11g4%
Protein 1g2%
Vitamin A 8IU0%
Calcium 13mg1%
Iron 1mg6%
* Percent Daily Values are based on a 2000 calorie diet.