I'm a chatterbox in nature, love people, and by now you've probably figured out that I love to host. I don't typically bake cakes at home, but when the opportunity comes to host, it's one of the first things on the list. Because of hosting, I'm able to keep up with your demands for the cake recipes!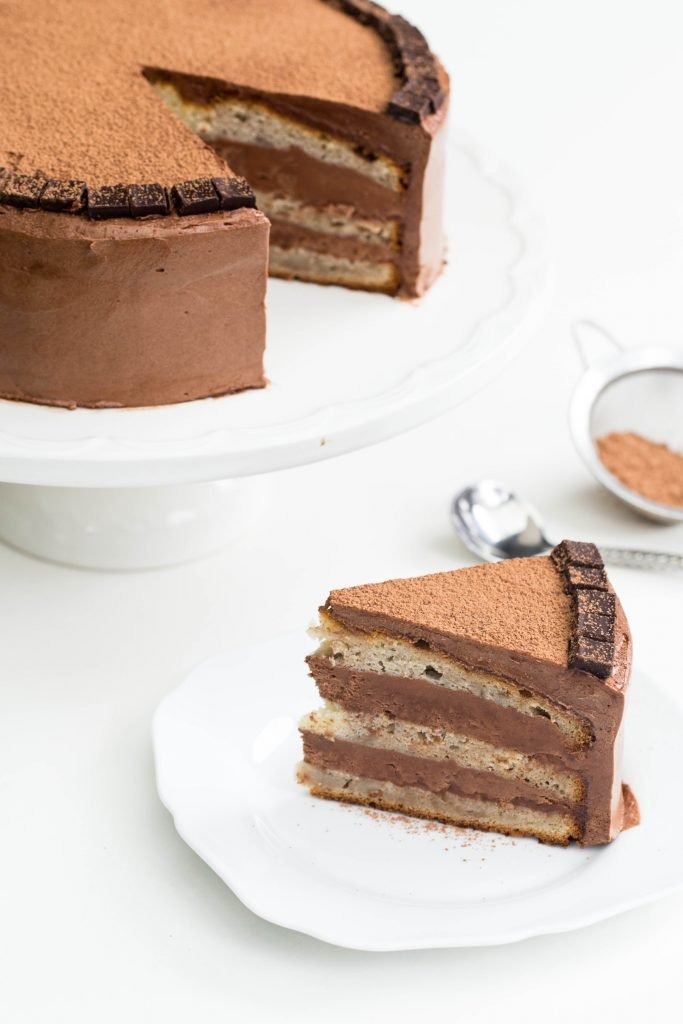 This recipe is saturated with the goodness of chocolate and banana cake. "Rich" describes this cake well. The flavors of chocolate, Nutella and banana, make this cake one of the most flavor infused cakes I have tried in a while. It is easy to be satisfied after a small slice of this cake, although the intense flavors are hardly forgotten.
Other Banana Treats to Try
Recipe
Instructions
Prepare ingredients, be sure that butter is at a room temperature. In a bowl, combine together flour, baking powder and baking soda.

Beat in the eggs into the buttered mixture. Beat in or fold in half of the flour mixture into the butter mixture.

Into the batter, fold sour cream, followed by flour mixture. Stir everything together until the texture is smooth.

Pour cake batter on an oiled 9 inch baking dish. Bake cake in a preheated oven at 350F. Bake the cake for 30-40 minutes. Use a toothpick to determine for readiness; if the dough is not sticking to the toothpick, the cake is ready. Let the cake cool to a room temperature.

Slice the cake into three even layers. Prepare ingredients for the cake cream, be sure that the butter is at a room temperature.

Bring whipping cream to a boiling hot temperature. Pour whipping cream over chocolate chips, let the mixture sit for a few minutes. Whisk to combine the mixture together. Continue whisking until the texture is smooth. Set aside to cool to a room temperature.

Apply a generous amount of cream between cake layers. Apply the remainder of cream over the cake. If you need to smooth out the sides, dip your knife/spatula into warm water once every while.

Decorate the cake as you wish. I've sprinkled cocoa powder over the top and spread some chocolate chunks over the edges.
Nutrition Facts
Chocolate Nutella Banana Cake
Amount Per Serving
Calories 765
Calories from Fat 486
% Daily Value*
Fat 54g83%
Cholesterol 137mg46%
Sodium 102mg4%
Potassium 302mg9%
Carbohydrates 67g22%
Protein 6g12%
Vitamin A 1375IU28%
Vitamin C 2.6mg3%
Calcium 125mg13%
Iron 2.2mg12%
* Percent Daily Values are based on a 2000 calorie diet.