Nutella Crepe Cake will take you on a flavor ride straight to Europe. This easy-to-make, yet impressive cake will be sure to "wow" your friends and family.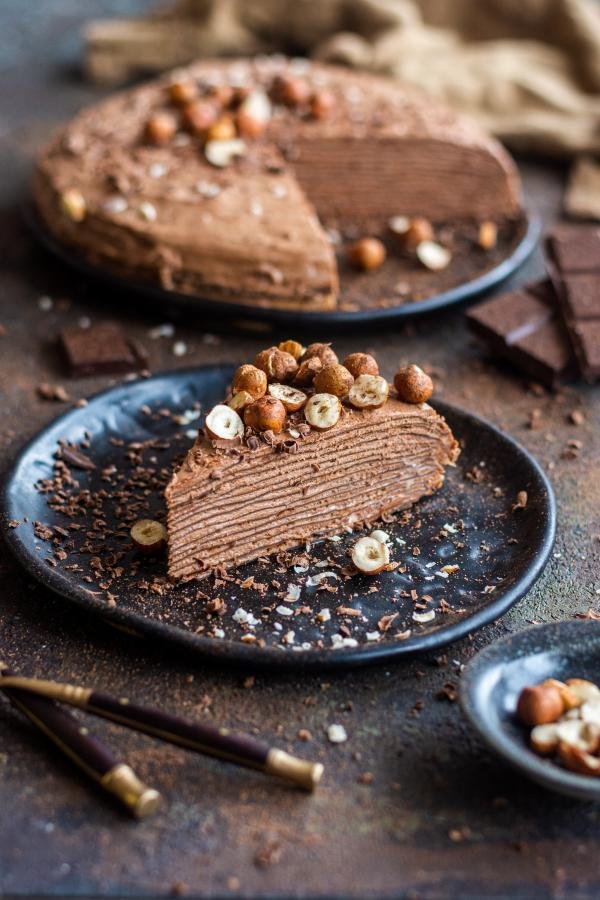 Nutella Crepe Cake features one of my most popular recipes – crepes! My readers have given me plenty of positive feedback on my many crepe recipes and I figured it was time to make something fresh and new. What better way to do that than to make a decadent crepe cake?
This no-bake cake features layers of crepe separated by layers of Nutella pastry creme. That's right! You can have your favorite breakfast crepe in cake form and eat it too.
In my home, we are absolutely crazy about our crepes! If you like this recipe, try out some of our other popular recipes. This baked crepe dish is to-die-for. If you are in the mood for something savory, try out this quirky recipe for Stuffed Chicken Crepe Pockets.

A Bit of Crepe Cake History
Crepe cake was invented by the French back in the 1800s. Referred to as "mille crepe," the word "mille" meaning "a thousand," is known throughout France as a cake with many layers. Today, the Japanese have become a huge fan of this cake and made their own variations, often with green tea or matcha-flavored crepe pancakes. YUM!
Crepe Cake can be made with an endless amount of flavor combinations. I have seen strawberry, caramel and chocolate crepe cakes. I have even seen a rainbow crepe cake cleverly made with food coloring! Since my family is obsessed with Nutella, I just had to recreate this French staple with our favorite chocolate hazelnut spread.

How to Make Crepes
Awhile back, I made a guide for making the perfect crepes. Like I said before, you guys have given me such great (and appreciated!) positive feedback on my crepes. Therefore, I wanted to put together my best tips and tricks for making these flat and tasty treats. Follow the guide in the link above for the most stress-free crepe making!
If you don't have time to read through my guide, let me give you a quick and easy low-down on crepe making. Follow these steps for success:
Heat a nonstick skillet to medium heat and grease it up with melted butter.
Place batter directly in the middle of the pan. Swirl the batter by tilting the pan until you get one, even layer.
Cook the crepe until golden brown on each side (about 1-2 minutes per side).
Melt more butter (or using a cooking spray) in the pan between each crepe to prevent sticking!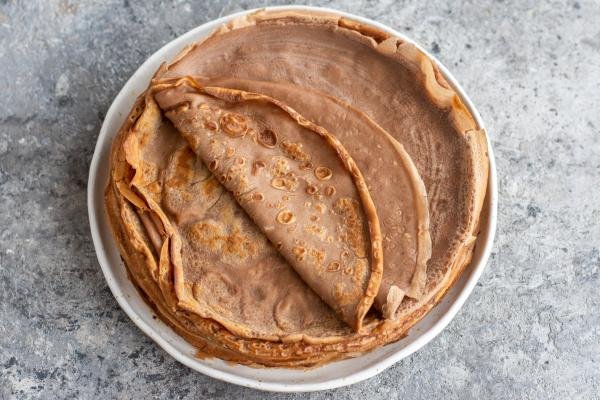 Crepe Cake Cream
Nutella buttercream is so dreamy. I use a variation of it in so many of my desserts, including Chocolate Nutella Banana Cake, Ferrero Rocher Cake and Chocolate Hazelnut Cake. For this crepe cake recipe I have a combination of butter, cocoa powder, condensed milk and Nutella. This combo is so incredible between crepe layers.
Assembling Your Crepe Cake
After you prepare your crepes, make sure you allow them to cool down completely before you start assembling your layers. If you don't allow the crepes to cool, they will heat the Nutella cream and you will have a slippery and slidy mess! First, start with a stack of at least three plain crepes on your cake plate (this will serve as a base to promote sturdiness). Then, using a rubber spatula, spread the cream evenly over the top crepe. From that point on, you will repeat the process until you run out of crepes and cream! Just make sure to leave three plain crepes for the top layer.
Unlike most other cakes, crepe cake has to set in the refrigerator for at least 60 minutes before serving. This helps it keep its shape and it also enhances the flavor. After you assemble your crepe cake, you will wrap it tightly with plastic wrap to prevent the layers from sliding off before they set.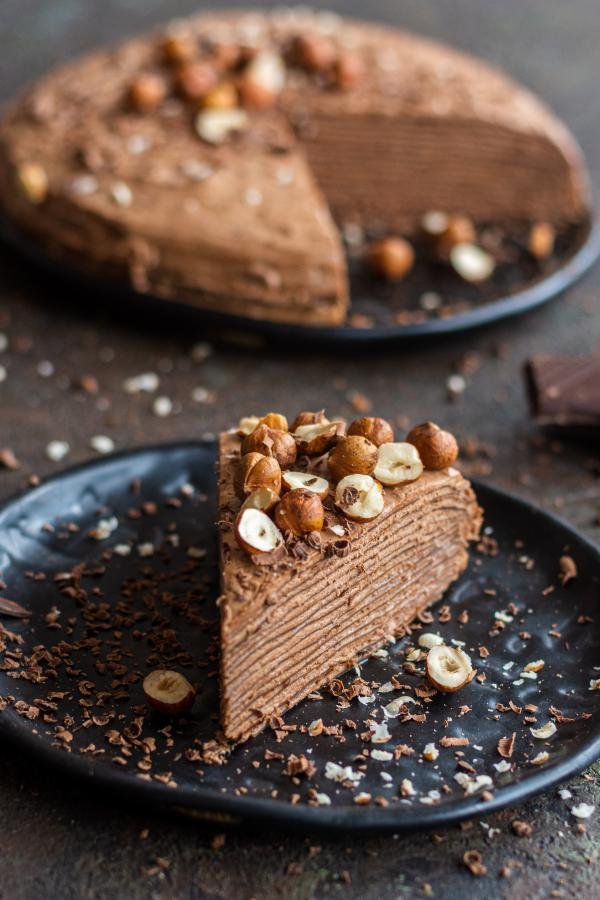 How Long Can you Keep Crepe Cake?
If you have any leftover cake, store it in an airtight cake container in the fridge or cover it tightly with plastic wrap on a plate. Crepe cake stays fresh for up to a week but I highly doubt it will last that long😉.
More Nutella Recipes
Recipe
Nutella Crepe Cake will take you on a flavor ride straight to Europe. This easy-to-make, yet impressive cake will be sure to "wow" your friends and family.
Note: when making crepes, add cocoa powder together with flour.
Nutrition Facts
Nutella Crepe Cake Recipe
Amount Per Serving
Calories 507
Calories from Fat 333
% Daily Value*
Fat 37g57%
Cholesterol 136mg45%
Sodium 86mg4%
Potassium 269mg8%
Carbohydrates 39g13%
Protein 8g16%
Vitamin A 842IU17%
Vitamin C 1mg1%
Calcium 152mg15%
Iron 2mg11%
* Percent Daily Values are based on a 2000 calorie diet.