This original recipe for Cake Prague is as decadent as it is beautiful to look at. Your new favorite chocolate cake recipe!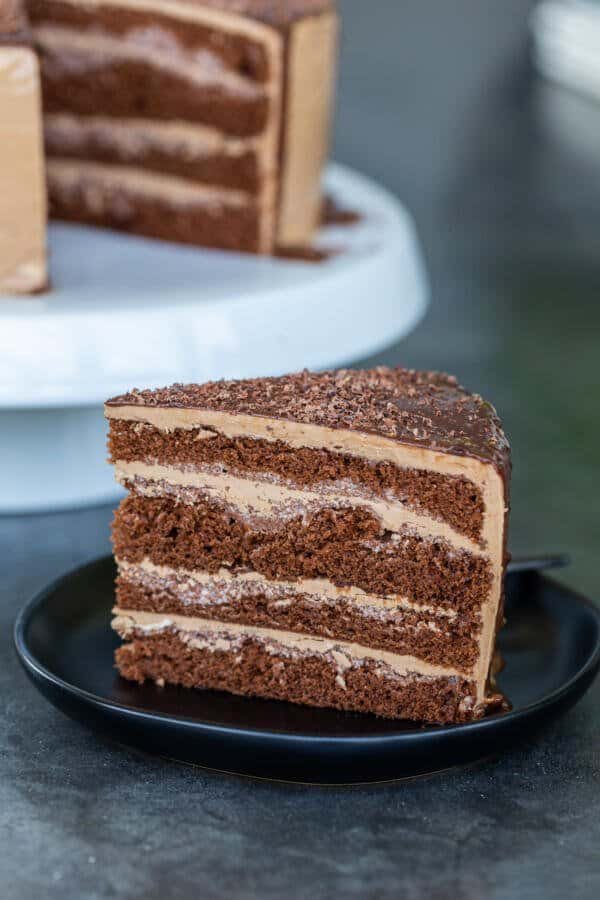 As a self-proclaimed chocolate lover, Cake Prague is near and dear to my heart. When I say it's chocolate overload, I mean it. The chocolate sponge cake, chocolate cream, and chocolate ganache will quench your sweet tooth for the entire next year. It's that good!
Cake Prague represents everything that's great about Soviet baking. It's ultra-sweet, soaked in sweetened condensed milk, and worthy of bring in the window of the fanciest bakery.
Although the recipe card looks quite long, Cake Prague doesn't require super technical baking skills to make. There's a lot of layers and steps, but the prep time is totally worth the luscious result!
What is Cake Prague?
Cake Prague has deep-seated roots in Russian culture. It was dreamt up by legendary pastry chef Vladimir Guralnik, who created over 30 unique Soviet cake recipes including the popular Bird's Milk Cake. Below, find a rundown of the flavor, texture, and cooking time.
Flavor: This cake is packed with chocolatey goodness from top to bottom. If you're a chocolate addict, you're in the right place.
Texture: The texture of this cake can only be described as moist and creamy. Your fork will practically "fall" through it.
Time: From start to finish, this cake takes only a little over an hour to make and is best served after setting in the refrigerator overnight.
How to Make Cake Prague
Prepare the Chocolate Spongecake: Prepare the chocolate spongecake according to the recipe card. Preheat the oven to 300°F oven. Pour the batter into an oiled cake pan and bake for about 50 minutes or until a toothpick comes out of the center clean.
Slice & Soak the Cake Layers: Remove the cake from the oven and allow it to cool to room temperature. Using a sharp knife, carefully slice the spongecake into four layers. Soak each layer with a generous drizzle of the soaking cream.
Prepare the Chocolate Cream: Beat the egg yolks, water, and condensed milk until smooth. Place into saucepan, stirring constantly and gradually increasing the heat until the mixture thickens. Remove from heat and add chocolate chips. Mix until combined and allow to cool at room temperature. In a stand mixer, add the butter. Slowly beat in the chocolate cream until fluffy.
Assemble the Cake: Place one of the four cake layers on a plate or cake stand. Frost the top and add on another layer, alternating these steps until you run out of cake layers. Frost the top of the cake with a cake spatula until smooth. Serve as-is or decorate with ganache and shaved chocolate.
Tips for Making the Best Cake Prague
Avoid opening the oven. While the spongecake is cooking, avoid opening the oven to check its doneness for at least the first 30 minutes. This could cause the cake to collapse in the middle!
Beat the egg whites until stiff and foamy. The spongecake batter depends on ultra-foamy egg whites to make it fluffy. The foam should be so stiff that you could turn the bowl over without it falling out.
Don't over mix the spongecake batter. When you're folding the foamy egg whites into the batter, be careful not to over mix. This will make your spongecake dense instead of light and fluffy.
Allow the cake to set overnight. Allowing the cake to set overnight will develop its rich flavors and make it sturdier.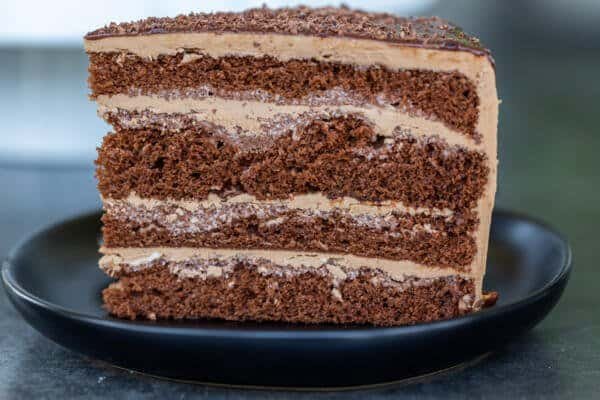 Storing Cake Prague
Refrigerator: Store leftover Cake Prague in an airtight container (preferably an airtight cake container) in the refrigerator. It should keep for up to a week.
Freezer: Freeze a fully decorated Cake Prague by placing it on a baking sheet lined with parchment paper. Pop the cake uncovered into the freezer and allow it to completely freezer for at least four hours. Once it's frozen solid, wrap it tightly in a layer of plastic wrap, followed by a layer of aluminum foil.
Thawing Tip: To thaw frozen Cake Prague, place it in the refrigerator for 2-3 hours. Slice and enjoy cold!
FAQ
What kind of flour should I use for Cake Prague?
You should use all-purpose flour. There is no need to use pastry or cake flour.
How long should I allow the cake layers to sit in the soaking cream?
You should allow the cake layers to sit in the soaking cream for at least a couple minutes. By the time you're done making the chocolate cream, it will have had enough time to settle and moisten the spongecake.
Can I use any oil besides vegetable oil?
You can canola oil if you don't have vegetable oil. Stay away from strongly flavored oils like avocado or olive oil. They will overpower the delicate flavor of the spongecake.
Do I have to let the cake set overnight?
You should let the cake set overnight for optimal flavor and texture. It's worth the wait!
What kind of chocolate chips should I use?
Semi-sweet chocolate chips work best. However, if you like it extra sweet you could use milk chocolate chips.
Other Tasty Cake Recipes to Try
Recipe
This original recipe for Cake Prague is as decadent as it is beautiful to look at. Your new favorite chocolate cake recipe!
Ingredients
Soaking Cream
1/2

cup

sweetened condensed milk

1/2

cup

heavy whipping cream
Instructions
Assembling the Cake
Place one of the cake layers onto a cake stand or plate. Top it with a layer of the chocolate cream. Stack and repeat with the remaining layers. Using a cake spatula or butter knife, smoothen the top layer of frosting. Serve as-is or move on to the next step to decorate with ganache.

Optional Ganache Topping: Bring whipping cream to a boil and add chocolate chips to it. Stir until the chocolate is melted and smooth. Allow it to cool to room temperature. Drizzle the cake with the cooled ganache, allowing it to drip off the sides. Sprinkle grated chocolate around the inner rim of the cake top.
Nutrition Facts
Cake Prague (Chocolate Cake Recipe)
Amount Per Serving
Calories 659
Calories from Fat 396
% Daily Value*
Fat 44g68%
Cholesterol 272mg91%
Sodium 402mg17%
Potassium 327mg9%
Carbohydrates 59g20%
Protein 10g20%
Vitamin A 1438IU29%
Vitamin C 1mg1%
Calcium 167mg17%
Iron 2mg11%
* Percent Daily Values are based on a 2000 calorie diet.