Baked Steak with Vegetables is a one-pan dinner that will surely save the day. With little effort, you will have a delicious meal on the table — and quick!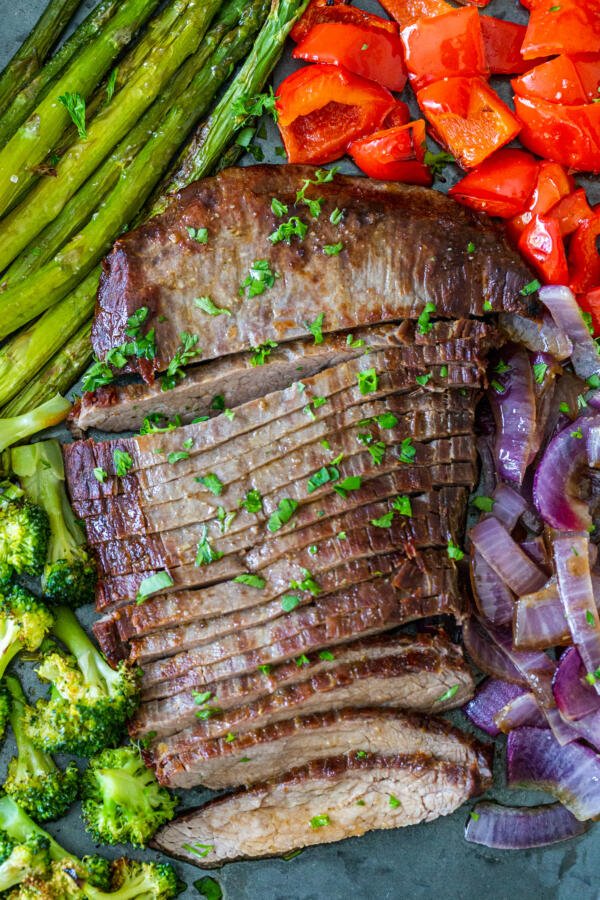 Can you believe it takes under 30 minutes to get a tender and juicy steak? Grab your choice cut of steak and your favorite veggies and let's get to making this dream a reality.
Best Steak for Baking
Flank: This is my number one choice. Flank steak is not only cheap, it packs a ton of beef-y flavor and bakes wonderfully.
Filet Mignon, Rib-Eye or Strip Steak: Feeling fancy? Any of these three cuts will work as well. Just make sure that the pieces you choose are relatively even to promote even cooking.
Veggies To Bake with Steak
Carrots: Big hunks of carrots bake beautifully alongside steak — they also absorb all those wonderful drippings.
Potatoes: Sweet potatoes or yellow yukon potatoes are my top choice. They also add that filling component that turns this one-pan dish into a hearty meal.
Greens: If you have a hankering for some extra veggies, feel free to add broccoli, asparagus or zucchini to the mix.
Mushrooms: Nothing goes with steak better than a mushroom. Use portabellas and cut them into thick strips.
Tomatoes: Baked cherry tomatoes are ah-mazing! They are so juicy and all the flavors just pop in your mouth.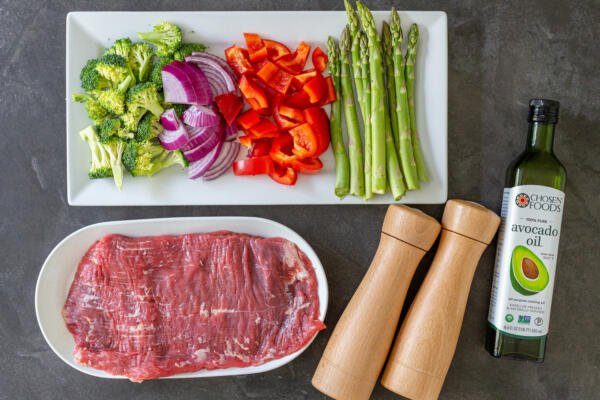 How Long Does it Take to Cook Steak in the Oven?
Preheat your oven to 400 ℉ and bake your steak for about 10 minutes. Then, add veggies to the beef and bake for 10 minutes or more, depending on how well you like it done.
Hot tip: Medium-rare is by far the best level of doneness for beef. It keeps the cut tender, while delivering the most flavor. If you are not a fan of any redness in your beef, know that the texture will likely be on the tougher side. See below for more instructions on measuring doneness.
Tips For Baking Steak
Bring to room temperature. Bring the steak to room temperature on the counter before baking it. Putting a cold steak into a hot oven can cause uneven baking.
When do I know it's done? Grab a meat thermometer to remove the guesswork and cook to your preferred doneness (see internal temperatures below):

Rare: 120 ℉ to 125 ℉
Medium-rare: 130 ℉ to 135 ℉
Medium: 140 ℉ to 145 ℉
Medium-well: 150 ℉ to 155 ℉
Well-done: 160 ℉ (not recommended for flank steak, as it will toughen the cut significantly)

Give it a rest. Once you remove your steak from the oven, allow it to rest for at least five minutes before slicing it up. This will allow all the juices to soak into the steak for a more flavorful bite!
Go against the grain. Cut your beef with a sharp knife against the grain, or the fibrous strands that run through it. This will result in more tender pieces and a prettier presentation.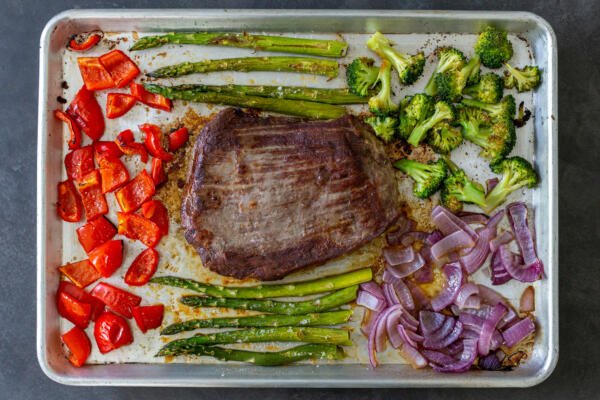 Storing Baked Steak
To properly store baked steak, simply place it in an airtight container. Leftovers should last for up to five days. Baked steak is one of my favorite meal-prepping go-tos. From steak sandwiches to a perfect protein topping on caesar salad, the possibilities are endless. Sometimes, we even pack steak strips into our sons' lunchboxes.
More Steak Recipes
Recipe
Baked Steak with Vegetables is a one-pan dinner that will surely save the day. With little effort, you will have a delicious meal on the table — and quick!
Instructions
Add veggies to the baking sheet, season them with salt and pepper. Continue baking with beef for another 7-10 minutes, depending on how well you want it done. You can broil beef on high for about a minute, to brown it.
Nutrition Facts
Baked Steak with Vegetables
Amount Per Serving
Calories 270
Calories from Fat 90
% Daily Value*
Fat 10g15%
Cholesterol 91mg30%
Sodium 1271mg53%
Potassium 872mg25%
Carbohydrates 7g2%
Protein 37g74%
Vitamin A 3175IU64%
Vitamin C 46mg56%
Calcium 134mg13%
Iron 6mg33%
* Percent Daily Values are based on a 2000 calorie diet.