These flank steak wraps are made with flavorful marinated beef and fresh veggies swaddled inside of soft tortillas — it's the perfect low-fuss dinner or snack.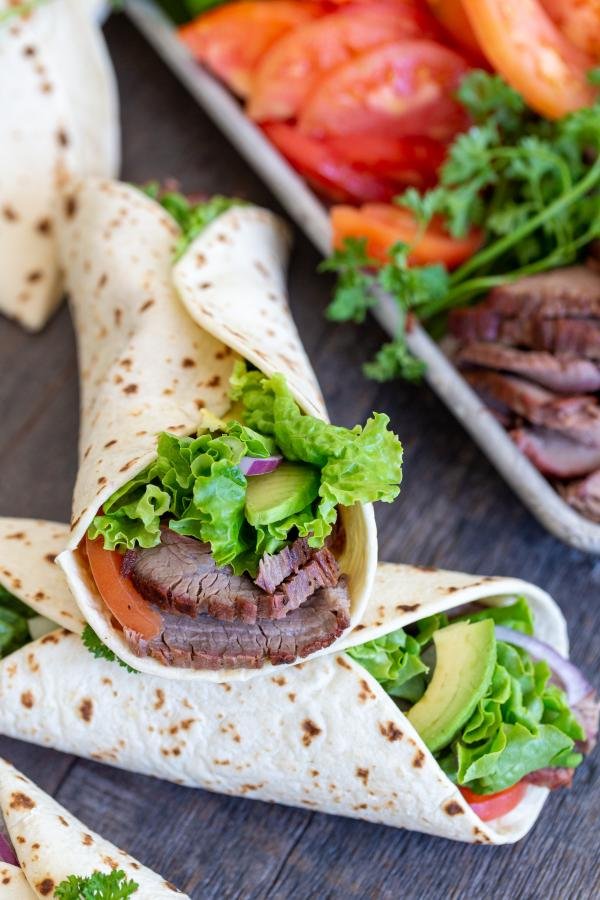 With two active boys in the house, it's no secret they can clean out the fridge in record time. We love having these wraps for a quick and filling snack or dinner. They're full of protein and nutrients that help fill those seemingly always-empty stomachs fast!
What is Flank Steak?
Flank steak is a lean cut of beef found in the cow's lower chest or abdominal muscle. It is full of beefy flavor, and luckily, it is an inexpensive cut. Flank steak is sometimes referred to as "jiffy steak", "bavette", or "London broil." In general, flank steak tastes best when it is marinated and grilled.
This flank steak wrap is a protein and veggie-rich snack or entree. The flank steak is marinated for at least an hour (up to six hours), then grilled and thinly sliced. The combination of flavorful and meaty beef with fresh veggies makes it a favorite in our house.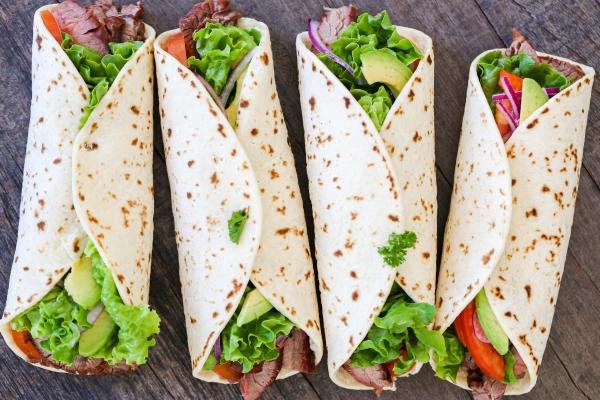 How to Make a Flank Steak Wrap
Before assembling the wrap, set aside 1-6 hours to allow the flank steak to marinate well. Without ample time to marinate, the wrap's flavor will not be as delicious.
Marinate the steak: Place the steak into a large ziplock bag. In a small bowl, combine the oil, garlic, salt, and pepper, then add into the ziplock bag. Let the meat marinate for 1-6 hours.
Dry the steak: After marinating, remove the steak from the bag and pat dry with a paper towel. Preheat the grill to medium heat, then place the steak on the grill.
Grill the steak: Grill the steak for about eight minutes per side, or until internal temperature reaches 145°F. Once cooked, set it aside and let it rest for five minutes. Then, slice into thin strips.
Cut the veggies: Cut the lettuce into strips. Thinly slice the tomatoes, avocado, and red onion.
Wrap and serve: Assemble the wraps by placing a tortilla flat on the table, adding all the toppings, and wrapping. Or, serve the filling options on a tray to allow everyone to build their own custom wraps.
Hot tip: Get a head start on dinner tomorrow night — marinate your meat before you go to bed. The longer it marinates the better!
Choosing the Right Doneness
For a tender, flavorful steak, cook it to just the right temperature. If it's cooked too little, the meat will be too raw. If it's cooked too much, it'll be dry and tough. Use our favorite meat thermometer and poke into the thickest part of the cut to ensure the right temperature. Here are our recommended options for optimal flavor and texture.
Medium-rare: Cook the steak until it reaches 130-135°F. If you like more redness to your steak, this is the way to go.
Medium: The steak is medium done when it reaches 145°F. In our experience, the steak has the best texture and flavor at medium doneness.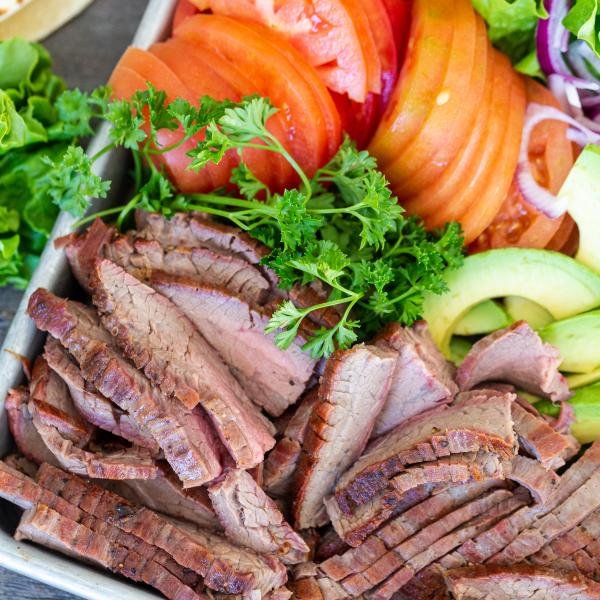 Wrap Variations
It is so easy to customize this flank steak wrap to your own preferences. Make it as-is, or add in more of your favorite wrap ingredients to make it your own.
Cheese: Add in any of your favorite cheeses like provolone cheese, swiss, or Mexican cheese. Use either shredded cheese, or slice cheese into thin strips.
Veggies: For more veggies, sauté a few mushrooms and bell peppers on a skillet. Avoid overfilling the wrap too much or it may fall apart too easily.
Protein: When you want more protein, add in a few slices of bacon! We can never resist bacon!
Tips for the Best Flank Steak
Follow these tips when grilling and assembling beef wraps to ensure they are flawlessly yummy.
Preheat the grill: The key to making a perfect grilled flank steak is to preheat the grill before setting the steaks on it. Preheating ensures even cooking and gives those aesthetic grill marks!
Dry the raw steaks: When removing the steaks from the marinade, pat them dry with a paper towel before grilling. Too much marinade on the beef will cause it to burn on the grill.
Avoid over-flipping: Avoid flipping the steaks too much on the grill. Cook one side, then flip once.
Take a rest: Let the beef rest and cool for five minutes before slicing it into thin strips. Letting the meat rest locks in the flavors and moisture.
Cut against the grain: When slicing the steak, cut against the grain. This ensures the long fat membranes in the beef do not make the meat strips too chewy.
Make your own tortillas: Make your own homemade tortillas for the best wraps you've ever eaten.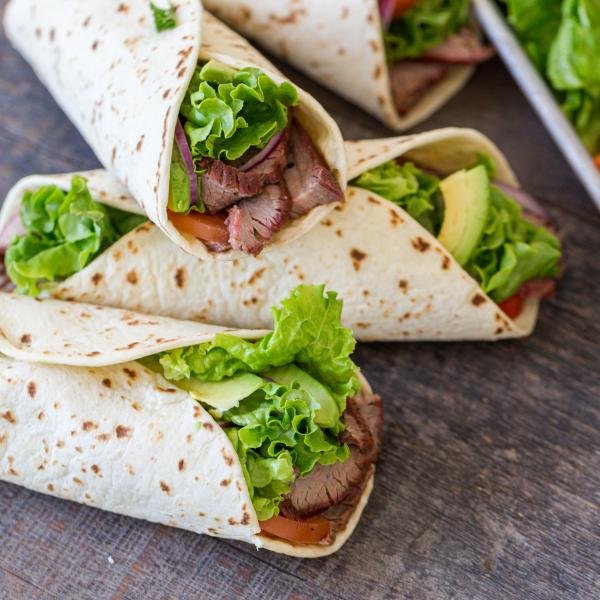 Serving the Wraps
Flank steak wraps are the perfect lunch, dinner, or snack option for at home or on-the-go. If taking them on the go, wrap them in plastic wrap or aluminum foil to keep the wrap together. Or, if serving at home, lay out the individual ingredients onto separate plates, then allow everyone to assemble their own wraps buffet-style.
For a larger meal, serve the wraps along with tomato basil soup or creamy potato soup. Whip out the air fryer and add a side of zucchini fries or sweet potato fries. Serve a small bowl of dipping sauces/spreads like creamy tomatillo dressing, light ranch dressing, or avocado hummus. Add the sauces inside the wraps or dip the wrap into the sauce as you go.
​​​​Storing and Reheating the Wrap
This steak wrap is best enjoyed fresh, when the veggies are at their freshest and the steak is still warm off the grill. In case of leftovers, it is best to store the ingredients separately in an airtight container in the fridge. When ready to enjoy again, assemble a fresh wrap.
It is not necessary to reheat the beef slices — however, if you prefer them warm, reheat the slices briefly in the microwave or on a skillet over medium heat for a few minutes. Once warmed, assemble into the wrap.
FAQ
What's the difference between a steak wrap and a Philly cheesesteak?
A steak wrap is made with thin slices of beef and veggies wrapped in a tortilla. A Philly cheesesteak is also made with slices of beef, but also includes melted cheese layered inside of a long hoagie roll.
Are steak wraps best enjoyed cold or hot?
Steak wraps are best with a combination of warm steak and cold and fresh veggies. However, the wrap tastes wonderful when all ingredients are cold, too. Avoid heating the entire wrap as fresh veggies do not heat and retain their texture well.
Are carne asada and flank steak the same?
Carne asada is usually made with either flank steak or skirt steak. For carne asada, the meat is marinated in a mixture of lime juice, garlic, cilantro, olive oil, and chiles, whereas regular flank steak is not.
Other Recipes to Make with Flank
Recipe
These flank steak wraps are made with flavorful marinated beef and fresh veggies swaddled inside of soft tortillas — it's the perfect low-fuss dinner or snack.
Nutrition Facts
Flank Steak Wrap
Amount Per Serving
Calories 288
Calories from Fat 126
% Daily Value*
Fat 14g22%
Cholesterol 45mg15%
Sodium 834mg35%
Potassium 500mg14%
Carbohydrates 20g7%
Protein 20g40%
Vitamin A 385IU8%
Vitamin C 6mg7%
Calcium 62mg6%
Iron 3mg17%
* Percent Daily Values are based on a 2000 calorie diet.