Air fryer steak bites with mushrooms taste so gourmet, no one will know you made it in a jiffy. The tender, juicy beef can fool even the most seasoned foodie.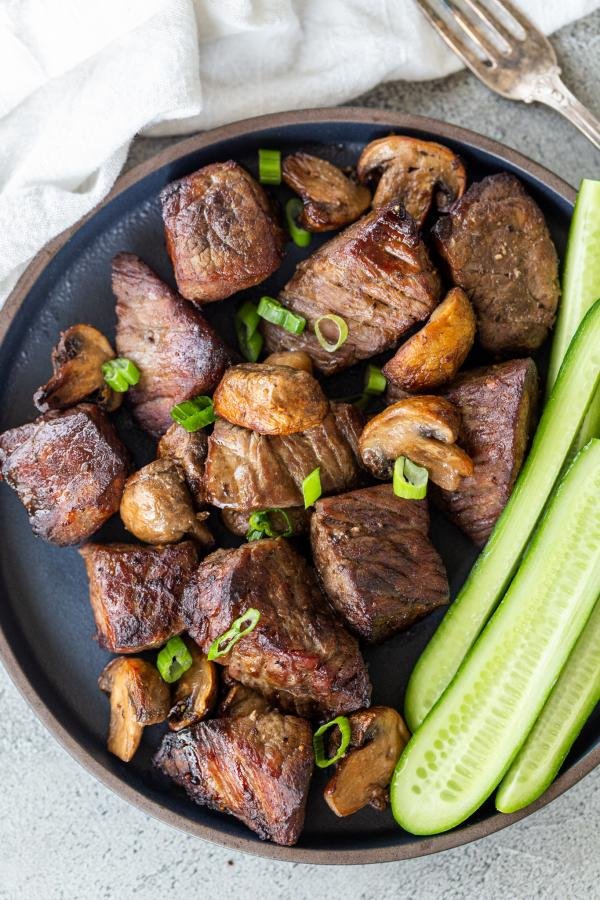 Air fryer steak bites can be so versatile. We like to add different veggies to the mix to make a full-blown dinner. Today, we will prepare a dish of steak and mushrooms — my husband's favorite combination!
Whether you are new to the air fryer or seasoned in all its glory, you are going to be SHOCKED at how perfectly you can cook a steak in this appliance. Trust me, I was taken back the first time I tried it out…
The first time I caught wind of the powers of air fryer steak is when I started a keto-friendly diet. Making a good protein can be time consuming, but this recipe will put a healthy meal on the table on even the most hectic weeknight.
So… Can Steak Be Cooked in an Air Fryer?
Yes, and it turns out so darn amazing! Typically, tender and flavorful meat requires a lot of TLC. Whether it's hours spent in the crockpot, smoker, oven, or BBQ, when we think delicious meat we assume it's been slow cooked. But, with the advent of the digital air fryer, you can have tender meat with crispy edges in under 30 minutes. That's right, it takes a half-of-an-hour to reach perfection! That's a game-changer!
Hot tip: Stick to fresh cuts of beef. Cooking frozen meat in the air fryer simply doesn't give you the same results. The meat comes out more tough and less flavorful.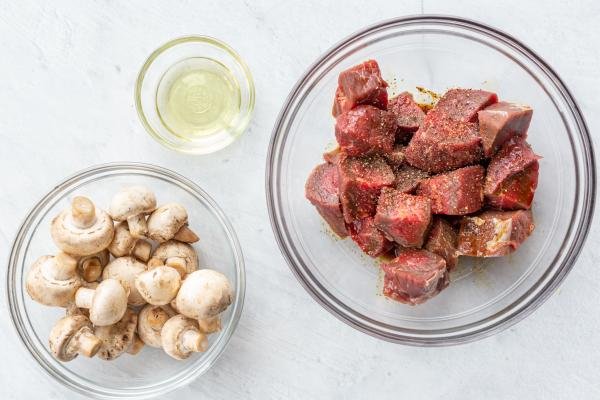 How to Make Air Fryer Steak Bites
These air fryer steak bites are crazy simple and require only five ingredients! Plus, it takes only ten minutes to prep. Before beginning, make sure your meat is thawed (if using frozen) and mushrooms are clean.
Preheat the air fryer: Preheat the air fryer to 400°F. Cut the beef into 1-inch cubes and mushrooms into halves, then place them in a large bowl.
Add the marinade: Add in worcestershire sauce, salt, and black pepper. Allow it to sit a few minutes.
Begin to air fry: Place the beef and mushrooms into the air fryer basket and fry for five minutes.
Toss the beef: After five minutes, remove the basket and toss the steak bites around to ensure all sides become crispy.
Continue to air fry: Air fry for another 5-7 minutes. Beef is done when it reaches a temperature of 145°F.
The Best Air Fryer Steak Tips
Steak is an extremely delicious meat, but one must be careful to prepare it correctly to have the best taste. For juicy and flavorful steak bites, follow these simple tips.
Use a lean cut of beef: Save money and use a lean cut of beef! You can use flank, chuck roast, ribeye, new york strip steak, or sirloin steak. The air fryer makes even the toughest cut of steak tender!
Cut the steak evenly: To promote even cooking, cut steak pieces into equal sizes. You'll need a sharp knife, here is our favorite set!
Preheat the air fryer: Preheat the air fryer basket for a few minutes before adding your steak bites. This will help form a nice, crispy crust.
Avoid overcrowding the ingredients: Don't overcrowd the basket! You want each piece of steak to have some space around it so the hot air can reach the full surface. Cook steak bites in single layer batches if possible. If you must overcrowd the basket, toss the steak every five minutes to help promote even cooking.
Allow the steak to rest: Allow your steak to rest for at least five minutes before cutting into it. You want all the amazing juices to marinate the meat!
Garnish with fresh herbs: For more flavor and a restaurant-quality look, top the steak cubes with fresh herbs such as parsley or dill.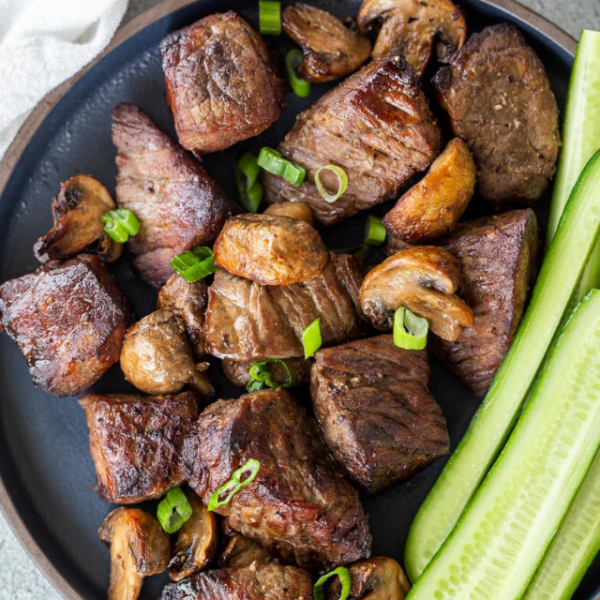 Flavor Variations
Put on your creative hat and change up the flavor of these air fryer steak bites. Each combination yields an almost completely new dish!
Add in more veggies: Add other veggies like zucchini, broccoli, bell peppers, and asparagus to the air fryer tray. Mix things up to keep things interesting. Add the veggies toward the end as they cook much faster than beef!
Change up the seasoning: For those who desire even more flavor, add in a garlic butter mixture containing melted butter, garlic powder, and parsley. Or, simply toss in minced garlic, onion powder, and/or red pepper flakes (to add heat) to the bowl with the meat and mushrooms.
Make it spicy: For those who love a kick to their meal, add in blended chipotle peppers in adobo sauce, garlic, lime juice, and cumin to the meat. For the best flavor infusion, allow it to marinate for at least a few hours.
How Long Does It Take To Cook Steak in an Air Fryer?
At 400℉, it takes about 10 minutes to cook steak to medium. Keep in mind, cooking times may change depending on the thickness and cut you choose. Each air fryer works slightly differently, so the best way to achieve perfect doneness is by using a meat thermometer to check the internal temperature. The internal temperature for medium done beef is 160°F.
Ways to Serve
What's more classic than a good ol' pairing of steak and potatoes? Serve your steak bites with your choice of potato sides: creamy mashed potatoes, new potatoes with bacon and herbs, or air fryer potato wedges. For a more veggie-filled side dish, opt for a fresh crisp salad like Mediterranean chickpea salad or fresh avocado salad. Alternatively, cook the veggies like in this easy veggie side dish or make a batch of oven roasted carrots and parsnips.
Storage Tips & Reheating
These air fryer steak bites are the perfect leftover lunch for the next day. Follow these tips and you'll be waiting all morning for the chance to eat these come lunchtime!
Refrigerator: To store leftovers for up to 3-4 days, place cooled steak into an airtight container and refrigerate.
Freezer: To keep leftover steak bites for up to 2-3 months, store the bites in an airtight container or vacuum-sealed freezer bag to avoid freezer burn.
Reheating: For best flavor, reheat the steak bites in the air fryer for 2-3 minutes or until warmed through. For a quicker reheat, the microwave is a good option.
FAQ
What setting is best for cooking steak bites in the air fryer?
To cook steak bites in the air fryer, it is best to use the regular "air fry" setting, as the other settings may affect the cooking time and/or temperature.
Why did my air fried steak bites turn out tough?
Steak bites, like any steak, can become tough if overcooked. It is best to cook beef until it reaches at least 160°F for a medium-well done piece of meat.
More Air Fryer Recipes
Recipe
Air fryer steak bites with mushrooms tastes so gourmet, no one will know you made it in a jiffy. The tender, juicy beef can fool even the most seasoned foodie.
Nutrition Facts
Air Fryer Steak Bites with Mushrooms
Amount Per Serving
Calories 424
Calories from Fat 279
% Daily Value*
Fat 31g48%
Cholesterol 107mg36%
Sodium 1327mg55%
Potassium 948mg27%
Carbohydrates 7g2%
Protein 31g62%
Vitamin C 4mg5%
Calcium 42mg4%
Iron 4mg22%
* Percent Daily Values are based on a 2000 calorie diet.