Air fryer steak bites with mushrooms tastes so gourmet, no one will know you made it in a jiff. The tender, juicy beef can fool even the most seasoned foodie.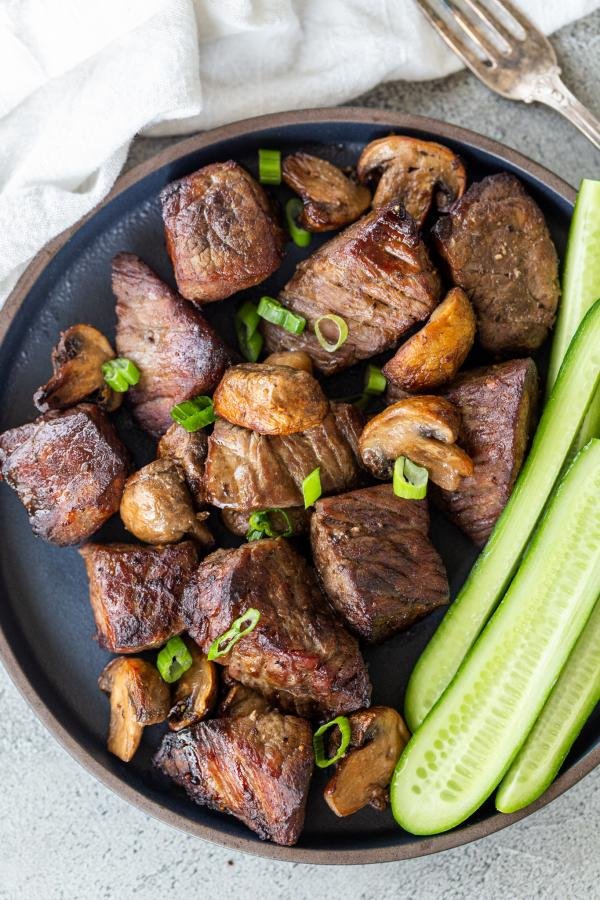 Air fryer steak bites can be so versatile. We like to add different veggies to the mix to make a full-blown dinner. Today, we will prepare a dish of steak and mushrooms — my husband's favorite combination!
Whether you are new to the air fryer or seasoned in all its glory, you are going to be SHOCKED at how perfectly you can cook a steak in this appliance. Trust me, I was taken back the first time I tried it out…
The first time I caught wind of the powers of air fryer steak is when I started a keto-friendly diet. Making a good protein can be time consuming, but this recipe will put a healthy meal on the table on even the most hectic weeknight.
So… Can Steak be Cooked in an Air Fryer?
Yes, and it turns out so darn amazing! Typically, tender and flavorful meat requires a lot of TLC. Whether it's hours spent in the crockpot, smoker, oven or BBQ, when we think delicious meat we assume it's been slow cooked. But, with the advent of the digital air fryer, you can have tender meat with crispy edges in under 30 minutes. That's right, it takes a half-of-an-hour to reach perfection! That's a game-changer.
Hot tip: Stick to fresh cuts of beef. Cooking frozen meat in the air fryer simply doesn't give you the same results. The meat comes out tougher and less flavorful.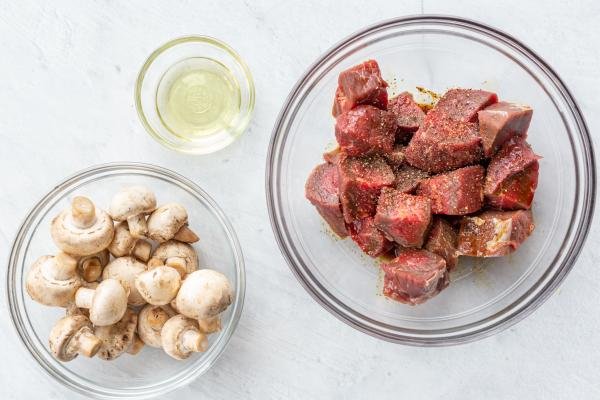 Tips For The Best Air Fryer Steak
To promote even cooking, cut steak pieces into equal sizes
Preheat the air fryer basket for a few minutes before adding your steak bites. This will help form a nice, crispy crust.
Don't overcrowd the basket! You want each piece of steak to have some space around it so the hot air can reach the full surface. If you must overcrowd the basket, stir the steak every 5 minutes to help promote even cooking.
Allow your steak to rest for at least 5 minutes before cutting into it. You want all the amazing juices to marinate the meat!
Add other veggies like zucchini, broccoli, bell peppers and asparagus to the air fryer tray. Mix things up to keep things interesting! This recipe is likely to become a part of your regular dinner rotation.

Hot tip: Make sure to add the veggies toward the end. They will cook much faster than beef!

Save money and use a lean cut of beef! You can use flank, chuck roast or sirloin. The air fryer will make even the toughest cuts tender!
How Long Does it Take to Cook Steak in an Air Fryer?
At 400℉ it would take about 10 minutes to cook steak to medium-rare. (Cooking times may change depending on the thickness and cut you choose.) Each air fryer works slightly differently, so the best way to achieve perfect doneness is using a thermometer.
More Air Fryer Recipes
Recipe
Air fryer steak bites with mushrooms tastes so gourmet, no one will know you made it in a jiff. The tender, juicy beef can fool even the most seasoned foodie.
Nutrition Facts
Air Fryer Steak Bites with Mushrooms
Amount Per Serving
Calories 424
Calories from Fat 279
% Daily Value*
Fat 31g48%
Cholesterol 107mg36%
Sodium 1327mg55%
Potassium 948mg27%
Carbohydrates 7g2%
Protein 31g62%
Vitamin C 4mg5%
Calcium 42mg4%
Iron 4mg22%
* Percent Daily Values are based on a 2000 calorie diet.