Sorrel Soup is a classic Russian/Ukrainian soup that's loaded with potatoes, greens and veggies. Serve it hot with a big dollop of sour cream.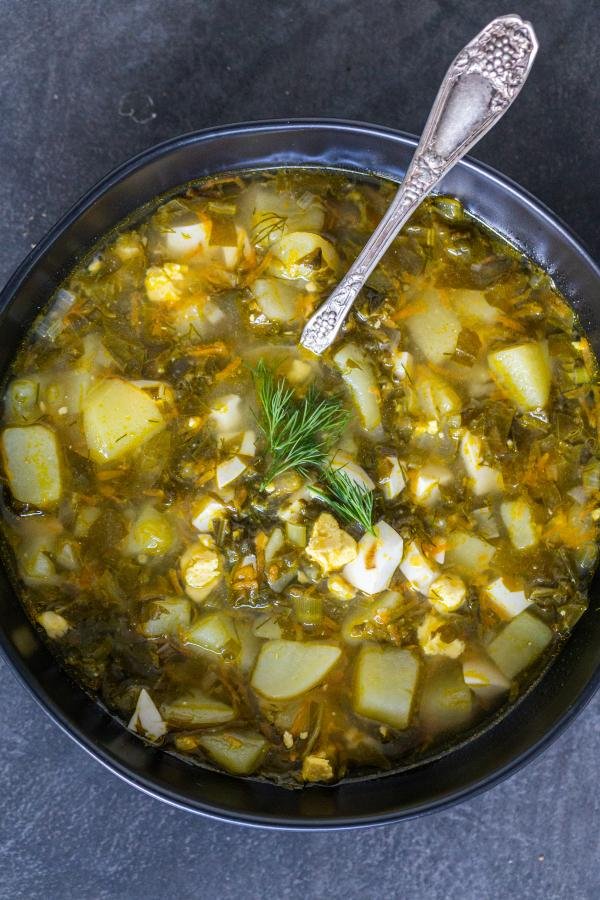 Sorrel soup is loved by kids and adults alike. Our sons went to visit their grandmother recently and they begged her to make it for their lunch nearly everyday.
What is Sorrel Soup?
Sorrel soup is a traditional green borscht made mostly with broth, sorrel leaves and salt. Sorrel soup can also be referred to as a "sour soup", as the sorrel leafs are extremely tangy and acidic.
Borscht originated in Russia, Ukraine and Poland. When you think of borscht, your mind probably goes to the variety that is made with beets. But, despite popular belief, borscht can come in many different styles.
You can eat this soup year round. Typically, beet-based borscht is eaten during the winter piping hot. Green borscht (like sorrel soup) is eaten during the springtime when sorrel leaves are perfect for picking or widely available at farmers markets. During the summer, vegetarian borscht is eaten cold and serves as a refreshing pick-me-up.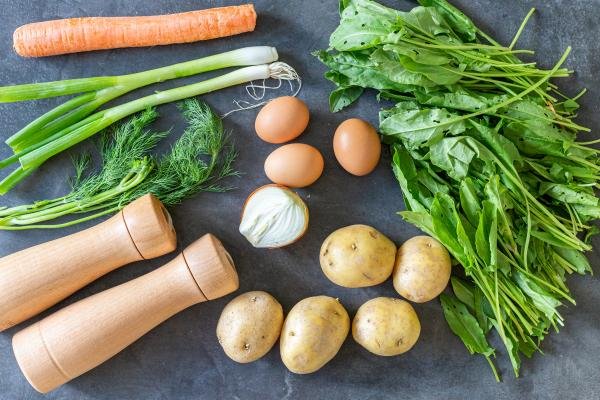 How To Make Sorrel Soup
Making sorrel soup is a no-brainer. Follow these easy steps to get it just right:
Clean your veggies. Chop onions and shred carrot.
In a preheated pot sautee your carrots and onions until soft. Add the water to the pot and season with salt and pepper.
Cut potatoes into cubes. Add the potatoes to the cooking ingredients.
Dice up hard-boiled eggs, onions, scallions, dill and sorrel.
Add green onions and dill to the pot. Bring it to a boil, add sorrel and remove from the heat.
Serve hot with a big dollop of sour cream!
Storing Borscht for Later
Refrain from freezing your borscht – it never works well. The best way to store it for later is to refrigerate it. It will stay fresh for up to a week. The kicker? The flavor gets better as it marinates in itself, making for some pretty incredible leftovers.
A Few More Borscht Recipes
Borscht comes in many different shades and flavors. Here are a few of our favorites:
Classic Borscht Recipe – This is the borscht you likely know well and already love. It's beet red and packed with cabbage, pork and kidney beans.
Russian Creamy Beet Borscht Recipe – Sour cream gives this borscht a wonderfully creamy texture.
Cabbage Soup Recipe – Another great rendition on the classic. This soup is made with your favorite bone-in meat, which gives the broth a rich marrow flavor.
Serve Borscht With
Adding a dollop of sour cream or mayonnaise is the most traditional way to serve borscht. But, there is nothing quite like serving borscht with a slice of freshly baked bread. Here are some of my favorite recipes:
No Knead Bread – Save your hands the work with this no-knead bread.
Wheat Bread – Hearty wheat bread pairs amazingly with beet borscht.
Flatbread Recipe – This flatbread recipe is so easy! From quick pizzas to a salad or soup sidekick, it always comes in handy.
Recipe
Sorrel Soup is a classic Russian/Ukrainian soup that's loaded with potatoes, greens and veggies. Serve it hot with a big dollop of sour cream.
Nutrition Facts
Quick Sorrel Soup (Shchavel Borscht)
Amount Per Serving
Calories 92
Calories from Fat 72
% Daily Value*
Fat 8g12%
Cholesterol 47mg16%
Sodium 918mg38%
Potassium 58mg2%
Carbohydrates 2g1%
Protein 2g4%
Vitamin A 1676IU34%
Vitamin C 8mg10%
Calcium 27mg3%
Iron 1mg6%
* Percent Daily Values are based on a 2000 calorie diet.