This creamy vegetarian borscht is pure Slavic comfort food. Packed with vibrant beets and a slew of other veggies, you'll get your 5 a day in one bowl!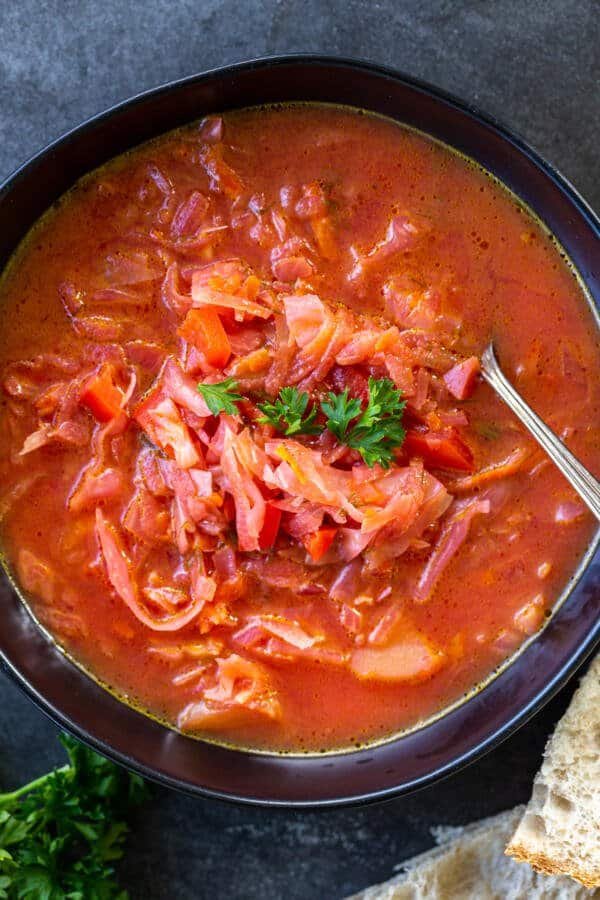 Vegetarian borscht, aka beet soup, is a staple in Slavic homes. It's nourishing, savory, and a bit sweet. Personally, it's one of my most near and dear comfort foods. There's truly nothing like a hot bowl of borscht on a rainy day or a cold bowl of borscht on a hot summer's day. It's just that good year-round!
In this recipe, you'll learn all you need to know to whip up the most authentic vegetarian borscht. With just a little elbow work chopping, dicing, shredding, and grating the veggies, you'll be well on your way to becoming a Slavic guru…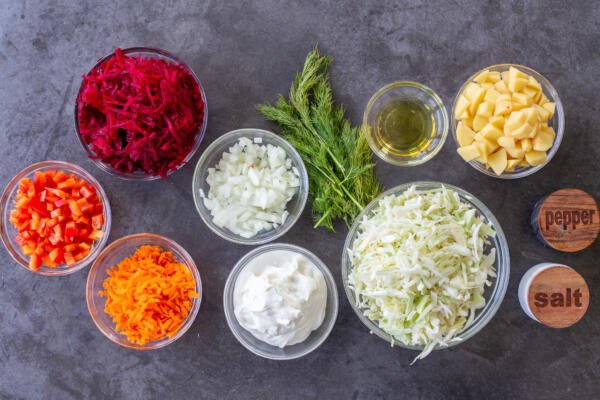 What Country Does Borscht Come From?
There is a lot of debate in the Slavic community about where borscht originates from. Typically, the tug of war is between Russia, Ukraine, and Poland. The truth is, so many different cultures have their own spin on beet soup and it's hard to pin down where it actually came from. Care to share your thoughts in the comments?
How to Make Vegetarian Borscht (Beet Soup)
Making vegetarian borscht, aka beet soup, only requires a handful of healthy veggies, sour cream, and fresh herbs. Below, find a quick overview of the recipe before you dive in.
Prep the Veggies: Using a sharp knife, dice the bell peppers and onions into tiny cubes. Shred the cabbage and dice the potatoes into bite-sized pieces. Next, grate the carrots and beets. Set the veggies aside.
Sauté the Veggies: In a large pot, cook the carrots and onions until golden brown. Next, add the beets and bell peppers and cook them until softened. Add in sour cream, stir to combine.
Build the Base of the Soup: Add water to cooked bell peppers, onions, shredded cabbage, and grated beets, followed by the herbs. Next, add in the potatoes and cabbage. Season with salt and black pepper to taste.
Tips for the Best Vegetarian Borscht
Below, find a couple of tips to help you make the best borscht.
Chop the veggies as directed. All the dicing, shredding, grating, and chopping will be worth the amazing texture of this soup!
Use full-fat sour cream. The richness full-fat sour cream adds to the broth is unparalleled.
Use fresh herbs versus dried. Fresh dill and parsley have so much more flavor than dried and really elevate the flavor of the soup.
Swap out the water for vegetable stock for extra flavor. If you want a more full-bodied soup, swap out the water for equal parts vegetable stock. Just be mindful of how much salt you add, as most stocks contain a good amount of sodium!
Play around with the seasonings. Add a couple of pressed garlic cloves, bay leaves, or a bit of lemon juice to the soup to spice it up and make it your own.
Looking for a Vegan Option? You can easily make this a vegan borscht by omitting the sour cream. It won't be creamy, but it will still be super tasty!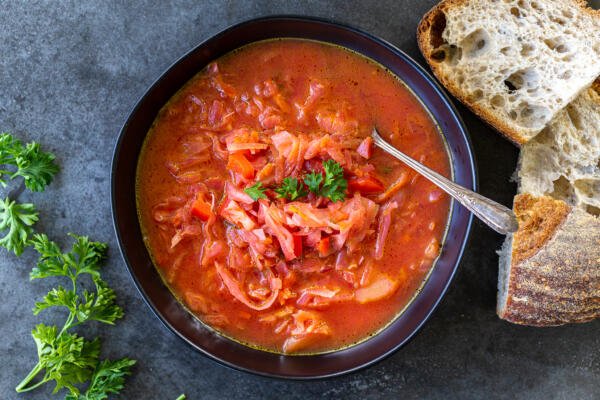 When Should You Serve Russian Beet Soup?
You can serve borscht for lunch or dinner and eat it either hot or cold. You can also serve it in smaller portions as an appetizer. Commonly, it is garnished with a dollop of sour cream and fresh herbs and served alongside rye bread or hearty honey wheat bread. For a more well-rounded Slavic meal, pair it with shashlik (pork kabobs).
Storing Vegetarian Borscht
Refrigerator: Store leftover beet soup in an airtight container in the fridge. It should keep for up to three days.
Freezer: To freeze leftover beet soup, first let it cool completely. Next, transfer it to a freezer-safe bag or airtight container. To thaw, pop it in the fridge overnight.
Reheating Tip: Reheat leftover beet soup by warming it in a saucepan over medium heat until warmed through or zapping it in the microwave for a couple of minutes.
FAQ
What does borscht taste like?
Borscht is the perfect balance of savory and sweet. Some are more sour, due to the addition of pickled cabbage or beetroot.
Do you eat borscht hot or cold?
You can eat borscht hot or cold.
Is vegetarian borscht healthy?
Yes, vegetarian borscht is super healthy! It's packed with a ton of different veggies, full of vitamins, and low-calorie.
What is the difference between borsch and borscht?
There is no difference between borsch and borscht besides the spelling. Since the soup is commonly eaten throughout Eastern Europe and Russia, the spelling varies from country to country.
How long will borscht keep in the fridge?
Borscht will keep in the fridge for up to 3 days when stored in an airtight container.
Other Tasty Slavic Soups
Recipe
This creamy vegetarian borscht is pure Slavic comfort food. Packed with vibrant beets and a slew of other veggies, you'll get your 5 a day in one bowl!
Ingredients
5

tbsp

olive oil

1/2

medium onion

2

medium carrots

1

large beet

1

large red bell pepper

1

cup

sour cream

2 1/2

qt

water

3

medium potatoes

1/4

head of medium cabbage

1/2

cup

fresh dill or parsley

1

tbsp

salt

adjust to taste

1

tsp

black pepper

adjust to taste
Nutrition Facts
Creamy Vegetarian Borscht Recipe (Beet Soup)
Amount Per Serving
Calories 105
Calories from Fat 90
% Daily Value*
Fat 10g15%
Cholesterol 10mg3%
Sodium 48mg2%
Potassium 142mg4%
Carbohydrates 4g1%
Protein 1g2%
Vitamin A 2147IU43%
Vitamin C 21mg25%
Calcium 44mg4%
Iron 1mg6%
* Percent Daily Values are based on a 2000 calorie diet.