This flaxseed bread takes just 5 short minutes of prep time. Fluffy on the inside and crusty on the outside, it's the perfect everyday bread!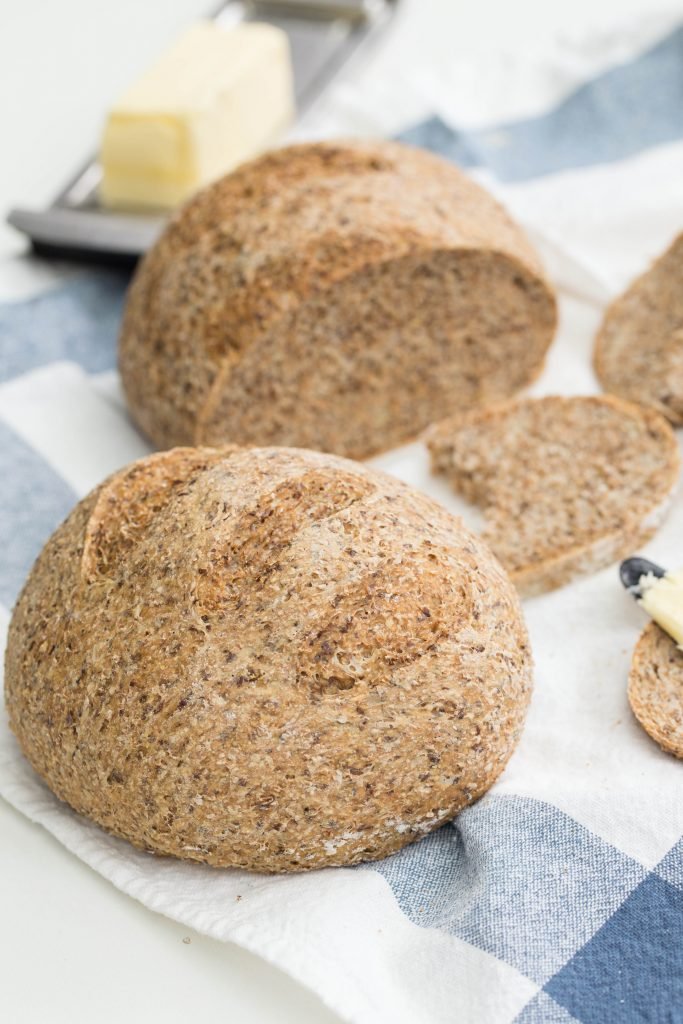 Okay, so there's a hill worth dying on: bread can be healthy. Despite the low-carb, paleo, and gluten-free craze we're living in, I'm a firm believer that you don't have to completely nix bread out of your diet. Especially when it comes to this flaxseed bread recipe. Made with whole wheat flour and ground flaxseed, it's wholesome, filling, and deserving of space on your countertop. It's also crazy easy to whip up. So go ahead, enjoy a slice without subjecting yourself to guilt!
Did you know? If you have a nut allergy, you can still enjoy this flax bread! Flaxseeds are nut-free. That said, you should always make sure the variety you are using are processed in a nut-free environment.
But First, The Health Benefits of Flaxseed
If you're privy to the health food scene, you've likely heard of flaxseed at least once. But what exactly are the benefits of incorporating this emerging superfood into your diet?
Quick Guide on Making Flaxseed Bread
Dry ingredients are prone to developing lumps in storage. To yield the best texture, sift them through a fine mesh sieve or flour sifter.
Heads Up: This bread doesn't require any baking powder or baking soda. The yeast will get it to rise all on its own!
4 Handy Tips for Flaxseed Bread
While it's difficult to flub this bread up, here are some tips to point you in the right direction.
What's the difference between ground flaxseed and flax meal? Ground flaxseed is literally just that – flaxseeds that have been ground down. On the other hand, flax meal is a byproduct of making flax oil. The two can be used interchangeably in this recipe.
Ideas for Serving Flaxseed Bread
This flaxseed bread can be seen as the perfect "everyday bread". Serve it with a little butter or avocado for quick breakfast toast on the run. The nutty flavor of the bread also makes for great peanut butter and banana sandwiches (don't forget a sprinkle of cinnamon!). It's also wonderful served alongside your favorite soups and salad. Hearty minestrone soup and roasted beet salad with goat cheese are some great options.
Reader Suggestion: "After taking it out of the oven, I brushed the top of the bread with a mix of butter, minced garlic, and dill." – Marina
Best Practices for Storage
There's nothing quite like having fresh-baked bread on hand. Here, find all the tips you need to keep flaxseed bread fresh in storage:
FAQ
Is eating too much flaxseed bad for you?
Eating too much flaxseed can cause bloating due to its high fiber content. However, if you stick to the recommended amount of a tablespoon per day you'll get all the health benefits without any tummy pain.
How many different kinds of flaxseed are there?
There are two kinds of flaxseed: brown and golden. Feel free to use either brown or golden flaxseed meal for this recipe – both work great. Of note, people tend to find that brown flaxseed has a stronger flavor profile.
Doesn't the bread need honey or sugar for the yeast to rise?
The bread does not need honey or sugar for the yeast to rise. It will rise perfectly if you let it rest at room temperature overnight.
Will this recipe work for small dinner buns or hamburger buns?
This recipe would make great dinner or hamburger buns. Simply lower the cooking time and you'll be golden.
Can you bake this bread in a cast-iron skillet instead?
You can bake this bread in a cast-iron skillet. A cast iron will give the bread a nice, consistent shape.
Other Homemade Bread Recipes
Recipe
This flaxseed bread is so easy to make, a kid could put it together. Healthy and wholesome, you'll never have to swear off bread again!
Nutrition Facts
5-Minute Flax Wheat Bread
Amount Per Serving
Calories 216
Calories from Fat 72
% Daily Value*
Fat 8g12%
Sodium 241mg10%
Potassium 284mg8%
Carbohydrates 32g11%
Protein 9g18%
Vitamin A 3IU0%
Vitamin C 1mg1%
Calcium 55mg6%
Iron 2mg11%
* Percent Daily Values are based on a 2000 calorie diet.