Easy chicken noodle soup will take you back to your childhood with each slurp. This is one of those great recipes that you should always have in your back pocket.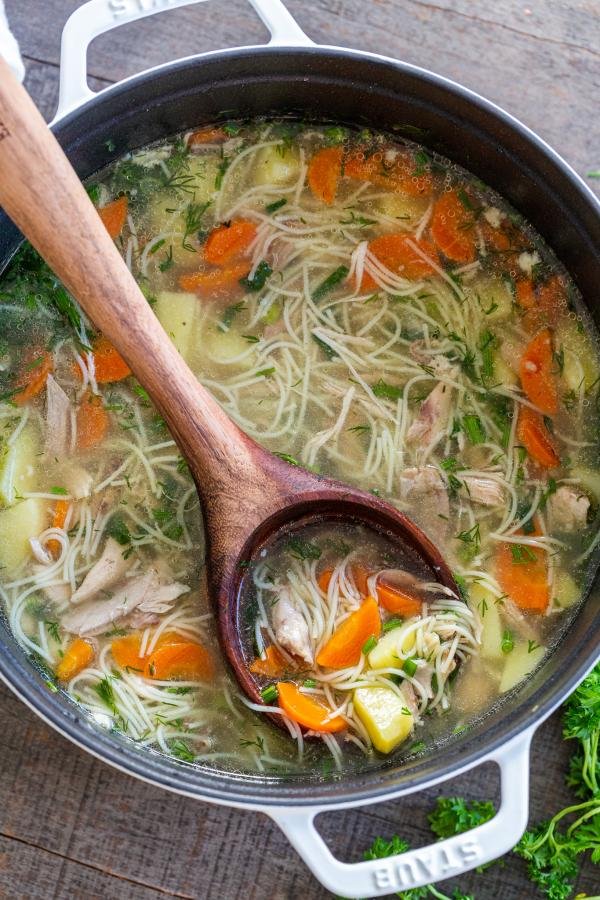 Easy chicken noodle soup is good on so many different occasions. Whether you or a loved one are feeling under the weather or you just want to curl up with a big bowl of soup on the couch, you will surely be comforted by this classic.
Chicken noodle soup is so good for you! The nutrient-rich broth is packed to the gills with vitamins and minerals, while the chicken and veggies keep the soup light and low-calorie.
When I was on a keto-friendly diet, chicken noodle soup was a nice departure from meat and veggies. Put it in your weekday lunch or dinner rotation to stay on track and healthy…
Tips & Ingredients for Chicken Noodles Soup
Broth: Either make your own or use my favorite store bought concentrate — Better than Bouillon.
Veggies: The classic veggie combination is onions, celery and carrots. Mix things up and add kale, spinach, corn or broccoli.
Noodles: We love thin egg noodles in my house, but feel free to use spaghetti, ABC pastas (kids LOVE these) or any other noodles you have on hand.
Chicken: Dark meat will lend the best flavor for soup. It has the most fat and is typically close to the bone (where all that decadent marrow exists).
Making Chicken Noodle From Scratch
Prepare all ingredients for the soup. Chop all the veggies and herbs.
Bring a pot of broth with chicken and carrots to a boil, let it simmer for 10 minutes.
Add your potatoes to the broth and let it cook for 10 minutes.
Add noodles and cook the soup until noodles are fully cooked.
Season with salt and pepper to taste. At this point, you can also add some fresh herbs and scallions!
What Can I Add to My Chicken Noodle Soup for Extra Flavor?
Here are a few things you can add to your chicken noodle soup to next level the flavor:
Fresh Herbs: Dill, parsley, scallions, basil and oregano would all be great options to add to your soup!
Seasoning: Salt and pepper are always a must! Feel free to add red pepper flakes if you like it more spicy. Sometimes I even use a spice blend, like Lawry's, to add a more smoky and robust flavor.
Chicken Broth/Stock: Good quality broth or stock is a game-changer. It's the base of your soup, so the better the quality is the better your end product will be! I already linked it above, but try your hand at making my homemade chicken broth. It's super easy and great to add to your at-home-chef toolbelt! There's truly never a time when it can't be put to good use.
Other Soup Recipes (Caution: Intense Slurping Ahead)
Recipe
This easy chicken noodle soup is made with a savory chicken broth, soft veggies, potatoes, and yummy noodles. It'll take you back to your childhood with each warm slurp.
Ingredients
3

qts

chicken broth

1

large carrot

sliced into bite-size pieces

1

lb

cooked chicken

sliced into bite-sized pieces

3

medium potatoes

sliced into bite-sized pieces

1/2

cup

noodles

1

tsp

black pepper

1/2

tbsp

salt

adjust to taste

1/2

cup

scallions

chopped
Note: You can use pre-cooked chicken. Boil the chicken in salted water for 10 minutes, rinse and follow the recipe instructions.
-Cook the noodles per package instructions. Some noodles take only a few minutes while others need more time, ie egg noodles vs other pasta.
Nutrition Facts
Easy Chicken Noodle Soup
Amount Per Serving
Calories 135
Calories from Fat 45
% Daily Value*
Fat 5g8%
Cholesterol 50mg17%
Sodium 1802mg75%
Potassium 246mg7%
Carbohydrates 6g2%
Protein 17g34%
Vitamin A 1368IU27%
Vitamin C 2mg2%
Calcium 30mg3%
Iron 1mg6%
* Percent Daily Values are based on a 2000 calorie diet.