This marrowy turkey bone broth is savory & packed with flavor. Use it for everything from soups, stews, stewed meats, & creamy risottos!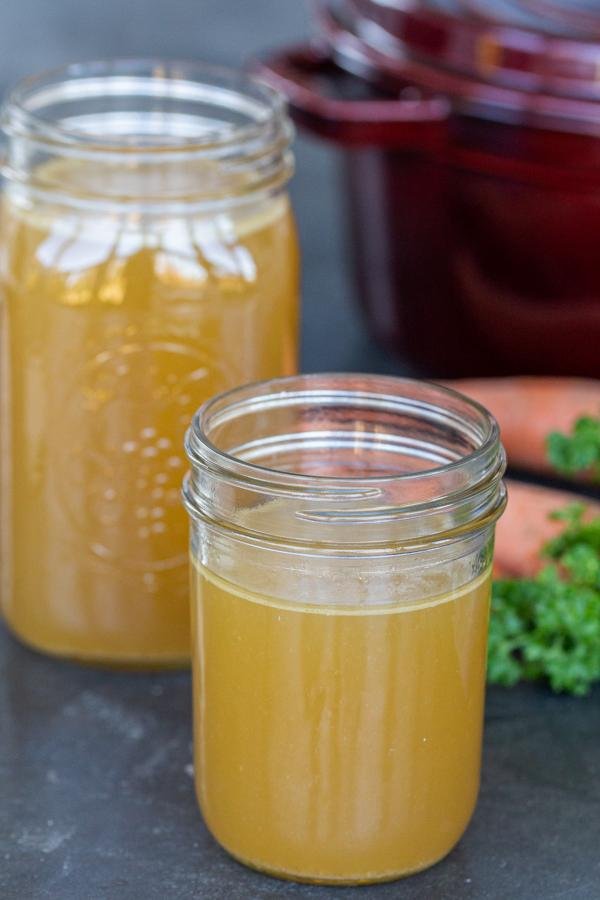 Homemade turkey bone broth is the perfect way to use up any veggie scraps you've accumulated throughout the week and reduce food waste. Instead of throwing them away, place them in a plastic storage bag as you go and freeze them. When you're ready, simply dump them in the pot!
Note: You want to use roasted turkey bones for bone broth – not raw ones – for their flavor. Whip up our spatchcock turkey or roast turkey recipe and use the carcass to make this broth!
The Health Benefits of Turkey Bone Broth
Before we get to making broth, let's chat about the rise in popularity surrounding bone broth. Unlike traditional broth, it's a protein-rich liquid that's made with meaty joints and bones. This results in a broth that not only has an increased depth of flavor, but also boasts a ton of collagen, nutrients, and other goodies.
How to Make Turkey Bone Broth from Scratch
Preparing homemade turkey stock with bones is the ultimate "set it and forget it" kind of process. All you need is some patience!
Place the Ingredients in a Large Pot: First, place the roasted turkey bones, carrots, onions, garlic, and bay leaf into a large stockpot and fill it with water.
Boil & Simmer the Broth: Next, bring the broth to a light boil and turn the heat down to a low simmer for 3 hours.
Strain the Broth: Pour the broth through a fine-mesh strainer to remove the veggies and herbs.
Store the Broth: Store the broth in the fridge or freezer or use it right away in your favorite recipes!
Tips for the Most Savory Turkey Bone Broth
Making bone broth is very similar to typical broth in terms of the overall process. That said, a handful of tips will help you nail it and make it your own.
Simmer the broth low and slow. Instead of boiling the broth on high heat the entire time, simmer it low and low for 3 hours. This will give you that beautiful golden brown color you're looking for. If you boil it on too high of heat, it will turn foggy and cloudy.
Make it spicy. If you like a kick of heat, add some red pepper flakes, peppercorns, or jalapenos into the broth. Adjust this according to how much heat you can handle!
Leave out the salt. You'll notice that this recipe is salt-free and that's for good reason. Since you'll likely use this broth for several different recipes, you can add salt to taste as you go to control the flavor. Consider it a blank slate!
Other Spices & Ingredients to Add
While we like to keep our turkey bone broth simple and versatile for many recipes, there are a handful of other ingredients you can add to round it out.
Herbs: Thyme, parsley, rosemary, and oregano are all great options. Use one or a couple!
Citrus & Vinegar: Add a little lemon juice or apple cider vinegar for a pop of tang.
Different Ways to Use Turkey Bone Broth
There are a million and one different ways to use turkey bone broth. You can even drink it straight if that's your thing!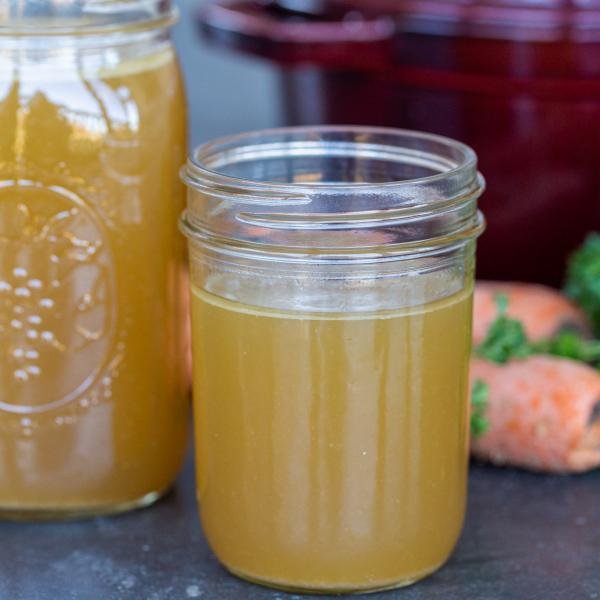 Storing, Freezing, & Reheating Broth
This turkey bone broth recipe is perfect for batch cooking and storing or freezing for later. If you can, double or triple the recipe and keep it on hand for a rainy day.
Storing: To keep the broth on hand for up to a week, store it in a plastic container or Mason Jars in the fridge. As it sits, it will continue to develop its flavors and gain more depth.
Freezing: To freeze the broth, store it in plastic containers in the freezer for up to 3 months. To thaw, place the container in the fridge overnight. Important Note: Never freeze broth in glass containers, as the broth expands in the container it can cause the glass to break and shatter.
Reheating: To reheat the broth, place it into a small saucepan and bring it to a slow simmer. Depending on the recipe, you can throw it in cold.
FAQ
Are turkey necks good for turkey bone broth?
Yes, turkey necks are excellent for turkey bone broth. They contain a ton of fat and marrow, making for such a flavorful broth.
Where can you get good bones for turkey bone broth?
You can get good bones for turkey bone broth from a local trusted butcher – that's your best bet. You can also use the leftover carcass from a roasted turkey.
Can you boil bones twice for turkey bone broth?
No, you cannot boil bones twice for two separate batches of turkey bone broth. After the first boil, you will lose all the collagen and marrow that makes or breaks a great bone broth.
How do you store a leftover turkey carcass for soup?
If you need to store a turkey carcass for later to make turkey bone broth, simply stow it away in an airtight plastic bag in the fridge. If you don't plan to make the broth within 2 days, freeze the turkey carcass instead.
Can you overcook turkey bone broth?
Yes, you can overcook turkey bone broth. If it simmers much longer than 3 hours, it will begin to turn milky and lose its silky texture.
More Turkey Recipes to Try
Recipe
This rich turkey bone broth is made with just 5 ingredients and is full of marrowy goodness. Drink it straight up or use it for soups, stews, & risottos!
Ingredients
3

lbs

turkey bones

leftovers from turkey roast

2

large carrots

1

medium onion

1

garlic head
Nutrition Facts
How to Make Turkey Bone Broth (Zero Waste)
Amount Per Serving
Calories 295
Calories from Fat 72
% Daily Value*
Fat 8g12%
Cholesterol 20mg7%
Sodium 1018mg42%
Potassium 997mg28%
Carbohydrates 36g12%
Protein 18g36%
Vitamin A 10222IU204%
Vitamin C 10mg12%
Calcium 57mg6%
Iron 2mg11%
* Percent Daily Values are based on a 2000 calorie diet.