This easy clam chowder recipe is creamy, savory, and packed with tender baby clams. Sourdough bread bowl not included, but highly encouraged!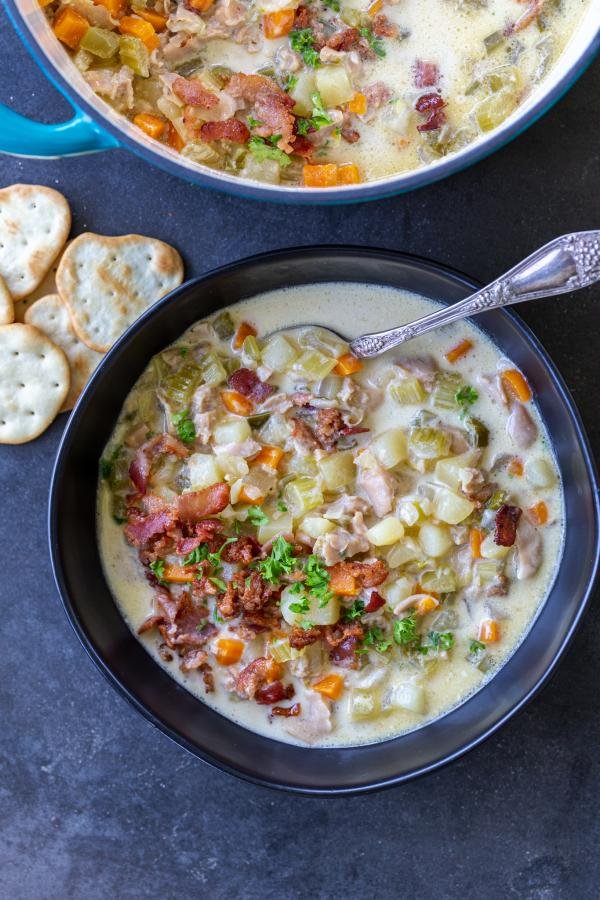 Everyone needs a good chowder recipe. Why? There's nothing like warming up to a bowl of creamy clam chowder on a cold day. When I lived in Seattle, it was a regular part of my wintertime dinner rotation and a go-to comfort food. Oh, and don't forget to pair it with a crusty, buttered piece of sourdough or a handful of oyster crackers…
If you've always loved clam chowder, but have been intimidated to make it homemade – rest assured, it's actually quite simple! With a little chopping and patience, you'll be transported all the way to the shores of New England.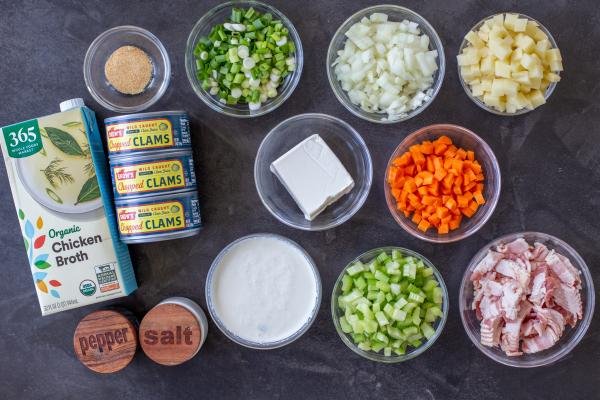 How to Make Easy Clam Chowder
Making clam chowder only requires a bit of prep and a handful of simple ingredients. Find a quick overview of the recipe before you dive in:
Prep the Veggies: Using a sharp knife, dice all the veggies into bite-sized pieces.
Prep the Bacon Bits: Next, dice the bacon strips into bite-sized pieces. In a soup pot or Dutch oven, brown the bacon until it turns crispy over medium-high heat. Remove the bacon bits from the pot and set them aside. Leave the drippings in the pan – you're going to cook in them for extra flavor!
Sauté the Veggies: Reduce the heat to medium and add the diced onions into the pot, cooking them down in the bacon drippings until soft. Next, sauté the carrots, celery, and green onions.
Prep the Creamy Broth: Add in the chicken broth, cream cheese, and heavy whipping cream. Stir to until well-combined. Next, add the diced potatoes and water.
Season the Soup: Season the soup to taste with salt, pepper, and garlic powder. Drain the claims of their juices and add them to the soup. Simmer for 20-30 minutes, or until the potatoes are tender. Garnish the soup with some crispy bacon bits and enjoy!
Tips & Tricks
Below, find a couple of tips and tricks to help you make the best clam chowder.
Chop the veggies into even-sized pieces. The more evenly you chop the onions, carrots, and celery, the more evenly they will cook.
Cook the veggies in the bacon drippings. Whatever you do, don't toss the bacon drippings or start in a new pan. You'll lose so much richness and flavor!
Use Yukon or red potatoes. Instead of using russets, opt for Yukon (gold potatoes) or red potatoes. They have a bit less starch and keep a firmer texture in the soup.
Use salted pork instead of bacon. If you can get your hands on salted pork (cured pork belly) at the butcher, snag it and swap it for bacon. This is the ultra-authentic way to make New England-style chowder!
Use chopped clams or fresh clams. If you're not a fan of the texture of whole clams, feel free to exchanged them for canned chopped clams. Or, if you're feeling fancy, use fresh clams.
Add in some of the clam juice. If you're a big fan of the salty, clam flavor, add in some of the clam juice to your broth.
Salmon Chowder Hack: Love salmon chowder? Simply swap the canned clams for canned salmon. Yum!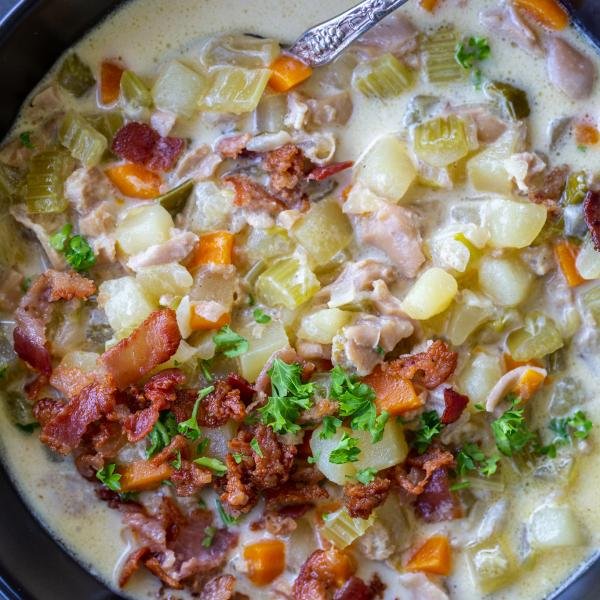 Storing Leftover Clam Chowder
If you're lucky enough to have leftover clam chowder, it makes for some wonderful leftovers. As the soup marinates in itself, the flavors will deepen and develop. Below, find a couple tips on how to properly store it.
Refrigerator: To keep your chowder fresh for up to 3-5 days, store it in an airtight container in the refrigerator.
Freezer: Although tempting, it's never a good idea to freeze chowder. Neither the cream nor the potatoes thaw well and the texture of the soup will be ruined upon reheating.
Reheating Tip: To reheat leftover chowder, pour it in a saucepan and warm it through over medium heat. You can also zap it in the microwave for a couple of minutes.
FAQ
What can I add to clam chowder for more flavor?
You can add a kick of flavor to your chowder by garnishing it with a few cracks of black pepper, hot sauce, or red pepper flakes. You can also add a handful of bay leaves to the broth, just make sure to remove them before serving.
What is New England-style clam chowder?
New England-style clam chowder is always made with cream, clams, bacon, veggies, and potatoes. While some varieties are more brothy, others can be as thick as a gravy.
What is Manhattan-style clam chowder?
Manhattan-style clam chowder consists of a tomato-based broth, clams, veggies, and potatoes.
What makes a chowder a chowder?
A chowder is defined by a base of chicken or seafood broth, celery, carrots, and salt pork or bacon. While most chowders are creamy, some have a tomato base. Most all chowders contain some type of seafood.
How do you make chowder thicker?
Using heavy whipping cream and a bit of cream cheese makes chowder thicker. If it's still not thick enough for you, add a bit of cornstarch to the soup.
Other Creamy Soup Recipes
Recipe
This easy clam chowder recipe is creamy, savory, and packed with tender baby clams. Sourdough bread bowl not included, but highly encouraged!
Ingredients
1/2

lb

bacon

1

small onion

2

medium carrots

1/2

bunch

celery

1

bunch

green onions

1

qt

chicken broth

4

oz

cream cheese

1

cup

whipping cream

3

medium potatoes

1

tsp

black pepper

2

tsp

salt

1

tsp

garlic powder

20

oz

canned whole clams
Nutrition Facts
The Best Clam Chowder Recipe (Extra Easy)
Amount Per Serving
Calories 200
Calories from Fat 162
% Daily Value*
Fat 18g28%
Cholesterol 48mg16%
Sodium 853mg36%
Potassium 147mg4%
Carbohydrates 4g1%
Protein 5g10%
Vitamin A 2175IU44%
Vitamin C 2mg2%
Calcium 38mg4%
Iron 1mg6%
* Percent Daily Values are based on a 2000 calorie diet.