This Ukrainian-style egg noodle soup recipe comes straight out of my grandma's cookbook. Made with homemade drop egg noodles, tender pork, and veggies!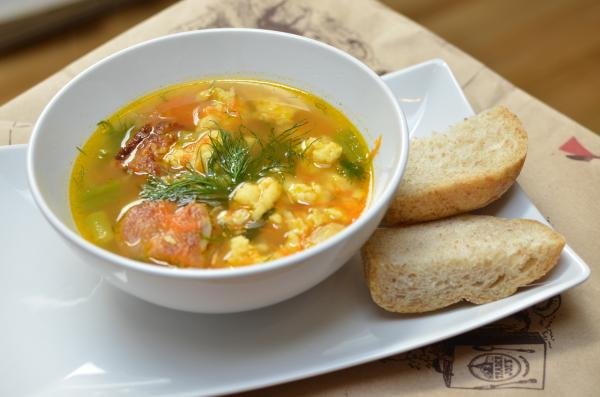 This egg noodle soup recipe was one of the first dishes my grandma made my husband. He instantly fell in love! For so long, I held off on making it at home to keep it her special treat when we visited. Alas, it was too hard to resist! Although it's not exactly the same, this recipes tastes almost identical to hers…
What is Ukrainian Egg Noodle Soup (печенья)?
Before we get to assembling this family favorite, let's first cover off on what Ukrainian-style egg noodle soup recipe is like. Despite the name, this soup isn't made with traditional dry noodles. Instead, it features a super simple "egg noodle" that's made from scratch with just flour and water.
Flavor: The soup features a rich, pork-based broth that's perfectly seasoned with fresh dill, sautéed veggies, silky egg whites, and doughy egg noodles.
Texture: The texture of this soup is similar to American-style chicken and dumpling soup. The drop egg noodles are more like dumplings than pasta and are chewy to the bite. They are perfectly contrasted by the tender pork and silky broth!
Time: From prep to table, this recipe takes 1 hour to prepare.
Preparing Grandma's Ukrainian Egg Noodle Soup
To make grandma's egg noodle soup recipe, all you need is a good soup pot and a handful of wholesome ingredients.
Simmer the Ribs: In a large pot, simmer the ribs in water for 15 minutes. Next, rinse them and set them aside.
Build the Broth: Dump the rib water out of the pot and fill it with fresh water. Add the ribs back in and drop in the bay leaves and a bit of salt and pepper. Boil for 10 minutes.
Make the Egg Noodles: Separate the egg whites from the yolks. In a medium bowl, mix the flour and egg yolks together. Drop spoonfuls of the egg and flour into the hot water until you run out and turn the heat down to medium low.
Add the Egg Whites: Next, pour the egg whites into the pot and stir the broth constantly to distribute them throughout the soup.
Sautéed Veggies: In a large skillet, sauté the carrots and onions in the oil until golden brown. Add the veggies into the broth.
Finish the Soup: Add in the fresh herbs (fresh dill, fresh parsley, or fresh thyme all work great) and let the soup cook for 5 minutes to marry all the flavors together. Bon appetit!
3 Tips & Tricks for the Best Egg Noodle Soup
From our kitchen to yours, find a couple of key tips to help you make the best egg noodle soup.
Prepare the soup in a Dutch oven. If you have a Dutch oven, use it! Nothing compares to the even heat it provides and the moisture it locks into meat. If you don't have one, check out our favorite from Staub.
If you want a richer broth, swap in low-sodium chicken broth for the water. Substitute the equal parts chicken broth or chicken stock for the water if you want a more savory broth.
Add in different vegetables and spices. Feel free to play around with the base ingredients to fit your specific tastebuds. Celery, minced garlic cloves, and potatoes are all great additions.
Ways to Serve
The protein and egg noodles make this soup filling enough to be eaten all on its own. However, we like to serve it with baguette and butter and Russian beet salad (with garlic) for a well-rounded Slavic meal.
Storing & Reheating Egg Noodle Soup
If you're lucky enough to have leftovers, find all the best tips for storing and reheating here.
Storing: To keep the soup on hand for up to 5 days, store it in an airtight container in the fridge. Bonus: The longer it marinates it itself, the deeper and more delicious the flavor of the broth will get!
Reheating: The best way to reheat the soup is back in a stockpot over medium heat until warmed through.
FAQ
Should you cook egg noodles before adding them to egg noodle soup?
You should not cook the egg noodles before adding them to the soup. They will boil in the broth, so there's no need!
Do the homemade egg noodles get mushy in egg noodles soup?
The homemade noodles don't get mushy. After cooking in the broth, they will be tender and chewy to the bite.
How do you keep the egg noodles from absorbing all the broth in egg noodle soup?
If you're worried about the egg noodles absorbing too much broth in storage, strain them out of the soup and store them in their own separate airtight container.
Can you add a different protein to egg noodles soup than pork?
Yes! Feel free to swap in chicken thighs or oxtail. You can also use leftover chicken or shredded rotisserie chicken in a pinch.
More Soup Recipes to Try
Recipe
This egg noodle soup features tender pork, eggs, and a rainbow of veggies in a savory broth! One of my grandma's classic, go-to recipes that never gets old.
Nutrition Facts
Egg Noodle Soup
Amount Per Serving
Calories 74
Calories from Fat 45
% Daily Value*
Fat 5g8%
Cholesterol 52mg17%
Sodium 627mg26%
Potassium 78mg2%
Carbohydrates 3g1%
Protein 4g8%
Vitamin A 926IU19%
Vitamin C 1mg1%
Calcium 23mg2%
Iron 1mg6%
* Percent Daily Values are based on a 2000 calorie diet.