What if I told you that you could get crispy and juicy ribs in under 20 minutes? Well it's true! My recipe for Air Fryer Pork Ribs is full-proof, fast, and flavorful.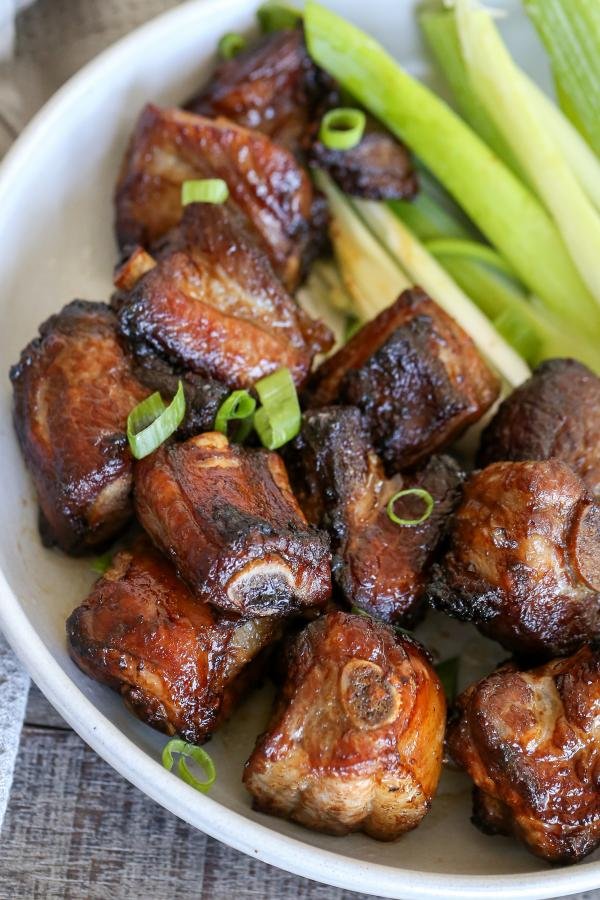 After getting such great feedback from you guys on my Easy Air Fryer Pork Chops, I have been really enjoying experimenting with cooking other types of pork in the air fryer. After some trial and error, I am excited to share this recipe with you. These ribs develop an awesomely crispy outer crust, while never drying out on the inside.
Marinating your ribs overnight is the most time consuming part of this recipe. But, trust me, this soy sauce based marinade tenderizes the meat and gives the ribs a delicious, Asian flare.
Having a quick air fryer pork ribs recipe in your back pocket, comes in ultra handy when you are hosting a party. Instead of hovering over a grill, you can prepare pork ribs at lightning speed and spend more time enjoying your party!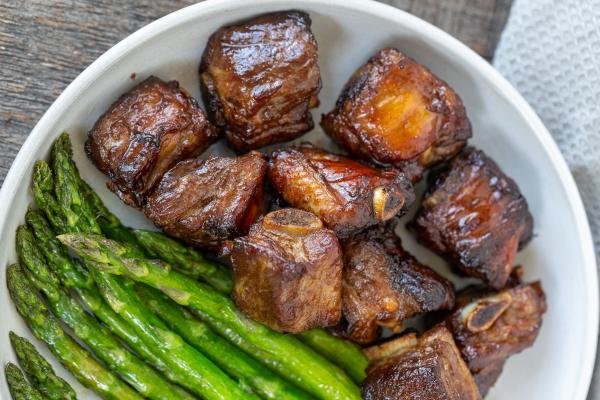 Tips for Making Pork Ribs in the Air Fryer
Take your ribs out of the fridge and allow them to reach room temperature before placing them in the air fryer. Introducing fresh-out-of-the-refrigerator ribs into the high heat of the air fryer will shock the meat and can result in uneven cooking.
Before adding seasoning or sauce, make sure to pat your ribs dry with a paper towel. This ensures that they will absorb your marinade better!
Don't overstuff the air fryer. Make sure the ribs lay flat and there is no overlapping to make sure they cook evenly.
Take a BBQ brush and slather the drippings at the bottom of the fryer on your freshly cooked ribs.
Are you a fan of extra crispy, rib crust? Slather on some extra marinade to the ribs after you have cooked both sides and let them cook for 3-5 minutes longer top-side up.
Craving a more classic barbeque-style flavor? My secret weapon for emulating that fresh-off-the-grill flavor is using liquid smoke. Slather on your favorite BBQ sauce and add a couple of drops of liquid smoke to the mix.
Air Fryer Recipes to Try
How Does an Air Fryer Work?
If you are not familiar with air fryers, let me give you the low-down. This appliance has become all-the-rage for its astonishingly fast cooking times. Extremely hot air circulates around the food placed in the air fryer's tray, allowing the food to be cooked substantially quicker.
The air fryer has also become a kitchen staple due to it only needing a small amount of oil (less than a tablespoon in some cases!) or cooking spray to create healthier versions of your favorite fried foods for a fraction of the calories.
My Pick: Gourmia 5 Qt Air Fryer
I'll admit it, when I first heard the hype about the air fryer I was a bit skeptical. How could you achieve that homecooked, slow food taste in such a short time? Well, I was (gladly!) proved wrong. I picked up the Gourmia 5 Quart Air Fryer awhile back and as some of you already know, it has been a love affair ever since.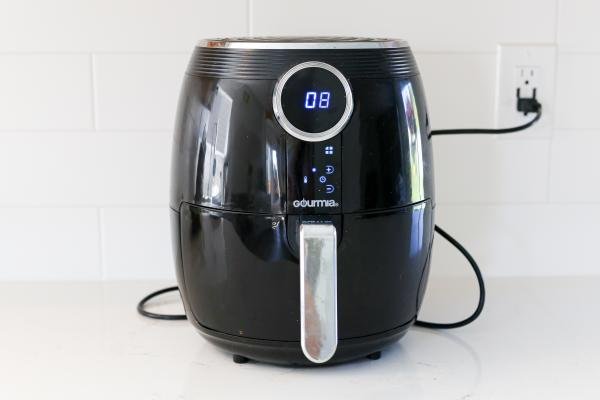 Using an air fryer has made my life so much easier during the week. When I am tired and I don't feel like cooking, I can rely on the air fryer for a homemade, low-calorie meal. It has made eating healthier so much easier without sacrificing flavor and texture. What's not to love?
While there are many air fryers on the market that range in size and price, I highly recommend the Gourmia. It's only $59.99 and it does the trick for me.
Recipe
What if I told you that you could get crispy and juicy ribs in under 20 minutes? Well it's true! My recipe for Air Fryer Pork Ribs is full-proof, fast, and flavorful.
Nutrition Facts
Easy Korean Air Fryer Pork Ribs
Amount Per Serving
Calories 593
Calories from Fat 414
% Daily Value*
Fat 46g71%
Cholesterol 127mg42%
Sodium 2292mg96%
Potassium 492mg14%
Carbohydrates 15g5%
Protein 29g58%
Vitamin C 1mg1%
Calcium 46mg5%
Iron 2mg11%
* Percent Daily Values are based on a 2000 calorie diet.