This one-pan roasted chicken and potatoes recipe is a total lifesaver. Simply toss all the ingredients on a baking sheet and let the oven work its magic!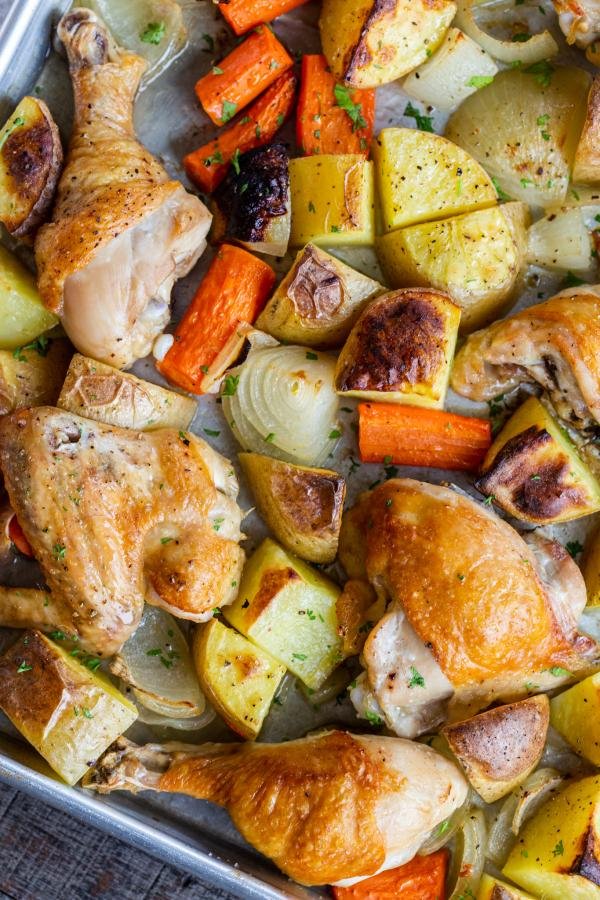 Sheet pan dinners are a mom's best friend. From our sheet pan chicken thighs and brussels sprouts, to this chicken and potatoes dish, you can't go wrong with a one-pan meal. Help your kids finish their homework while the oven preheats and do a couple of chores while everything bakes in the oven. Then, sit down, relax and enjoy the fruits of your labor. Or in this case, the chicken and potatoes of your labor…
How to Make Roasted Chicken and Potatoes
The key to making perfect sheet pan chicken and potatoes is slicing the veggies into equal-sized pieces to ensure even cooking.
Prep the Chicken: Next, cut up a whole chicken or you can use pre-cut chicken.
Season the Chicken: In a large bowl, toss your chicken, potatoes, carrots and onions with parsley garlic salt and olive oil. Spread them evenly on the bottom of your baking sheet.
Bake the Chicken: Bake for about 60 minutes at 400℉, or until fully cooked through. If you like your skin crispy, finish it off with a quick broil. Just be sure to keep an eye on the chicken because the skin can burn fast!
Note: If you are butchering a whole chicken, remember to keep the backbone to make seriously delicious broth for homemade chicken broth. Never let a good backbone go to waste!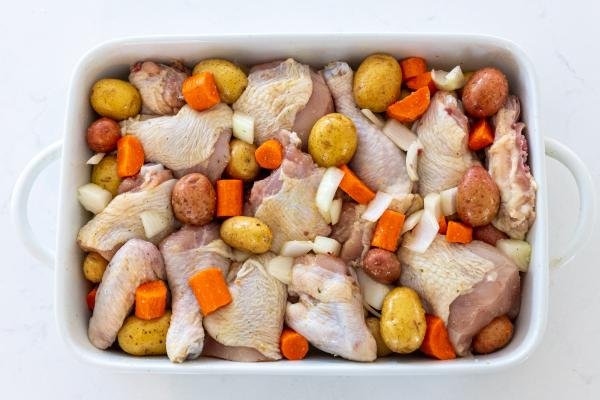 5 Tips for Making Roasted Chicken and Potatoes
Chicken and potatoes couldn't be more straightforward, but a few tips will help assist in the process and clean-up.
Slice the veggies into even-sized pieces. To promote even-cooking, slice the veggies into even-sized pieces.
Pat chicken dry before seasoning. To help the seasoning "stick" better, pat the chicken dry with a paper towels before seasoning it.
Switch up the seasonings. This recipe is crazy versatile, so feel free to add in your own favorite seasonings. Add in freshly cracked black pepper, garlic powder, onion powder, lemon zest, or anything else you're craving. You can even go the herb route and add in fresh parsley, thyme, or rosemary.
Line the baking sheet with parchment paper or foil. For super easy clean-up, line the roasting pan with parchment paper or foil. All you have to do is crinkle the paper up and toss it when you're finished eating!
Bake the chicken and potatoes on the center rack. To ensure the chicken skin doesn't burn, bake the chicken and potatoes on the center rack of the oven.
Hot Tip: If you're nervous about under or over cooking chicken, I suggest investing in a meat thermometer to ensure the internal temperature is 165℉.
Other Veggies to Swap In
This dish is so versatile! While we list carrots, potatoes and onions in this recipe, feel free to use whatever veggies you have hanging out in your fridge. The only tip I will leave you with is to use sturdy veggies that can stand up to 90 minutes of baking time without burning.
Zucchini
Butternut squash
Cauliflower
Acorn squash
Sweet potatoes
Red potatoes
Different Cuts of Chicken to Use
If you don't want to break down a whole chicken, you can swap in different cuts of chicken with no problem.
Chicken Breast: This is a great option if you are really strapped for time. The breasts will cook up quickly and you can even cut your veggies into smaller pieces to rev up the cooking time even more!
Chicken Legs or Thighs: Bone-in chicken has the most flavor! All that yummy marrow will cook out of the chicken and seep into the potatoes for some serious flavor. Both of these cuts are also super affordable.
Hot Tip: Use the drippings and juices that form at the bottom of the pan to make a quick gravy to smother on top.
Storing Roasted Chicken
Store your roasted chicken in an airtight container in the fridge. It will stay fresh for up to a week and makes for great leftovers. I don't recommend freezing your chicken and potatoes, as potatoes don't reheat well and turn into mush.
Serve Roasted Chicken With
Serve the roasted chicken and potatoes with caesar salad or a spinach berry salad for a well-rounded meal. It's also wonderful served alongside quick overnight sauerkraut for a refreshing pop of tang and crunch.
FAQ
What cooks faster – chicken or potatoes?
Chicken will cook faster than potatoes most of the time. To ensure that the potatoes and chicken cook evenly, slice the potatoes into small pieces.
Should you roast the chicken and potatoes covered or uncovered?
Roast chicken and potatoes uncovered for the best results. You don't want them to steam, but to get a nice crispy outer layer. Baking them covered would prevent them from getting enough attention from the heat of the oven!
Do you need to boil the potatoes before making roasted chicken and potatoes?
There's no need to boil the potatoes before you make sheet pan roasted chicken and potatoes. They will cook just fine without the extra work. Additionally, boiling can cause them to become too mushy.
What are the best kind of potatoes to use for roasted chicken and potatoes?
Yukon gold potatoes are best for roasted chicken and potatoes, as they have a natural buttery and slightly sweet flavor. They also roast really, really well and get a nice caramelization. In a pinch, you can use russets instead.
Other Poultry Recipes
Recipe
Dinner doesn't get much simpler than a one-pan roasted chicken and potatoes feast. With minimal clean-up and maximum flavor, it doesn't get any better.
Ingredients
3

lbs

whole chicken

broken down into pieces

1

lb

potatoes

4

large carrots

1

large yellow onion

1

tbsp

Garlic Parley Salt

adjust to taste

1

tbsp

olive oil
Nutrition Facts
One-Pan Roasted Chicken
Amount Per Serving
Calories 242
Calories from Fat 126
% Daily Value*
Fat 14g22%
Cholesterol 61mg20%
Sodium 957mg40%
Potassium 506mg14%
Carbohydrates 11g4%
Protein 17g34%
Vitamin A 5210IU104%
Vitamin C 11mg13%
Calcium 39mg4%
Iron 3mg17%
* Percent Daily Values are based on a 2000 calorie diet.