One-Pan Chicken and Potatoes is one of the most convenient, satisfying and effortless dishes in my weeknight rotation. This nearly mess-free meal only takes 15 minutes of prep time. Beautiful, right?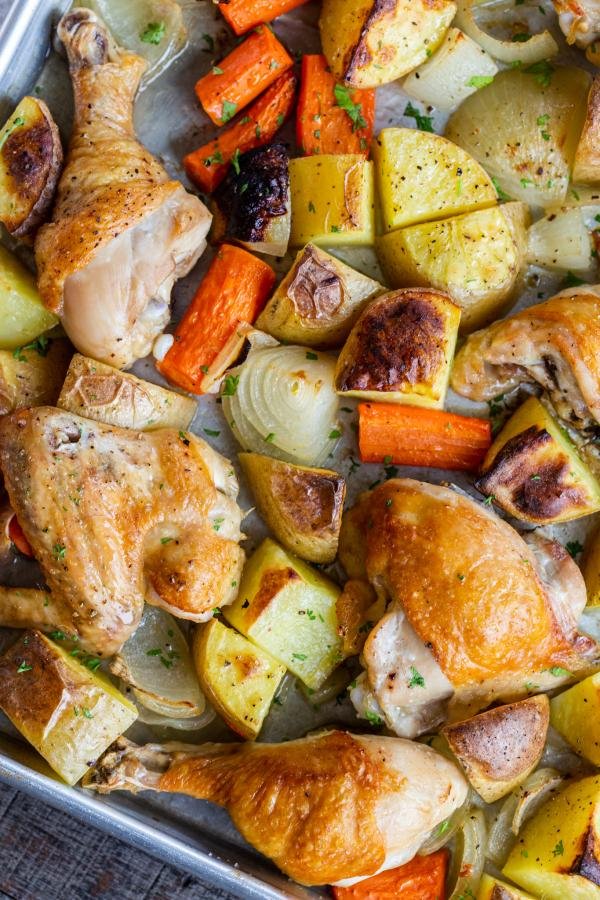 There are few things in life as satisfying as roasted chicken. When chicken juice soaks into potatoes, something magical happens. It's a simple flavor that is absolutely delicious. End of story!
Sheet pan dinners are a mom's best friend. Help your kids finish their homework while the oven preheats and do a couple of chores while everything bakes in the oven. Then, sit down, relax and enjoy the fruits of your labor. Or in this case, the chicken and potatoes of your labor…
How do you Roast a Chicken with Potatoes?
Chop your carrots, potatoes and onions into medium size pieces.
Cut up a whole chicken or you can use pre-cut chicken.

Note: If you are butchering a whole chicken, remember to keep the backbone to make seriously delicious broth for chicken dumpling soup. Typically, you can't buy backbones alone and have to butcher a chicken yourself in order to reap the broth benefits. Backbones are like gold in my house — they never go to waste!

In a large bowl, toss your chicken, potatoes, carrots and onions with parsley garlic salt and olive oil. Spread them evenly on the bottom of your baking sheet.
Bake for about 60 minutes at 400 ℉, or until fully cooked through. If you like your skin crispy, finish it off with a quick broil. Just be sure to keep an eye on the chicken because the skin can burn fast!
Note: If you're nervous about under or over cooking chicken, I suggest investing in a meat thermometer to ensure the internal temperature is 165 ℉.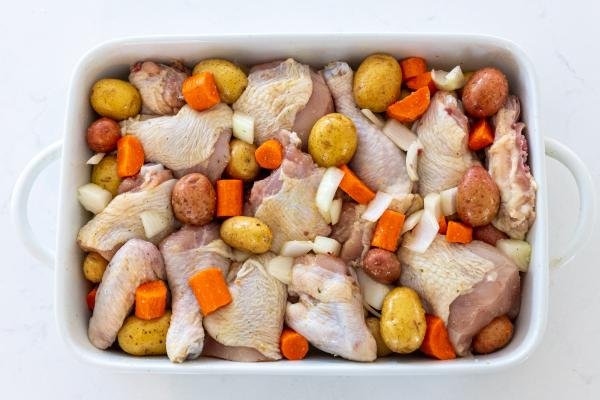 Serve Roasted Chicken With
Caesar Salad Recipe: Roasted chicken and caesar salad is a match made in heaven. My quick dressing is the perfect balance of tangy and creamy!
Quick Overnight Sauerkraut: Call me Eastern European, but I love having sauerkraut with most meats. The cold contrast of the sauerkraut adds a refreshing pop of vinegar to fresh-out-of the oven meat.
Aspic Recipe (Kholodets): This is for the adventurous! Aspic was huge in the 50's and remains a fancy dish in Ukranian culture. In short, it is a meat gelatin that is made with rich bone marrow broth. I know it sounds a little strange, but it is seriously delicious and melt-in-your-mouth yummy!
Get Creative and Roast What You Have
This dish is so versatile! I know I list carrots, potatoes and onions in this recipe, but use whatever veggies you have hanging out in your fridge. The only tip I will leave you with is to use sturdy veggies that can stand up to 90 minutes of baking time without burning. Here's a couple I like to use when I am in the mood to mix things up:
Zucchini, butternut squash, cauliflower, acorn squash, sweet potatoes and red potatoes.
Not in the Mood to Cut up a Whole Chicken? Try these other options:
Chicken Breast: This is a great option if you are really strapped for time. The breasts will cook up quickly and you can even cut your veggies into smaller pieces to rev up the cooking time even more!
Chicken Legs or Thighs: Bone-in chicken has the most flavor! All that yummy marrow will cook out of the chicken and seep into the potatoes for some serious flavor.
Storing Roasted Chicken
Store your roasted chicken in an airtight container in the fridge. It will stay fresh for up to a week! I don't recommend freezing your chicken and potatoes, as potatoes don't reheat well and turn into mush.
Other Chicken Recipes
Recipe
One-Pan Chicken and Potatoes is one of the most convenient, satisfying and effortless dishes in my weeknight rotation. This nearly mess-free meal only takes 15 minutes of prep time.
Ingredients
3

lb

whole chicken

(whole or cut the chicken into pieces)

1

lb

potatoes

4

large carrots

1

large yellow onion

1

tbsp

parsley garlic salt

adjust to taste

1

tbsp

olive oil

for seasoning
Nutrition Facts
One-Pan Roasted Chicken & Potatoes
Amount Per Serving
Calories 242
Calories from Fat 126
% Daily Value*
Fat 14g22%
Cholesterol 61mg20%
Sodium 957mg40%
Potassium 506mg14%
Carbohydrates 11g4%
Protein 17g34%
Vitamin A 5210IU104%
Vitamin C 11mg13%
Calcium 39mg4%
Iron 3mg17%
* Percent Daily Values are based on a 2000 calorie diet.