This braised cabbage with chicken makes for such a comforting easy weeknight dinner. Packed with veggies, it's healthy, hearty, and super satisfying.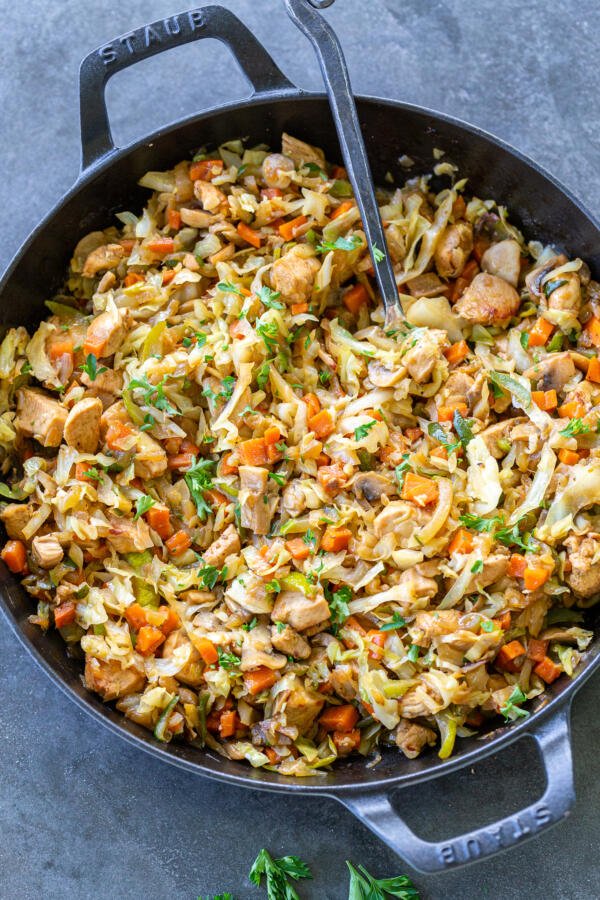 This braised cabbage with chicken is home cooking at its finest. It's healthy, filling, and tastes as if it came straight out of your grandmother's kitchen. What's better? It's super simple to make and only requires one pot.
My mother-in-law imparted the best braised cabbage trick on me: it's all about the butter. In this recipe, you'll use 1/2 cup of the good stuff to cook down the dish until the cabbage is tender and the chicken is melt-in-your-mouth juicy. YUM!
While this dish is filling enough to eat all on its own, it's easily made even more well-rounded by serving it alongside your favorite grain or starchy side dish (think: MASHED POTATOES!). Grab your favorite heavy pot and let's get to it!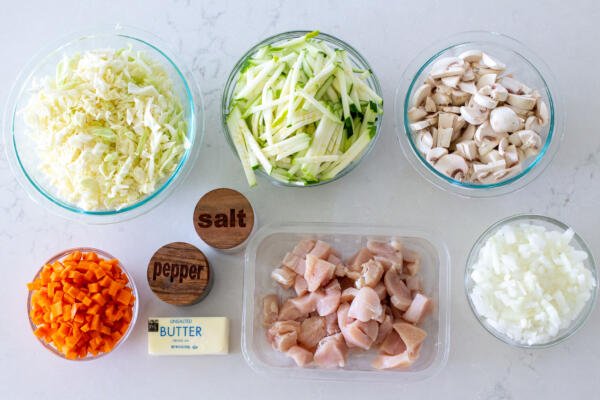 How to Make Braised Cabbage with Chicken
Making this braised cabbage dish calls for simple ingredients and few easy steps. Below, find an overview of the recipe before you dive in and make it.
Cook the Chicken & Veggies: Trim and cut the chicken breast into equal-sized strips using a sharp knife. Sauté with a bit of butter. Add in diced mushrooms and cook until they soften. Add carrots and onions and cook until softened. Stir in the zucchini.
Braising Pan Recommendation: Looking for an awesome braising pan? The Staub Cast Iron Braiser literally never leaves my stovetop.
Tips for the Best Braised Cabbage Dish
Find a collection of our pro tips to help you braise the best cabbage with chicken dish.
Use thinly shredded cabbage. For the best texture, use thinly shredded cabbage. You can shred cabbage using a sharp knife or by giving it a couple of pulses in a high-powered blender or food processor.
Slice your chicken into even-sized pieces. Similarly sliced chicken strips will result in more even cooking.
Don't be shy with the butter. A 1/2 cup may seem like a lot, but trust and believe that it really makes this dish what it is.
Braise at a low simmer. Braising requires low and slow heat to soften the cabbage. If you crank the heat up too high, you'll end up sautéing the cabbage instead.
Shredded Cabbage Hack: Most grocery stores will sell pre-shredded cabbage in the product aisle. Who doesn't love a shortcut?
Serving Braised Cabbage
Serve braised cabbage with chicken as a low-carb meal all on its own. You can also serve it over steaming white rice, quinoa, or buckwheat for a more filling lunch or dinner. If you want a more decadent meal, couple it with a heaping pile of creamy mashed potatoes and a slice of honey wheat bread.
Storing Braised Cabbage with Chicken
Store leftover braised cabbage in an airtight container in the refrigerator for up to a week. To reheat it, simply pop it in the microwave or heat it up in a skillet with a little butter. Freezing leftover braised cabbage is not recommended.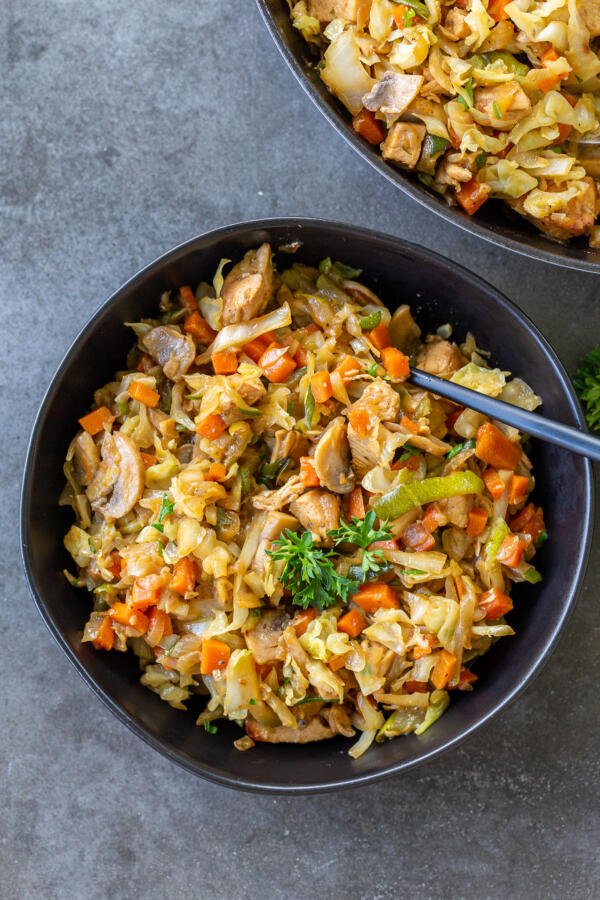 FAQ
What does it mean to braise cabbage?
Braising cabbage is the process of cooking it down slowly until it turns soft and tender.
Can I substitute red cabbage for green cabbage?
You can absolutely substitute red cabbage for green cabbage. Just keep in mind it tends to be a little tougher, so you may need to adjust the cooking time. Additionally, red cabbage has a lot of pigment and will stain the other ingredients a bit.
What meat goes well with braised cabbage?
Chicken goes wonderfully with braised cabbage. However, you can use pretty much any meat that sounds good. Cabbage is extremely versatile!
Can I make braised cabbage in a slow cooker?
You can make braised cabbage in a slow cooker. Simply pop all the ingredients into the pot and set it to low for four hours.
More Tasty Cabbage Recipes
Recipe
This braised cabbage with chicken is packed with veggies, making it a healthy, hearty, and satisfying dish, perfect for a weeknight dinner.
Ingredients
1

lb

chicken breast

1/2

cup

Unsalted Butter

1

lb

mushrooms

chopped

1

medium onion

diced

2

medium carrots

chopped

3

small zucchini

diced

1

small cabbage head

shredded

2

tbsp

salt,

adjust to taste
Nutrition Facts
Comforting Braised Cabbage with Chicken
Amount Per Serving
Calories 154
Calories from Fat 81
% Daily Value*
Fat 9g14%
Cholesterol 45mg15%
Sodium 1301mg54%
Potassium 565mg16%
Carbohydrates 9g3%
Protein 11g22%
Vitamin A 2118IU42%
Vitamin C 39mg47%
Calcium 50mg5%
Iron 1mg6%
* Percent Daily Values are based on a 2000 calorie diet.