This creamy cauliflower rice is the perfect balance of comfort food and healthy eating. Perfect as a side dish or meal on its own!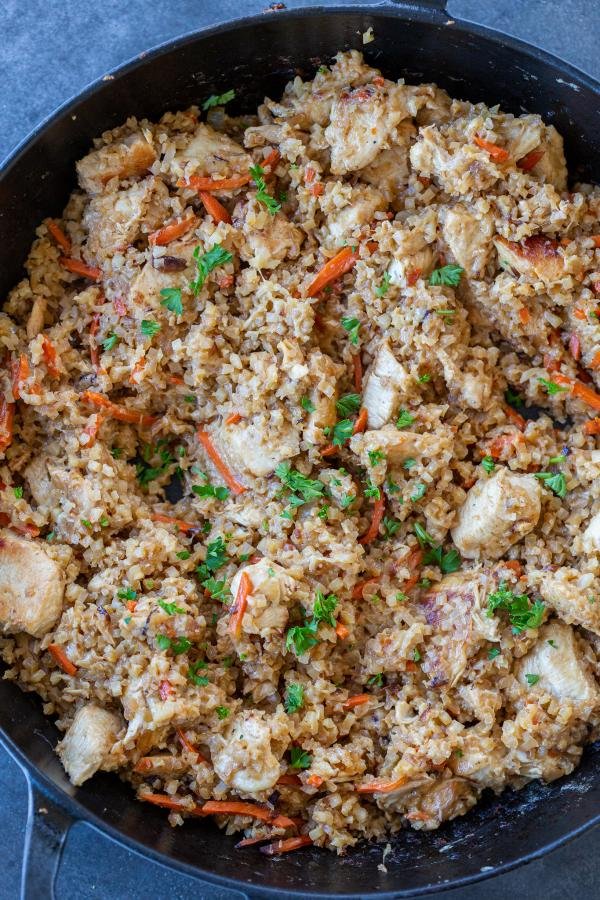 I've been making this creamy cauliflower rice dish for a while now and I just love it. At first, I felt like it was too simple to share on the blog. But at the end of the day, every time I make it we all enjoy it so darn much. A good recipe is a good recipe, right?
Whether you're trying to eat healthier or just want to experiment with the cauliflower rice trend, this recipe is a must-try. You can also skip out on cheese if you want to be extra good. The dish won't be as creamy, but it will still be tasty!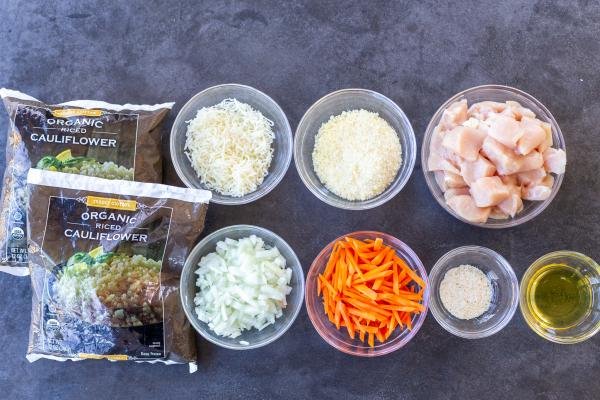 How to Make Creamy Cauliflower Rice with Chicken
Making this creamy cauliflower rice recipe requires less than 10 ingredients and just a few simple steps. Below, find a quick hitter overview of the recipe before diving in.
Chop the Veggies & Chicken: Using a sharp knife, chop the onion and cube the chicken into small pieces. Grate the carrots using a standard cheese grater if you didn't snag a bag of the pre-grated stuff from the store.
Sauté the Chicken & Veggies: In a deep skillet, preheat a little oil over medium heat and sauté the chicken until fully cooked. Next, add in the onions and carrots and cook them until golden brown.
Add the Cauliflower Rice: Turn the heat of the skillet up high and add the cauliflower rice. Brown the rice for about 2-3 minutes.
Add the Cheese & Herbs: Turn the heat down low and add the herbs and cheese. Stir until melty and serve!
Tips & Tricks
Here you'll find a handful of tips and tricks to help you make the most delicious creamy cauliflower rice with chicken.
Use frozen cauliflower rice. Whether you opt for a store-bought version or have some hanging out in your freezer, use frozen cauliflower rice over fresh cauliflower rice. Why? Most frozen cauliflower rice is par-boiled before it's frozen, making for a better texture when it's pan-fried.
Buy grated carrot. Since you're already opting for frozen, store-bought cauliflower, why not snag pre-grated carrot from the grocery store too? Everyone deserves a shortcut from time to time.
Serve the cauliflower rice immediately. This dish is best served straight off the stove, while the cheese is still gooey and melted.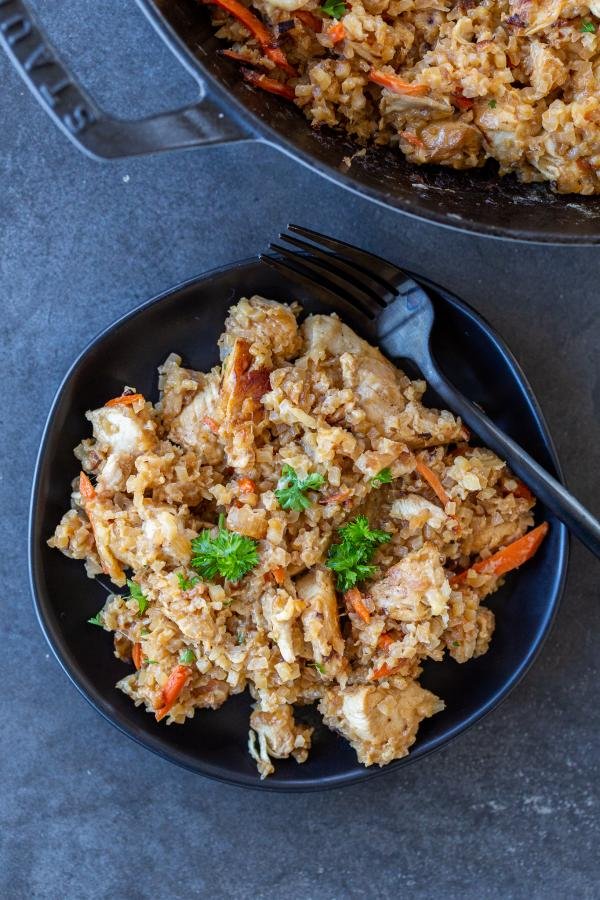 Serving Creamy Cauliflower Rice
Serve creamy cauliflower as a meal in-and-of-itself for everything from quick lunches to weeknight dinners. If you'd like a more well-rounded meal, pair it with a caesar salad or some beet garlic salad. Consider getting your daily veggies a done deal…
Storing Leftovers
Whether you have a little bit of leftover creamy cauliflower rice or a batch you'd like to freeze for later, find the best storage tips here.
Refrigerator: If you plan to eat the creamy cauliflower rice within 5 days, store it in an airtight container in the fridge. This will keep the rice from turning stale or hardening.
Freezer: If you'd like to have creamy cauliflower rice on hand for up to 3 months, freeze it in individually portioned out freezer-safe bags. To thaw, place a bag in the fridge overnight.
Reheating Tip: The best way to reheat cauliflower rice is in a saucepan over low heat with a bit of butter or in the microwave for a couple of minutes.
FAQ
How do you make cauliflower rice not soggy?
The key to making sure your cauliflower rice doesn't turn soggy is cooking it long enough. You'll want the little bits of cauliflower to turn a slight shade of brown before adding the rest of the ingredients.
Is cauliflower rice healthier than rice?
Yes, cauliflower rice is healthier than regular white rice. Why? It's 100% cauliflower, low in calories, and full of fiber. Perfect for gluten-free or keto diets!
How do you get the liquid out of cauliflower rice?
If the frozen cauliflower rice releases too much liquid as it's cooking, simply drain some of it out of the side of the pan into the sink.
How long does creamy cauliflower rice last in the fridge?
Creamy cauliflower last will keep for up to 5 days when stored in an airtight container in the refrigerator.
What if I can't find frozen cauliflower rice?
If you can't find frozen cauliflower rice, all you need to do is blend a head of cauliflower in a food processor or blender until it's just about as coarse as rice.
Other Low Carb Dishes
Recipe
This creamy cauliflower rice is the perfect balance of comfort food and healthy eating. Perfect as a side dish or meal on its own!
Ingredients
1

lb

boneless skinless chicken

1

onion

dice

1

carrot

shredded

2

lb

frozen cauliflower rice

1/2

cup

parmesan cheese

grated

1/2

cup

mozzarella cheese

grated

1

tbsp

olive oil

adjust to taste

1

tbsp

garlic parsley salt

adjust to taste

handful of fresh herbs

optional
Nutrition Facts
Creamy Cauliflower Rice with Chicken
Amount Per Serving
Calories 168
Calories from Fat 72
% Daily Value*
Fat 8g12%
Cholesterol 65mg22%
Sodium 1102mg46%
Potassium 536mg15%
Carbohydrates 8g3%
Protein 17g34%
Vitamin A 1389IU28%
Vitamin C 56mg68%
Calcium 141mg14%
Iron 1mg6%
* Percent Daily Values are based on a 2000 calorie diet.